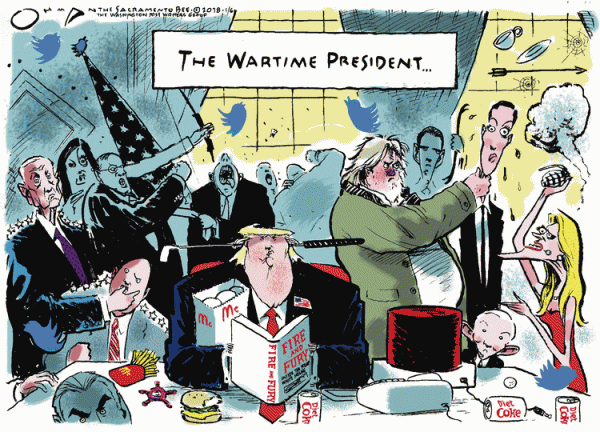 In Trump's America, book consumes YOU https://t.co/A8Om0dR8JI pic.twitter.com/GwxC2yikZi

— David A. Graham (@GrahamDavidA) January 5, 2018
I'm imagining Trump on the phone berating New York Times journalists and editors for failing to protect him from Michael Wolff.

— Ragnarok Lobster (@eclecticbrotha) January 6, 2018
This is AMAZING. pic.twitter.com/DpZriG1eSn

— Josh Marshall (@joshtpm) January 5, 2018
And Dana 'Happily On Putin's Payroll' Rohrabacher may be the avatar where all the current crazy intersects. Per TPM:
Rep. Dana Rohrabacher (R-CA) said Friday that President Donald Trump "has a legitimate right to say that he was betrayed" by Attorney General Jeff Sessions due to Sessions' recusal from matters relating to Russia, which in turn led to the appointment of special counsel Robert Mueller.

"The American people, now, are getting a taste of what people in Washington have known over this last year, and that is Jeff Sessions betrays the people who have had faith in him," Rohrabacher told CNN's Ana Cabrera in an interview…

"When he recused himself from this whole Russia thing," Rohrabacher said of Sessions, "he knew he was setting in motion the establishment of a special prosecutor. And a special prosecutor, as happens in Washington, we understand, is just giving unlimited power to someone to go after you, and not just you but to go after anybody they want to go after."…

Rohrabacher, a longtime advocate for states' rights to determine their own marijuana laws, also faulted Sessions for betraying President Trump's stated commitment during the 2016 campaign to maintain a hands-off policy when it came to marijuana laws.

"It's not Trump who is betraying the campaign promise, it's Jeff Sessions, his attorney general, [who] is betraying Trump and the rest of us," Rohrabacher said. "The President made his position clear. Jeff Sessions now is going in the opposite direction from what the President actually committed during the election."

"This shows you what happens when you have an attorney general who is not loyal to someone who has been elected by the people on a specific issue," he added. "And Sessions betrayed us on this, and he's betrayed the President on the special prosecutor for the Russia collusion that never existed."
.
Since it's Saturday, and some of you may have more time for such diversions, here's Michael Wolff describing / defending his methods:
WATCH: @SavannahGuthrie's full interview with 'Fire and Fury' author @MichaelWolffNYC pic.twitter.com/pNUWx4nGbJ

— TODAY (@TODAYshow) January 5, 2018