This is such an easy dinner. Season bone-in chicken thighs (you can use breasts if you prefer, bone-in is key) with salt, pepper and poultry seasoning. I gently pull up the skin and sprinkle spices underneath and replace the skin. I brush a bit of olive oil over them and then place them on top of halved potatoes and zucchini, also brushed with a bit of olive oil. Roast at 375 degrees.
Pear Crisp is delicious. It is my basic Apple Crisp recipe (below), added some walnuts and yum!
This is such a great crisp. I've been transferring it to a glass baking dish before baking – I think I get a more even crisp topping that way.
Cast Iron Apple Crisp
2 lbs apples – mix of sweet and tart (about 3 apples)
2 tbsp butter
1/4 cup brown sugar
dash of cinnamon, nutmeg and ginger to taste
Topping:
1/2 cup brown sugar (more as desired)
½ cup butter, melted
1 cup rolled oats (not instant)
1 cup flour
10 inch cast iron skillet and small mixing bowl
Core and cut apples into small pieces (about 1/2 inch). Peeling is optional, but with this method the peels cook nice and soft, so it isn't necessary.
Melt butter in skillet, add apples and sugar, stir until apples are well coated. Cover and cook on medium heat until apple mixture is soft and caramelized, stirring occasionally. About 20-30 minutes.
Preheat oven to 400 degrees.
In mixing bowl, stir together butter, sugar, flour and oats, mix until crumbly. Crumble over the apple mixture. Bake for 10-15 minutes, just until top is crispy golden brown. Let cool 10 minutes and serve warm.
What makes this so good is that because the apples are cooked on the stovetop, you can use a much higher heat in the oven and get a good, crisp top without drying the whole mixture out or under cooking the apples. Really, this is one of the best apple crisps I've made.
Alternately, if you don't have an oven-proof skillet, you can transfer the cooked apple mixture to a glass baking dish, add topping and bake that way.
===========
Ok, I know you skimmed down here to see bonus puppeh, didn't you? Here is Scout, 8 weeks. 12.2 lbs (by comparison – Bixby was 22.2 lbs at 8 weeks):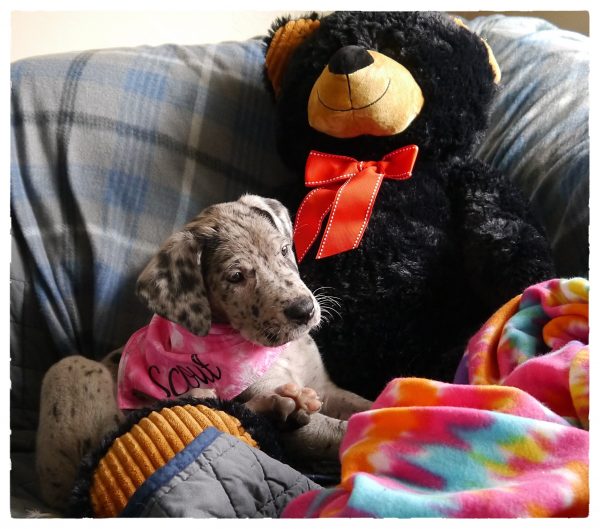 There are more photos of her and Bixby and a bit of how our first days have been at this link.
What's on your  menu this weekend? Cooking anything yummy we should know about?
Open thread.