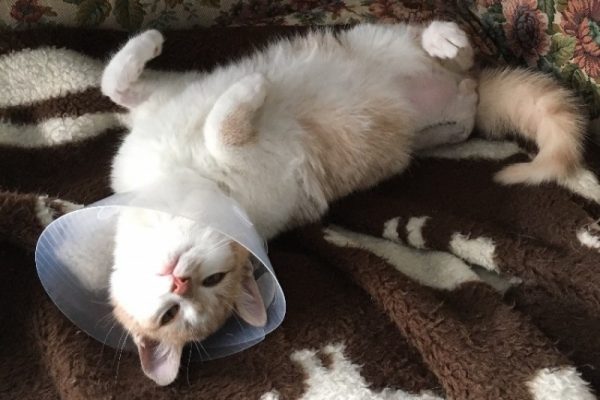 Remember calico kitten Miss Callie, who needed help getting from Minneapolis to Maryland? I've heard back from her special courier, Reilyn:
Alright, finally had a chance to sit down and run the #s. The total donations was $1,018 and expenses (flight w/ pet fee, carrier, harness/leash, and my uber to the airport) totaled $477, so the leftover funds total $541. :)
Fortuitously, longtime commentor and cat-rescuer Johannes just sent a plea:
I'm forwarding a request to help my cat sitter, Lori Doyle, defray the cost of having a kittens leg amputated. Lori does TNR work up in Albany, NY, is good people. Juicers helped my wife la Caterina and her friends rebuild the Brooklyn Navy Yard cat shelters, and, at the risk of coming a-begging once more, Tex is a kitty in need of help….
That's Tex at the top, and here is his GoFundMe page:
This little cowboy, now named "Tex," was born and living outside of a store on the outskirts of Albany, NY. Tex and his many siblings, mom, and several other cats were fortunate enough to be fed by the store owners, but the area around the store is industrial, with lots of equipment, pallets of supplies, and storage areas. Not really safe or cat-friendly — and somehow Tex hurt one of his hind legs during his first three months of life.

The store owners noticed Tex wasn't using his back leg. All the cats and kittens seemed semi-feral in that they would come close to eat, but if anyone tried to reach out and touch them, they would run away. Even Tex, on his three good legs. There seemed to be no way to help Tex.

So, the owners started talking to people about Tex, and this is how things start to happen. Word of mouth…

Tex had three problems with his leg. He had an old tibial fracture that was in many pieces. He also had a wound on the inside of his hind foot and the X-ray showed that the foot bone next to that was infected to the point that the bone had already been eaten away by the infection. I didn't even know that was possible. On the X-ray there is just a blank area where the bone used to be. And one of his toes had a problem (it just looked black), which could not be fixed… Anyway, Tex went in for a consultation with the surgeon and she recommended full amputation of his hind leg for the best recovery and long term result…

Tex did great! He stayed at the hospital one night. I picked him up the next day …. a technician carried him out, on his back, like a baby, holding a little toy mouse. How adorable is that? She said she didn't want to give him back. ;)

By day three at home he was taking off his Elizabethan collar and scurrying around on three legs. Today is officially two weeks since I trapped him. Two weeks from his surgery he will get his stitches out and he will be ready for the rest of his vetting and will be ready to find his forever home…
Much more at the link. Tex's rescuer has already collected $1,980 of their $3,232 goal. If it's okay with the rest of you who chipped in for Miss Callie, I'll tell Reilyn to redirect that $541 directly to Tex's GoFundMe.
If you have questions / other suggestions, let me know. If you don't want to leave a comment here, contact me directly at [email protected]