The Justice Department sure is shouty today:
DOJ, DHS REPORT: THREE OUT OF FOUR INDIVIDUALS CONVICTED OF INTERNATIONAL TERRORISM AND TERRORISM-RELATED OFFENSES WERE FOREIGN-BORN https://t.co/5Qs9mkQsL0

— Justice Department (@TheJusticeDept) January 16, 2018
This is the equivalent of Jeff Sessions holding a boombox aloft in the White House driveway and blaring "In Your Eyes" at Trump. But it also reminds me of this creative re-purposing of Microsoft's dreaded Clippy widget: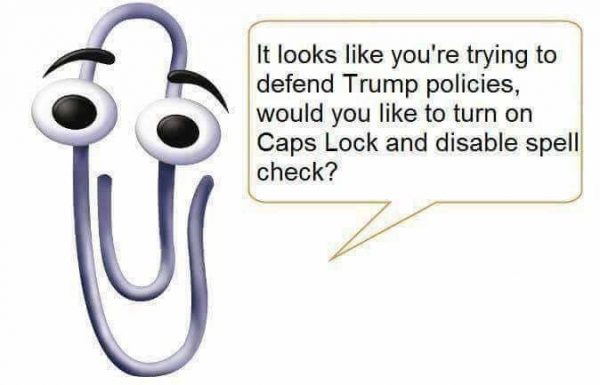 Can you spot the logical fallacy involved in Sessions' attempt to demonize all furriners to further the racist, xenophobic, anti-immigrant agenda he shares with his boss? I'll give you a hint: international terrorism tends to involve global actors, whereas domestic terrorism features homegrown goobers.
Trump is lying on Twitter this morning about "Amnesty" and "Border Security" and "the Russia Collusion Hoax" and "our VERY DANGEROUS SOUTHERN BORDER" and "a great WALL." Still hasn't thrown Sessions a bone, despite the hard work on that report. Sad!
In other news, Trump's DHS Secretary, who I believe used to work for John Kelly when he was enthusiastically enacting Trump's bigoted immigration policies (before he was called up to supervise the adult daycare center on Penn Ave) says Dreamers have nothing to worry about, even if there is no DACA deal:
.@SecNielsen on #DACA deportations: "It's not going to be a priority of @ICEgov to prioritize their removal. I've said that before. That's not the policy of DHS." https://t.co/PM1g9bB6jj pic.twitter.com/g91D33pne6

— CBS This Morning ❄️ (@CBSThisMorning) January 16, 2018
She's a liar. How do we know? Because she lied under oath to a congressional committee today.
The Trump administration is a Russian nesting doll of lies — falsehoods inside prevarications containing fibs enclosing untruths enveloping deceits. Liars, all the way down.