Wisconsin governor Scott Walker sounds a tad panicky at the results of yesterday's special election in a deep red district, from which Walker had plucked the incumbent to serve in his cabinet (image via @williamlegate here):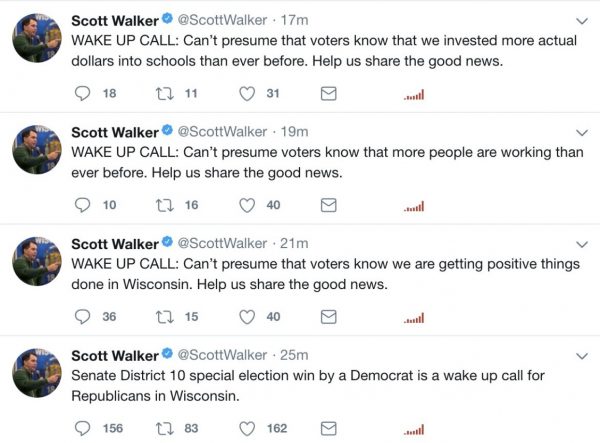 Republicans can't attribute this loss to their primary voters choosing a shitty nutbar candidate or to insufficient financial backing. The defeated Gooper was an experienced Koch-backed pol who isn't a known kid-diddler and who "significantly outspent" his opponent, according to The Post. And he lost by 9 points in a district Trump won by 17.
We don't want to read too much into it, but this is the "34th Democratic pickup in the 2018 cycle" vs. four seats flipped by Republicans, per The Post as linked above. And it's part of a larger trend, with Republicans resigning or declining to run for safe seats, etc., in droves.
Add it all up, and this suggests that if we work hard enough, we can wipe the bastards out in 2018. It would be sweet indeed if Paul Ryan were tossed out on his ass — still a long shot, but possible!
Are you seeing any trends in that direction where you live? Do you think it's visceral disgust with Trump and Republican enablers at all levels or more driven by local stuff?