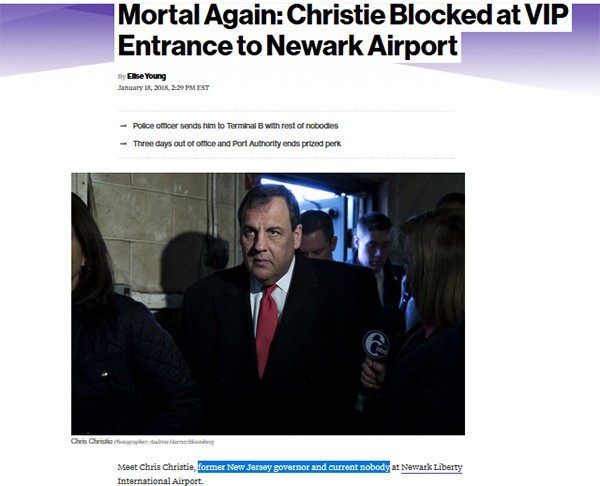 Just hold me and whisper this story into my ear baby:
Meet Chris Christie, former New Jersey governor and current nobody at Newark Liberty International Airport.

The two-term Republican, who left office on Jan. 16, was blocked from a VIP entrance he had used for eight years, and directed to stand in Transportation Security Administration screening lines at Terminal B like anyone else, according to a person familiar with the incident.

The order came from police for the Port Authority of New York and New Jersey, which operates the airport, according to the person, who wasn't authorized to speak publicly about security matters. The Port Authority also operates the George Washington Bridge, the target of a plot by Christie aides and allies to tie up traffic for political punishment in 2013.

Christie, and the state trooper who accompanied him for his security detail, complied with the instructions, the person said.

The former governor used the entrance, reserved for some airport employees and flyers who need extra security, for his two terms. He spent more than half of 2015 out of New Jersey traveling and campaigning for his failed White House bid.
If I smoked I'd need a cigarette so instead I think I will just take a nap.