Did blood-gargling sociopath Wayne LaPierre of the NRA join Trump and Putin's unholy union to form the most revolting political threesome in history? Maybe!
FBI investigating whether Russian money went to NRA to help Trump

January 18, 2018 05:00 AM

WASHINGTON — The FBI is investigating whether a top Russian banker with ties to the Kremlin illegally funneled money to the National Rifle Association to help Donald Trump win the presidency, two sources familiar with the matter have told McClatchy.

FBI counterintelligence investigators have focused on the activities of Alexander Torshin, the deputy governor of Russia's central bank who is known for his close relationships with both Russian President Vladimir Putin and the NRA, the sources said.

It is illegal to use foreign money to influence federal elections.
According to OpenSecrets and The Trace, the NRA pumped an unprecedented amount of money into the Trump campaign and key down-ballot races — and damn near ran the table:
The National Rifle Association took a historic gamble in 2016, and it paid off in a huge way.

The gun rights group placed multimillion-dollar bets on Donald Trump and six Republican Senate candidates locked in highly competitive races. It poured $50.2 million, or 96 percent of its total outside spending, into these races, and lost only one — an open seat in Nevada, vacated by the Democratic Minority Leader, Harry Reid. That race cost the NRA roughly $2.5 million.
The NRA laid out more than double the amount it spent on Romney in 2012 to put Trump over the top in 2016. It spent more than $6 million to elect Richard Burr — the most the death merchant lobbying group had ever spent on a down-ballot race: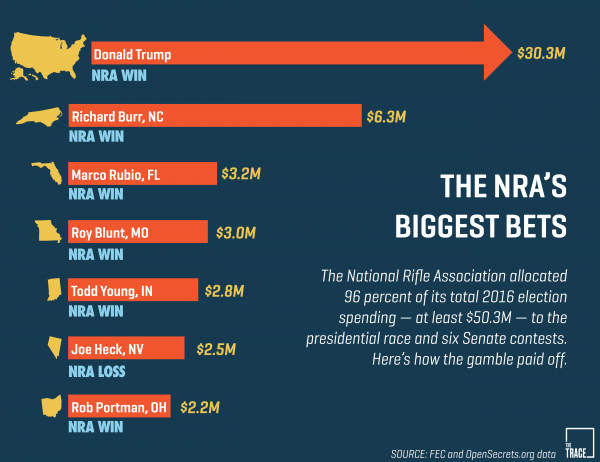 The NRA ran scads of scaremongering ads of the "Hillary Clinton is coming after mah gunz" type, blanketing TV advertising blocs in key district, while shady Russian outfits invested in similar garbage ads on platforms that don't require disclosure about buyers. It's almost as if they were a tag-team operation.
This isn't the first time links between Russia, the Trump campaign and the NRA have surfaced. Let's hope Mr. Mueller finds the smoking gun.