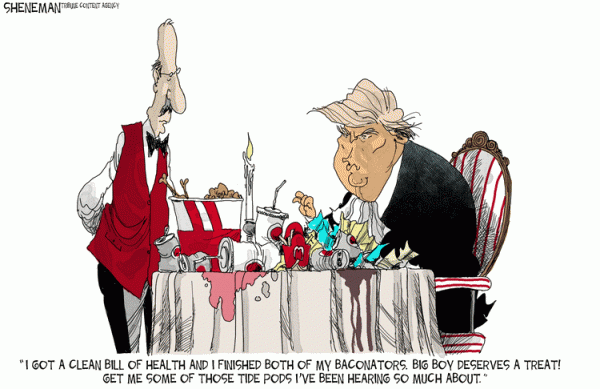 Man's a known germaphobe, maybe he'll get an urge to feel clean inside as well as out.
Or he could stroke out, after reading the latest from Hollywood Reporter:
Michael Wolff's controversial Fire and Fury: Inside the Trump White House is coming to television.

Endeavor Content — the financing and sales arm formed in October between sister companies William Morris Endeavor and IMG — has purchased film and television rights to the No. 1 best-selling book. The massive deal is said to be in the seven-figure range. Endeavor Content plans to adapt the book as a TV series. A network is not yet attached, as Endeavor will now begin shopping the project.

Wolff will executive produce the series, with veteran Channel 4 and BBC executive Michael Jackson — now CEO of indie producer Two Cities Television — also on board to produce…

… Fire and Fury debuted at No. 1 on the New York Times best-seller list, based only on the first two days of sales. In less than a week, the publisher reported more than 1.4 million hardcovers on order and 700,000 copies shipped, making it the fastest-selling nonfiction book in the company's history.

To date, rights to the book have been sold in 32 countries. It is currently the best-selling book of any genre worldwide. (A Spanish-language edition is set for Feb. 28, with subsequent takes in Arabic, Albanian, Portuguese, Bulgarian, Japanese, French, German and other languages also planned.)

Fire and Fury comes to the small screen after HBO canceled a planned series based on the 2016 election in what was poised to be a Game Change sequel of sorts. The pay cabler scrapped the project after sexual harassment allegations emerged regarding source material co-author Mark Halperin, who was poised to pen the script alongside John Heilemann. That opened the door for a Trump tell-all, with demand high for Fire and Fury given Wolff's cinematic writing and fly-on-the-wall detail…
My only question: Will there be a laugh track? Or is this more of a Stephen-King's-It-remake deal?
Speaking of heartburn, not to mention scary tales for the GOP:
Trump says he plans to spend 4-5 days a week this year helping Republicans get re-elected https://t.co/bkhPudCnTo @jamesoliphant

— Caren Bohan (@carenbohan) January 18, 2018
This could really cut into Executive Time. https://t.co/KZtY0iKhHi

— Daniel W. Drezner (@dandrezner) January 18, 2018