I know some of y'all dislike prurience, are depressed by bitterness, do not like "not normal" framings and despise GIFs. As a courtesy to you, I'm putting most of the content below the fold. You've been warned!
You realize Trump will probably tweet a picture of his dick to dispute her description, right?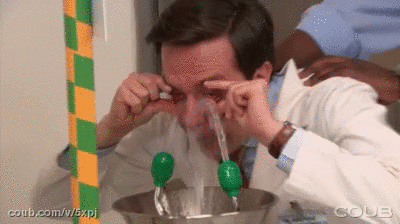 Now, I'm not a fan of the "imagine if President Obama had done this" game. But imagine for one fucking second if President Obama paid off a porn actress, who then blabbed to the media about his junk!
The legs on fainting couches nationwide would groan under the weight of their insensate owners. Democratic leadership on Capitol Hill would huddle under their desks in the fetal position. Republicans would immediately convene committees to explore every aspect of the scandal with an objective of impeachment.
But it's Trump, so the story is not prominently featured on any major news outlet I've seen. If that could be interpreted as a signal that Beltway types are less interested in politicians' bedroom peccadilloes, maybe it would be a positive thing.
But it's a sign that Trump has so flooded the zone with every conceivable type of perversion, corruption, mendacity, etc., that our press corp has simply gone catatonic. It's a stunning indication of just how far we've strayed beyond the bounds of NORMAL. As a malignant narcissist, Trump believes he deserves special treatment.
But his voters want desperately for the rest of us to accept this surreal clown show as normal. That's the unspoken plea in every conversation I've had with the Trump voters in my life. You can hear it in this recent exchange at a Chuck Grassley town hall in Iowa, which was dominated by criticism of Trump in a rural, conservative area.
We pick up the scene after Iowans have raked Grassley over the coals for obstructing the Trump-Russia investigation and normalizing Trump's bizarre behavior (via The Des Moines Register):
Heather Nejedly of Pisgah caught Grassley's attention, stood and said: "I just love our wonderful President Trump," drawing a chorus of mocking laughter mixed with sincere applause.

"I just think we've all got to come together," Nejedly said, turning to Mikels and others. "You know, I don't know you, I don't know you, but don't hate so much. We've got to come together and stop hating so much."

"We're not hating. It's not that we hate Trump," replied Pat Crosley, 67, a home-school teacher from Kimballton who brought her two children to the meeting as a field trip. "We are recognizing behavior that's not normal. We're not psychiatrists, but we can see abnormal behavior when we see it."
Unlike Ms. Crosley, I do hate Trump, with every fiber of my being. But her remarks about recognizing abnormal behavior are on point.
It's only been a year. Can we hang on to normal? Have we lost it forever? I don't know. I'm just grateful my daughter came of age during the Obama presidency. Hers may be the last generation that remembers what "normal" felt like.