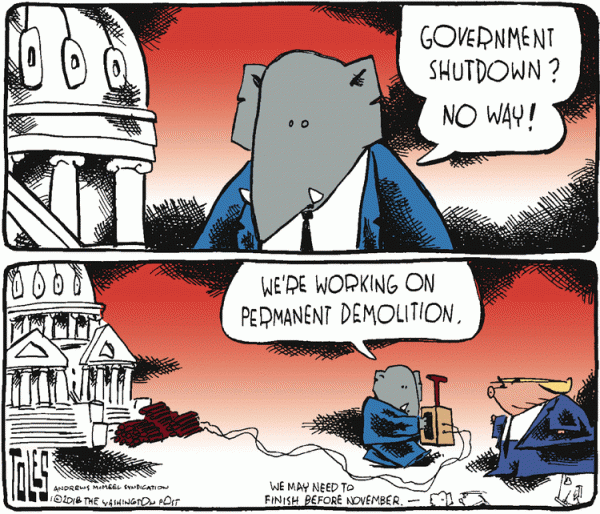 Senior admin official: WH staffers have been examining idea that Trump could issue a tweet late Friday night to say he will sign CR and that would be a signal the government is not shutting down.

— Jim Acosta (@Acosta) January 19, 2018
I'm having trouble understanding how this is not just utter gobbledygook. If the Senate has the votes to pass the House version, then he can just sign the bill–no tweet needed. If it doesn't then no tweet is going to prevent a shutdown. https://t.co/h7vgqogXUU

— Josh Chafetz (@joshchafetz) January 19, 2018
I think we need to consider the possibility that the Trump White House is populated by morons. https://t.co/14pW0fn0YO

— Daniel W. Drezner (@dandrezner) January 19, 2018

.
BUT DADDY'S GOT BIG PLANS FOR HIS LONG WEEKEND!…
Trump will be marking the anniversary of his inauguration with a celebration at Mar-a-Lago this weekend. Tickets start at $10,000 for dinner and a photo, @JenniferJJacobs reports.

"For $250,000, a couple can also take part in a roundtable."https://t.co/A9wUTEWKY4

— Vera Bergengruen (@VeraMBergen) January 19, 2018
Honestly, if Trump goes to Palm Beach tomorrow before there's a deal, I think we'll get a shutdown.

— Matt Fuller (@MEPFuller) January 19, 2018
"I'm excited about the event. There are so many friends here who care about our country." Eric Trump in interview at Trumpettes party celebrating Trump's first year in office. #trumpinpalmbeach #maralago #trumpettes pic.twitter.com/Ab5V4b1t5w

— alexandra clough (@acloughpbp) January 19, 2018
And Judge Janine Pirro of Fox News takes the stage. "Welcome to Mar-a-Lago. A magnificent place. It sure ain't no shithole!" pic.twitter.com/z0HBLDtsLk

— alexandra clough (@acloughpbp) January 19, 2018
What's that lawyerly phrase? — oh, yeah, asserts 'facts' not in evidence.