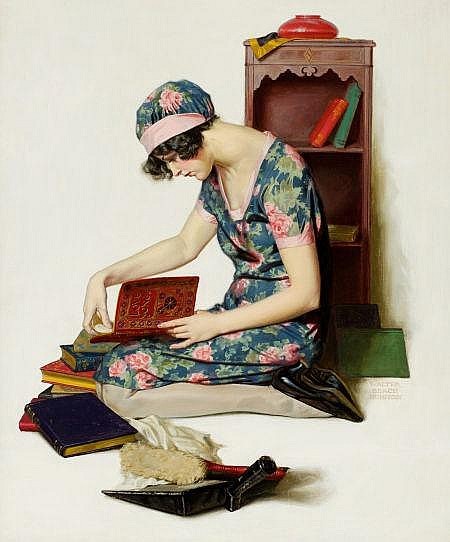 "Memories"  Illustration by Walter Beach Humphrey
Welcome back! I had a request for a writing thread to discuss goal setting and planning. It is actually a good timing for me. My finished novel has been sitting on a shelf for a year while I decided what to do next. Now all of sudden everything is in overdrive, so I have to manage all of that with continuing work on the second book in the trilogy.
I have spent so much  time in the bulk of the first book, I'm stumbling as I set up the second. Jumping back into the prep stage has been hit or miss.
How do you approach your writing? Do you outline everything first and then fill in from there? Do you just write and worry about structure later? Do you write specific chapters, out of order and decide where they go later? Do you write beginning to end – what do you do when you hit a roadblock? How do you manage your characters – do you keep a bible on hand, do you make index cards and hang them all over the room?
And can we talk a bit about social media? Who is doing it for their books and how is it going?
Okay, that should get us off to a good start. As always, it's just a guideline, discuss what you need to in your process.
Final note: for you romance writers out there, the next RWA conference is in Denver in July. Info here.  If you go, let's make sure  we schedule a meet-up near you, around that time.
There you go, have at it. And remember to be kind and supportive.