*Old shrink joke that applies with a depressingly tight fit to Trump's Republican Party.
Update: I just noticed I bigfooted Anne Laurie below. Ordinarily, I'd delete this and reschedule it. But my reschedule function has been verklempt lately so I don't trust that, and I'm about to pass out, so I'll leave this here on the assumption that the jackals can multitask.
———————
So here's the thing.  I heard that the Trump-Pence folks were fundraising w. a push poll on immigration.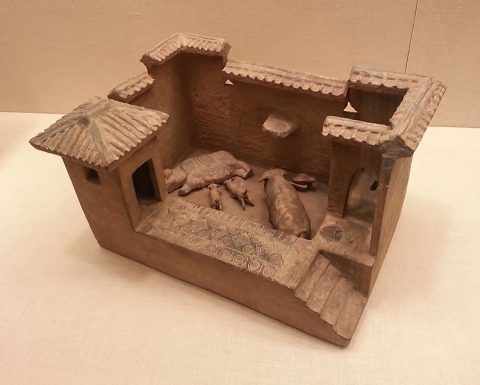 I decided to respond, as below:
is an astonishingly stupid idea that both won't work and apes the worst of our adversaries in the Cold War. It's unAmerican, and idiocy to boot.

A truly responsible immigration bill is one that does not begin from a premise of ethnic cleansing. Hatred of folks who talk funny and don't look like you is no way to go through life.
I'm not going to suggest that any jackals should swamp such a poll — and in fact, it's pointless to do for this one, as it's just another iteration of crappy digital age fundraising.  But if you want to tell some of the worst people on earthy how shitty they are, here's the link.
File this one under completely futile gestures that are still, somehow satisfying.
And, more seriously, if anyone doubted that the Republicans are going all in as the party of ethnic cleansing, doubt no more.
This thread? It is open.
Image:  Pigsty and Latrines, earthenware, probably Henan Province, Han Dynasty, between 1st c. BCE. and 1st c. CE.