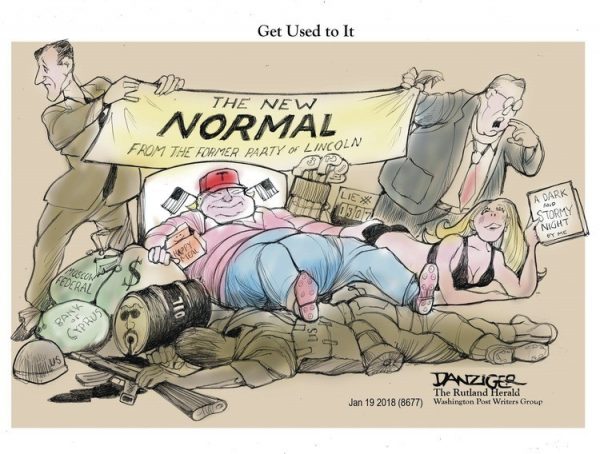 When it comes to apportioning blame for the #TrumpShutDown, let's not forgot those two stalwart standardbearers. Catherine Rampell, at the Washington Post, paper of record for the company town whose monopoly industry is national politics:
… Senate Majority Leader Mitch McConnell (R-Ky.) and House Speaker Paul D. Ryan (R-Wis.) are responsible for the completely avoidable three-day federal shutdown that Congress moved to end on Monday. They will likewise be responsible for the catastrophe coming in a few weeks if Congress can't get its act together to raise the debt ceiling.

McConnell and Ryan, after all, not only lead the majority party. They also control the legislative agenda. They determine which bills come up for a vote and when. And they knew far in advance the drop-dead deadlines for keeping the government funded.

They also knew the Democrats' conditions for cooperating.

But McConnell and Ryan chose to do nothing. Worse than nothing: They frittered away their precious time and political capital on policy pursuits that were totally irrelevant. Worse than totally irrelevant: actively destructive…

… The only thing McConnell and Ryan felt any urgency to work on was stuff their donors care about. They focused on that, and orchestrated more stopgap budgetary measures in their spare time. Monday's, in fact, represents the fourth stopgap 2018 funding bill, with this one set to expire on Feb. 8. It does, at least, include a six-year reauthorization of CHIP.

Don't get me wrong. Trump has not exactly been helpful in brokering a deal on budgets, health care, immigration or other major policy issues. When he has gotten involved, he's often struggled to remember what's existing law, what his own positions are and how the legislative process even works.

McConnell and Ryan have no such excuse. Collectively, they have served five decades in Congress. They know Congress's arcane procedures and obligations and, again, they set the agenda. To date, that agenda has not included a single serious budget deal…
Never let it be forgotten: Trump is the GOP, and the GOP is Trump. For all their wide-eyed protestations of innocence, he's the (figure)head of their party because he represents everything they want, in its grossest and most obvious form.
idk, Dems can do this again in a couple weeks, but the GOP won't have CHIP as their hostage anymore. Plus threat of a second shutdown will kibosh any little momentum Trump will have post SOTU.

— Zeddy (@Zeddary) January 22, 2018
And I think Trump is going to start freaking out about the bad press. I still think there's a good chance Kelly doesn't survive the DACA fight.

— Dana Houle (@DanaHoule) January 23, 2018