Thanking Illinois for safeguarding my biometrics is not something I ever expected to do, 
and yet
…
The state is one of two in the country where the Google Arts and Culture app's selfie feature — which matches users' uploaded selfies with portraits or faces in works of art — is not available. Google won't say why, but it's likely because Illinois has one of the nation's strictest laws on the use of biometrics, which include facial, fingerprint, and iris scans.
 Good on ya, Lincolnland!
So in lieu of an art selfie, I will post a face-match I noticed myself a few years ago. I swear, I didn't used to look like Michael Stipe, and he didn't look like me. Somehow, in the intervening years, we converged. Maybe white guys lose all distinguishing facial characteristics as they age? (I'll let you know.)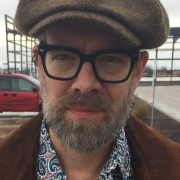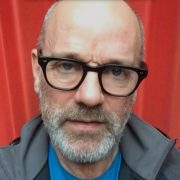 Fables of the Reconstruction, R.E.M.'s third
album, got a lot of airplay in Chicago when I was living there in the 1980s, and my relationship with the band thereafter ran this way:
This song is okay, but a little limp. Not much here.
Why is this song still in my head after a couple of days?
Wait, this is a really good song!
Buy album
This cycle took me up through Document, their fifth album, after which I lost interest. You hardly needed to buy a record to hear R.E.M. anyway; they were all over the radio. I remember Stipe's impenetrable lyrics angered me as a young songwriter. Now I like them. It's funny how one's tastes migrate over time. Young people get peevish over stupid shit. R.E.M. officially broke up in 2011. Reflecting on them now, I have to say I really miss their autumnal, Byrdsian guitars and madrigal-like vocal interplay.  Nothing stays the same, though. Including not resembling Michael Stipe.
It's hard to pick a favorite out of so many good songs. My band Constant Velocity, in an early incarnation that included a fiddle player, covered "Fall on Me" on the radio valiantly but badly live on the radio in Champaign back in the '90s. Cuyahoga and Don't Go Back to Rockville are hard to argue with. R.E.M.'s cover of Wire's Strange is a very interesting departure from the chord jangling folk-rock for which they were celebrated. A nice, straight ahead riff-rocker which brings something different (Fats Domino? Jerry Lee Lewis?) to the original. It's great when a band bridles against its own type-casting and pulls it off.
I have a Chicago cousin who now lives in Georgia. A real Italian Beef in the land of grits and hominy. It seems very middle class where he lives. Indistinguishable from the endless suburbs of Chicago. I don't know what the situation is really like down there locally but I have read that Georgia is a candidate to turn blue eventually. I'm sure the very knowledgeable commenters who live down there (looking at you raven) know the local angle. But let's work to help that process along.
Here is the fund that's split between all eventual
Democratic nominees in House districts currently held by Republicans.