Tikka has been in fine form lately, so I thought I'd share the force of his personality on a blog that can always use some more afternoon thread.
Here he is recently, showing some signs of mental wear and tear: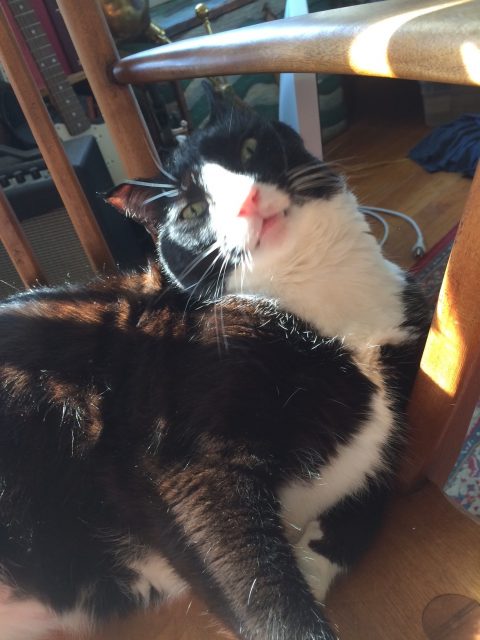 Tikka does not like strangers. And by strangers he means just about everyone who isn't me.  He'll tolerate my son and spouse, but after that?  We've had a lot of relatives staying over the last month or so, my wife's sister for one, who is very much a cat person, and my own sister, likewise — she's a pillar volunteer at the local pet shelter and all that good stuff.
My S-I-L has learned not to engage Tikka, and in his turn he now merely growls when she passes, and only very rarely whacks her as she goes.  My sister knows Tikka hates her, but can't resist making eye contact. The result is increasing cat madness.  Those two bipedal monsters have both returned home now, and my fair feline is calming down quite a bit.  Hence this, taken about an hour ago: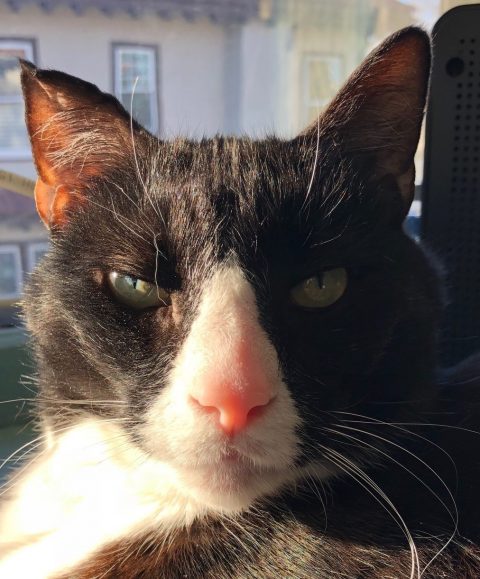 A Cat In Full — and don't you ever doubt it.
And now to some heavier material.  I'm very much looking to the next posts in Cheryl's series on gender and national security (first one here). As we wait for those, you might want to check out this by Andrew Bacevich [corrected link], a professor at B. U. (and a retired U.S.A. Lt. Col.) focusing on national security.
A taste:
What makes a Harvey Weinstein moment? The now-disgraced Hollywood mogul is hardly the first powerful man to stand accused of having abused women. The Harveys who preceded Harvey himself are legion, their prominence matching or exceeding his own and the misdeeds with which they were charged at least as reprehensible.

…As far as male sexual hijinks are concerned, we might compare Weinstein's epic fall from grace to the stock market crash of 1929: one week it's the anything-goes Roaring Twenties, the next we're smack dab in a Great Depression.

…All of this serves as a reminder that, on some matters at least, the American people retain an admirable capacity for outrage. We can distinguish between the tolerable and the intolerable. And we can demand accountability of powerful individuals and institutions.

…

[But] compare their culpability to that of the high-ranking officials who have presided over or promoted this country's various military misadventures of the present century.  Those wars have, of course, resulted in hundreds of thousands of deaths and will ultimately cost American taxpayers many trillions of dollars.  Nor have those costly military efforts eliminated "terrorism," as President George W. Bush promised back when today's G.I.s were still in diapers.

…war has become a habit to which the United States is addicted.  Except for the terminally distracted, most of us know that.  We also know — we cannot not know — that, in places like Afghanistan and Iraq, U.S. forces have been unable to accomplish their assigned mission, despite more than 16 years of fighting in the former and more than a decade in the latter…
Bacevich isn't quite talking about what Cheryl's begun to lay out.  But it seems to me that the two may be striking some of the same notes.  Anyway, I am as I have long been astonished, angered, and deeply saddened by the way so many of our leaders — lately but not always mostly Republicans — have been so profligate with other people's kids.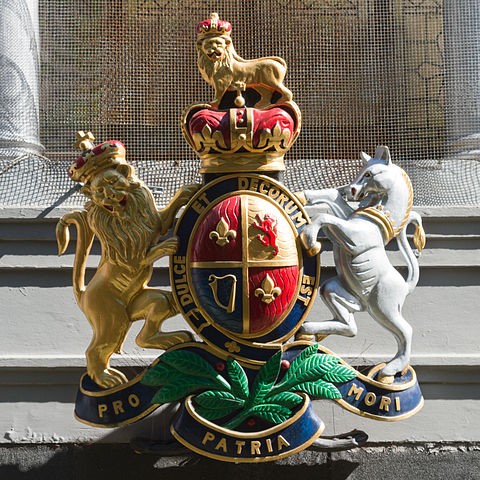 Damn — that's a downer ending for a cat post.  Sorry. The times are what the times contain.