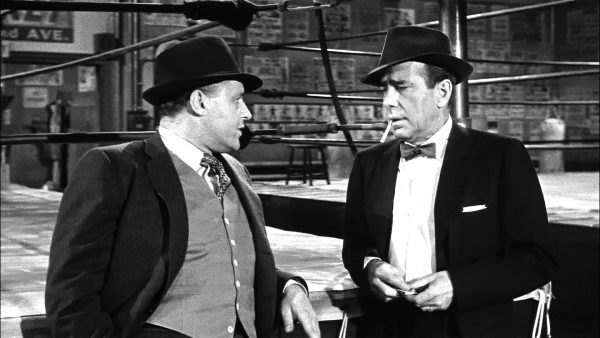 The Harder They Fall was Bogart's last movie. He played a recently laid off sports columnist turned publicist for an asshole promoter (Rod Steiger). The plot involves a boxer with a glass jaw who the promoter is setting up for a title fight by paying off fighters to take a fall. Bogie gets down in the mud with the promoter to make some money but (spoiler alert) redeems himself somewhat at the end.
The film is based on a true story, and it exposes the greed of the promoters, the weakness of the boxing commission, and the blood lust of the fans. Even though the morality of the flick is pretty black-and-white, it's at least sophisticated enough to recognize that boxing wouldn't exist if it weren't for the complicity of a bunch of people who want to see a couple of guys knock the shit out of each other.
If someone were to make a modern version of this movie, it would have to be a series rather than a one-off, and it sounds like Michigan State could provide enough material for a full season. It's not just Nassar – there's a pattern of covering up sexual assaults by athletes, too. And let's not forget the NCAA's role (or, rather, lack of a role), since they were aware as early as 2010 that there were serious issues at MSU.
I'll bet that MSU and Penn State are just the tip of this shitberg. Larry Nassar is the Jeffrey Dahmer of sexual assault, and Jerry Sandusky was the John Wayne Gacy. If it takes years to bring pedophilia of the staggering level at which those guys practiced it to light, who knows how much garden variety rape and abuse has been quietly hushed up at other programs? Before this whole thing is over, I'm guessing that the NCAA will give the Catholic Church a run for the money.
In the movie, Bogie's big ah-ha moment comes when he learns that the promoters who took in millions claim to owe the fighter $49.07. That's $49.07 more than the vast majority of student athletes will ever be paid, while their promoters make far more than the writers of The Harder They Fall could ever have imagined.