We are playing the baby a lot of lullaby type music these days and I made an important discovery: the first five seconds of Jack Johnson's "Upside Down" are exactly the same as the first five seconds of "Sympathy For The Devil".
The dog really does move to guard the baby whenever he's in the pack and play with no human within 10 feet (which is rare). Here's another picture.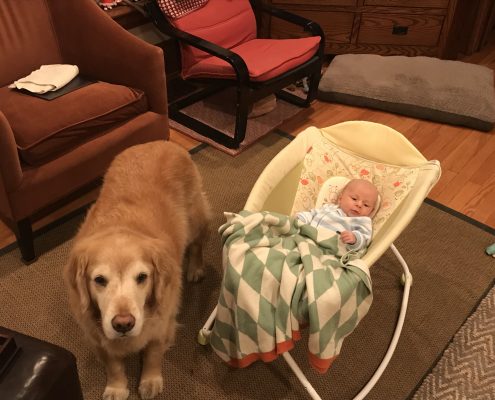 A lot of people requested more "outside the box" fundraising options. I came up with three.
Here's Swing Left, which we already started raising money for. They're dedicated to grassroots activity in 70+ House districts currently held by Republicans.
Here's Forward Majority, dedicated to state legislature elections.
And here's iVote, which focuses on ballot access by supporting state Secretary of State candidates who support voting rights.