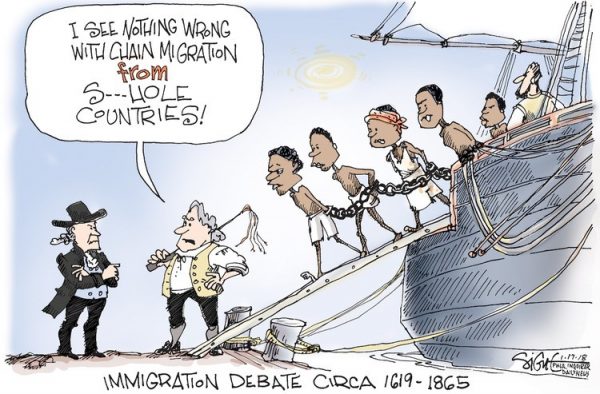 Count on the Trump Administration to find the most obnoxious person available to misidentify family reunification. Count on the NYTimes to pick the worst possible person to defend that misidentification, on the worst possible day…
"Hey, when should we run this Ross Douthat piece normalizing the most prominent white nationalist voice in the Trump administration?"

"Um … Holocaust Remembrance Day?"

"PERFECT." pic.twitter.com/BuhKRr0sQM

— Kevin M. Kruse (@KevinMKruse) January 28, 2018
Stephen Miller's lifelong search for someone to invite him to a party has ended https://t.co/1L594VaYnw

— Dan Pfeiffer (@danpfeiffer) January 28, 2018
Saying Stephen Miller is necessary to an immigration deal is like saying David Duke is necessary to an agreement on civil rights https://t.co/5kLDWwwRKe

— David Leopold (@DavidLeopold) January 28, 2018
Informative rebuttal in the Washington Post:
For those looking to emigrate to the United States, connections are everything. If you have a family member who is a citizen or a green-card holder, you can — under certain circumstances — be given priority consideration for entry to the country…

What this means is that a citizen could sponsor a sibling for a green card and, if granted, that sibling could then sponsor his or her child. That child could then sponsor his or her eventual spouse, and so on. This is the system that President Trump has taken to describing as "chain migration," a system that he and his administration present as a scourge that necessitates action by the government. (Proponents of the system prefer the term "family reunification.") A proposal from the administration sent to Capitol Hill last week suggested that the green-card-holder limits on petitions apply to everyone, dramatically scaling back the number of people who could see facilitated entry to the United States.

There's an irony to this policy shift, though. A number of prominent members of the Trump administration have ancestors who are only in the country because they came to join members of their families who would be excluded from sponsoring them under the new proposal…

Trump has benefited from what could be called "chain migration" on both sides of his family…

[Stephen] Miller is the great-grandson of a man named Sam Glosser, as reported by Jewish Journal. Glosser was one of a family of retailers in Johnstown, Pa., son of a man named Wolf Lieb Glotzer. The elder Glotzer came to the United States from Belarus in 1903. The documentation of his arrival in the United States includes the person who he joined here: his brother-in-law, Schmuel Levine.

The book "Long Live Glosser's," about the retail stores that the family founded, indicates that Wolf Glotzer's son Nathan soon joined him in the United States. It was Nathan who ended up in Johnstown and started the store.

In 1906, Sam Glosser arrived in the United States on the Ryndam, along with his mother and two siblings. They listed Wolf Glotzer as their point of contact. Glotzer's arrival wouldn't have met Trump's standard for entry. But once here, he could have petitioned for Sam Glosser — under 21 and unmarried — to join him….
Ross Doubthat claims "my own family… [were] white Protestants for the most part on both sides with a few Irish newcomers mixed, rising and falling and migrating around in the way of most families that have been in this country a long time." (He's deeply concerned about his own kids' "dwindling… attenuated" family tree, though!)
Douthat's argument is the equivalent of conservative politicians muttering as Hitler took power "well, of course, the rhetoric is a bit extreme, but you have to admit that Jews are a problem"

— Noah Berlatsky (@nberlat) January 28, 2018
The main ideological project of @nytopinion since the election has been to make it respectable for white elites to talk about defending America as a majority-white country.

— Tom Scocca (@tomscocca) January 28, 2018
The political context, which Stephen Miller understands, is that the Republicans had almost exhausted the political power of white resentment.

— Tom Scocca (@tomscocca) January 28, 2018
It may, however, reduce the visible ugliness and the discomfort that people like Douthat and Lilla feel when the conflict is in the open.

— Tom Scocca (@tomscocca) January 28, 2018