My god, the Republicans are awful:
The Justice Department's inspector general has been focused for months on why Andrew McCabe, as the No. 2 official at the FBI, appeared not to act for about three weeks on a request to examine a batch of Hillary Clinton-related emails found in the latter stages of the 2016 election campaign, according to people familiar with the matter.

The inspector general, Michael E. Horowitz, has been asking witnesses why FBI leadership seemed unwilling to move forward on the examination of emails found on the laptop of former congressman Anthony Weiner (D-N.Y.) until late October — about three weeks after first being alerted to the issue, according to these people, who spoke on the condition of anonymity to discuss the sensitive matter.

A key question of the internal investigation is whether McCabe or anyone else at the FBI wanted to avoid taking action on the laptop findings until after the Nov. 8 election, these people said. It is unclear whether the inspector general has reached any conclusions on that point.

A major line of inquiry for the inspector general has been trying to determine who at the FBI and the Justice Department knew about the Clinton emails on the Weiner laptop, and when they learned about them. McCabe is a central figure in those inquiries, these people said.
That's what they are supposed to do. Not act in a way that will impact an election. Comey's behavior was in violation of the protocols. Here they are, as stated original under Bush by Mukasey, and again by Holder under Obama: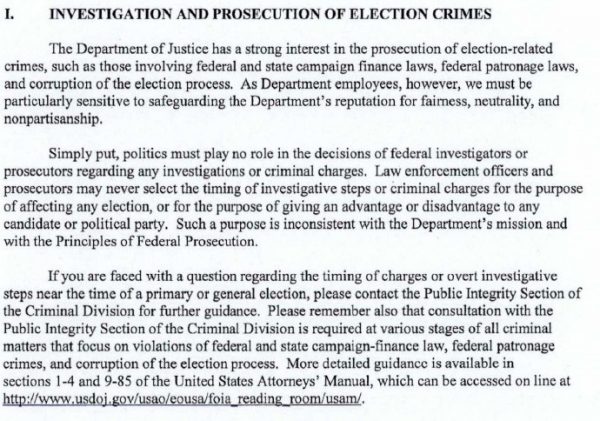 Comey's behavior was aberrant, McCabe's was what you are supposed to do. This is particularly true when you realize that the Weiner emails TURNED OUT TO BE A NOTHINGBURGER.
So basically, Republicans are shitting all over McCabe for not releasing potentially damaging information that might have impacted an election would definitely have leaked through the corrupt NY office of Giuliani stooges and turned out to be nothing.
It's really no exaggeration to state the Republicans are a threat to democracy. And remember, they are doing all this while trying to STOP an investigation into Trump and firing and smearing anyone who might testify under oath about him.