I've been fascinated by the variance in the lived experience of the Affordable Care Act at the year over year level and variation at the county line level for a while now. There are two major sources of variation of the lived exerpienced for otherwise identical individuals. The first is the state decision to expand or not expand Medicaid. This has the direct effect of covering or not covering people who earn under 138% (~$16,500 for a single individual). Deciding to expand Medicaid has an indirect of lowering individual market premiums for everyone not eligible for expansion by 7%. This is a state level decision.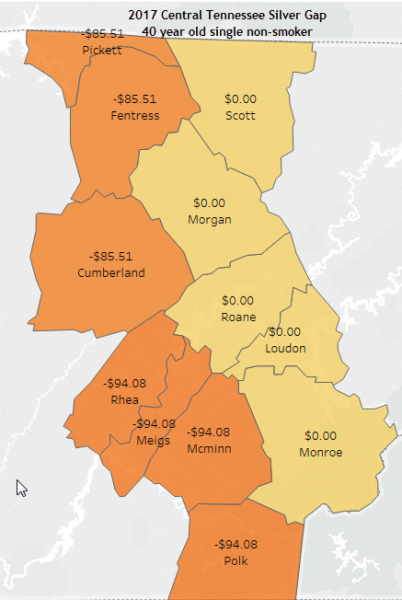 The county level decision with more immediate variance is the business strategies of insurers to offer a mixture of products and pricing. In 2017, we had a stark example in Tennessee. Blue Cross and Blue Shield decided to Silver Gap aggressively in Central Tennessee.  They were the only insurer in the region.  They offered two Silver plans.  One plan for a 40 year old non-smoking single individual cost either $85 or $94 more than the other plan.  The premium tax credit formula benchmarked the more expensive Silver as the regional standard so the less expensive Silver plan offered a significant discount to subsidized individuals.
Immediately to the east of the 2017 BCBS-TN territory, Humana was the sole insurer in the greater Knoxville region.  They only offered a single Silver plan which became both the Benchmark and the least expensive Silver plan.  They offered no good deals for relatively healthy people who were subsidy eligible.  Humana left the market in 2018 as they complained that they were seeing a very sick and old population.
BCBS-TN moved into  the former Humana counties in 2018.  They took their Silver Gap strategy and supercharged it.  The lived experienced of the ACA in Roane County will be very different in 2018 than it was in 2017 for subsidized individuals.
The lived experience is very different depending on time and location.  This has to have important impacts on policy and politics.  There are two interesting papers that look at the interaction of the policy and politics of the ACA that I am finding fascinating.
The first is a paper by Trachtman* that looks at the partisan composition of counties and that impact on premiums over time.  Resistance to the law by Republicans seems to have a risk pool composition impact and thus a premium effect.
In particular, it has been shown that Republicans, ceteris paribus, are less likely to enroll in Affordable Care Act marketplace insurance than Democrats. I argue that these decisions are consequential not only for the coverage of individuals, but also for the cost of plans. Due to adverse selection, partisanship-motivated enrollment decisions result in the average Republican enrollee, holding other factors constant, being less healthy than the average Democratic enrollee. I provide empirical evidence demonstrating that insurers have responded to these differences in enrollee composition by increasing prices at a faster rate in areas with more Republican voters. These findings have implications for the design of public policies in an environment where politics can influence uptake decisions….

Using survey data from Kaiser Health Tracking polls, Lerman et al. (ibid.) estimate that, ceteris paribus, Republicans are 6 percentage points more likely to forgo coverage than Democrats, 12 percentage points less likely to use the ACA marketplaces, and 7 percentage points more likely than Democrats to purchase plans off-marketplace. Analysis of Cooperative Congressional Election Study (CCES) data comes to similarconclusions (Tesler, 2016)…. The steep drop in the association between Republican vote share and the proportion of the enrollee population falling in the 400-plus % FPL compared to the lower-income groups suggests exactly the sort of compositional differences hypothesized. Higher county-level Republican vote share is associated with lower overall ACA enrollment (Lerman et al., 2017), but higher low-income enrollment as a proportion of the total. This is a strong signal that partisanship-motivated uptake behavior has impacted the composition of ACA marketplace enrollees in a way that should put upward pressure on prices in Republican-voting regions.
The second paper looks at political participation in states that expanded Medicaid.** Voter registration increased the most in counties with high uptake of Medicaid expansion and voter participation increased in those counties in 2014 but were washed out to insignificant changes in the 2016 general election.
 We compare changes in registration and turnout following the expansion of Medicaid in January of 2014 to show that counties in expansion states experience higher political participation compared to similar counties in nonexpansion states. Importantly, the increases we identify are concentrated in counties with the largest percentage of eligible beneficiaries. The effect on voter registration persists through the 2016 election, but an impact on voter turnout is only evident in 2014. Despite the partisan politics surrounding the ACA–a political environment that differs markedly from social programs producing policy feedbacks in the past—our evidence is broadly consistent with claims that social policy programs can produce some political impacts, at least in the short-term
Now let me speculate.  I think there is a positive feedback loop that could potentially occur.  In states that have expanded Medicaid and that have aggressively marketed the ACA, the lived experience is pretty decent which builds support which allows for more local efforts to make things work.  In states where there is a negative lived experienced without Medicaid Expansion and with  significant abstention from the markets due to political/partisan reasons that leads to higher premiums, each round of premium increases makes the risk pool worse for the non-subsidized population that already is inclined to be less tightly attached to the marketplace which leads to more drop-outs and higher premiums in the next year beyond what the pure economic calculation would suggest.
That is pure speculation on my part, but these two papers are stuck in my head right now and that is the story that I could tell.
* Trachtman, Samuel, The Political Geography of ACA Marketplaces: How Political Behavior Can Help Explain Where the ACA Works, and Where it Doesn't (December 3, 2017). Available at SSRN: https://ssrn.com/abstract=3081991 or http://dx.doi.org/10.2139/ssrn.3081991
** Clinton, J. D., & Sances, M. W. (2017). The Politics of Policy: The Initial Mass Political Effects of Medicaid Expansion in the States. American Political Science Review,112(01), 167-185. doi:10.1017/s0003055417000430