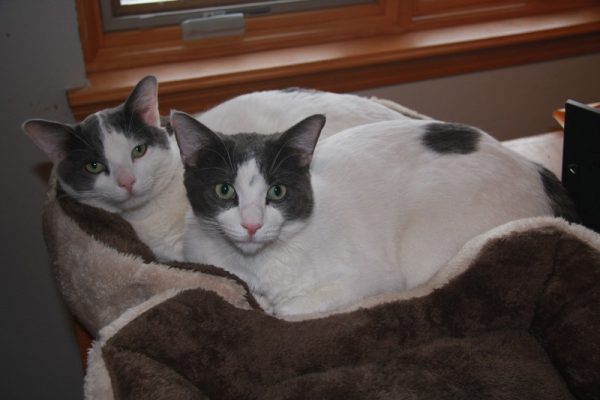 A year ago today, Ric and Zooey came to live with me.
I had recently lost an older cat who had been with me only three months. A woman had to give him up, and it turned out he didn't have much longer to live anyway.
He was the first cat I had had for a couple of decades. Chairman Mao, the most loveable applehead Siamese ever, had died at a time when my job was too demanding to have a cat at home too.
I was looking for two cats to keep each other company, and my preference was for tabbies or Siamese mixes. I pored over the Santa Fe Animal Shelter website and found a few possibilities. I went to the shelter and one of the stores that house cats in transition to see them all. The website listed a bonded pair, but I hadn't seen them. I looked again, and they were at the shelter's secondhand store, Look What The Cat Dragged In.
White and gray Ricotta and Zuppa were sleeping in their kennel. I introduced myself to them, then went to one of the workers and said that I wanted the kitties. She shouted and hugged me, ran off to get cardboard carriers. I signed the paperwork, and the kitties were in their boxes before I could turn around.
I wasn't sure I could tell the cats apart, so I left on their tape shelter collars. After a day or two, I realized that Ric's tail color went all the way down to his butt and his face mask was more complete, while Zooey had splotches of color on his back legs. I didn't like the shelter names, but I wanted something that sounded similar, hence Ric and Zooey.
I didn't want the hassle of bringing up kittens. Ric and Zooey were estimated by the shelter vets to be about two and a half years old. The downside of getting adult cats is that you don't know their past. The shelter bios said that Ric and Zooey were picked up by animal control. They were clean and healthy, no fleas, no chips, and, um, intact. The shelter neutered and chipped them. From their behavior, I've inferred some things.
Neither was a great fan of close human interaction. Petting when they wanted it, yes, but no lapsitting, and they merely tolerated being picked up. I let them choose the times and methods of interaction. They did like playing with toys and, of course, food. They have been, all along, quite robust about eating any kind of food. Zooey was particularly bitey and scratchy. Both were wild when playing. I have a duvet cover that I will eventually replace when the many tiny tears become too ugly.
Two or three months in, I was beginning to think I might have to take them back to the shelter. Zooey could barely be petted without drawing blood, mostly by scratching. I tried nose taps and ignoring him. Occasionally I got frustrated enough to yell at him.
Then some friends came over for dinner. Zooey fell in love with one of them and slept on her hand through dessert. He was less bitey and scratchy after that. He wanted headbumps from me, which I gave him. They seemed to calm him.
Ric has always been easier to interact with. He has an adorable little headflip that means "Pet me." He is the intellect of the two, and Zooey is the brawn. Both are nicely muscular, but if Ric were human, he would be called wiry, while Zooey has broad shoulders and is more loosely put together.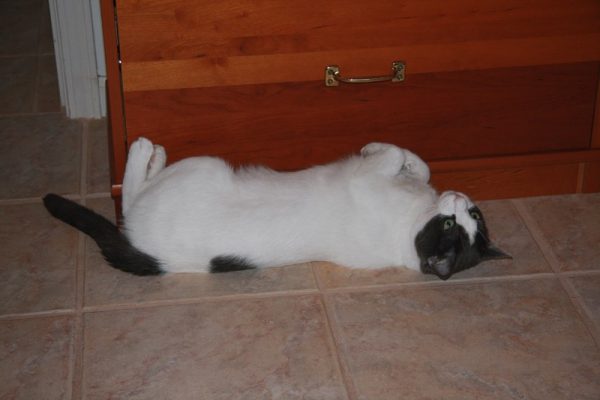 Long story short, Zooey is no longer bitey and scratchy. Both cats present their bellies for rubbing and only occasionally attack the hand that pets them. Ric seldom purred, but now he spends a little time on my lap purring most evenings. In the last week or so, he has purred when I've rubbed his head when he's relaxed. Zooey has been experimenting with the lapsitting thing, mostly when I am working at the computer, but it hasn't turned out well yet.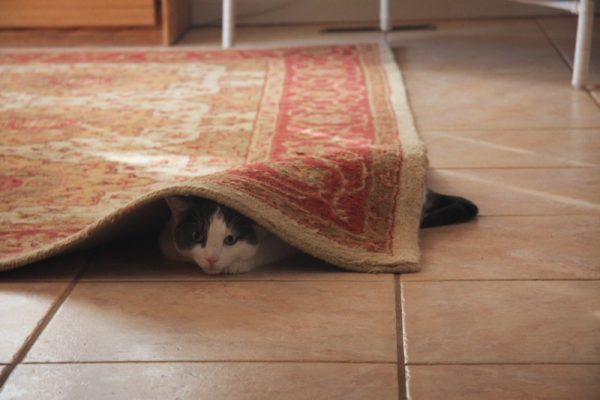 I suspect that before they were picked up by Animal Control, they lived with a family that didn't pay a lot of attention to them. The probably spent most of the time outside. They are indoor cats now.
I am told by one of their admirers that I must talk about how I've changed too. I have had to make spaces for them in the house – an eating area in my dining room, a couple of toy spaces, and of course their box in the guest bathroom. I talk to them a lot. I feel sorry for anyone who may be bugging my house. "What handsome boys!" "Treats!" "Where is the other kitteh?"
They are good little companions. We're celebrating with some salmon.