Here are Twitler's bunker babblings so far today: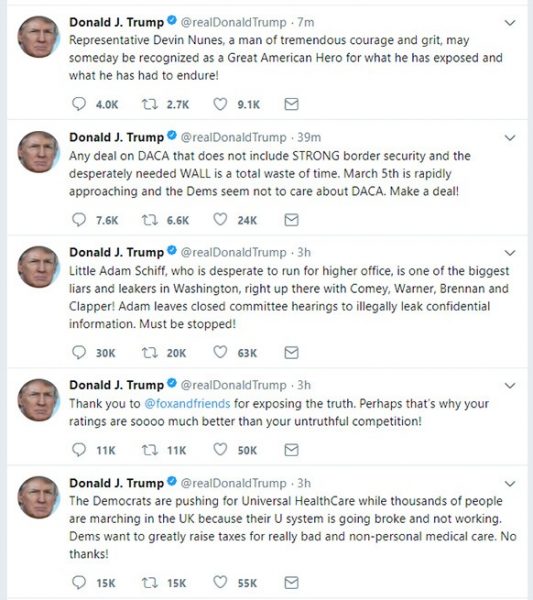 Taking the tweets in chronological order from the bottom up, the ill-informed gibe about the UK's NHS was apparently inspired by yellow-fanged fascist-coddler Nigel Farange's appearance on Fox & Friends, which further inspired Twitler to slobber over the three vapid sofa squatters on that program. Is this unprecedented in U.S. history, a president* acting as social media director for a partisan cable news morning program? As far as I know, yes!
Congrats to Congressman Schiff for getting under the creature's skin in a big way to earn a "Little" nickname. Is it unprecedented in U.S. history for a president* to relentlessly drag members of congress on social media and issue vague, blustery imperatives like "Must be stopped!" about an elected official to an army of heavily armed, brain-dead cultists? I believe so, gentle reader, and let's hope Congressman Schiff has robust security!
If Trump were a rational actor, one might be tempted to read hope into the tweet about DACA since it doesn't explicitly mention the nonstarter demands to drastically curtail LEGAL immigration. But since we're dealing with a clown who has already rejected a bipartisan bill that meets the named conditions, the probable explanation is that Stephen Miller simply isn't in the golf cart this morning. Is this unprecedented in U.S. history, a president* who's such a spongy amalgam of malice, ego and cluelessness that elected officials of both parties and people whose lives depend on policy outcomes just have no idea what to expect? Eh, maybe not.
And finally, the valorization of the stooge Devin Nunes. The only ray of sunshine in that black hole of stupid is that Twitler seems to be aware, if dimly, of the controversy surrounding the slam-dunk "vindication" memo. I guess even Fox & Friends can't hide that.
Open thread!