I know this is probably a long shot, but I wanted to bring Hank to your attention. Reading his story (ok, reading every rescue story while I was looking to rescue over the last two years) breaks my heart. There is just something about Danes.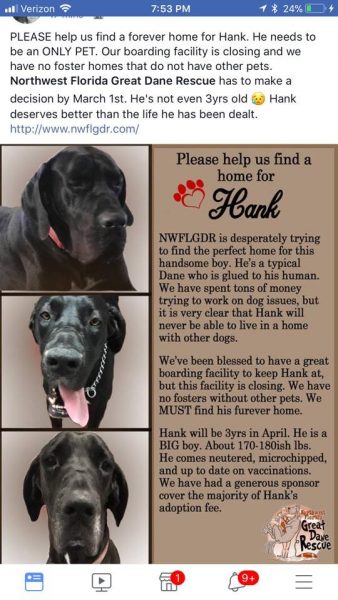 Hank is NOT for anyone who is not Giant Breed experienced. But anyone who has that experience, understands the special challenges that are ahead for this guy, and are big hearted enough to meet those challenges, this might be your dog.
We just walked Bixby and Scout through Murdochs tonight to pick up dog food and what should have been a quick 15 minute trip turned into 45 minutes of loving on Bixby by a whole bunch of kids and a 6 month lab mix who seemed to be slightly in love with him (Scout got her share of scritches, too, but since she's not allowed out of the shopping cart yet, it wasn't the same for the kids as having this 160 lbs slobber monster lean and love on you).
Hank will not have those experiences. But he does need a loving home. Pass it on…
Here is Hank's adoption information, Northwest Florida Great Dane Rescue
Bixby, Scout (and Bailey for sure) thank you.