So, this morning, I'm having my coffee, catching up on the Snarkosphere, etc., when I notice an alert on my iPhone screen:

Never heard of a tsunami hitting the west coast of Florida, but shit, the world quit making sense a while back, so maybe? I clicked through to the Accuweather app, which had the little red exclamation point and the same message on the app screen: tsunami warning for my (low-lying, coastal) area.
I mentally reviewed the location of my husband and daughter (higher ground, both, insofar as there IS higher ground on this accursed peninsula) and started figuring out how to single-handedly catch and crate the chickens and then drag the dog and a crate of chickens up to the roof. Or perhaps chance fleeing in my car with the dog and chickens in the cabin with me? Neither seemed a good option.
But before putting either plan into action, I figured I'd better go straight to the horse's mouth and make sure this warning wasn't some Accuweather fuckery and that the U.S. National Weather Service was really predicting a tsunami right here in Cockroach Acres. Turns out, nah: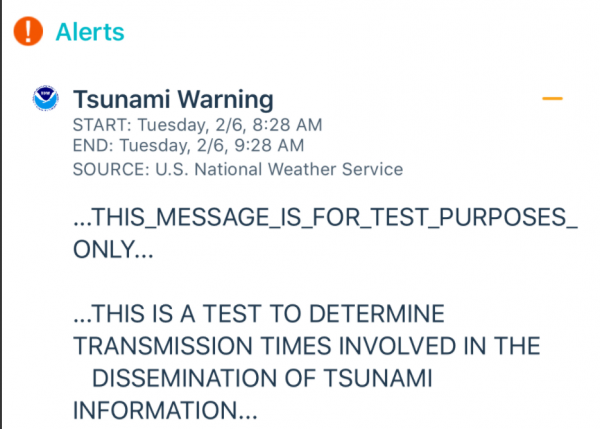 I appreciate getting severe weather alerts when an actual threat exists, just as I'm sure the folks in Hawaii are glad there's a way to alert them of incoming ballistic missiles. But maybe we need to take a step back and rethink how these alerts are disseminated.
In Hawaii, perhaps it shouldn't be possible for one person to fuck up and push the wrong button and send the population into a panic. And maybe the National Weather Service should work more closely with the weather apps that are authorized to push NWS alerts to make sure "this is a test" is part of the alert message when testing the system. Just saying.
Open thread!