We've discussed at length the destructive effects of Fox News. We've marveled at the network's ability to sell "up" as "down" and "black" as "white" to a significant portion of U.S. citizens, thus undermining a pillar of democracy — an informed citizenry — and compromising the concept of "truth" itself.
The Fox News effect a deliberate and decades-long project that culminated in the installation of a pathological liar in the White House. Predictably, the pressure to reconcile said liar's continuous string of falsehoods with reality has caused the Republican Party and its media arm to become even more unmoored from the truth.
This is bad news for the republic, obviously. But I wonder if the party's wholesale estrangement from reality might cause it to make dumb mistakes that fatally dent its credibility with anyone outside the Trump base?
Exhibit A is the current furor in wingnut circles over a partially declassified memo filed by National Security Adviser Susan Rice on her last day on the job. Here it is (image via TPM):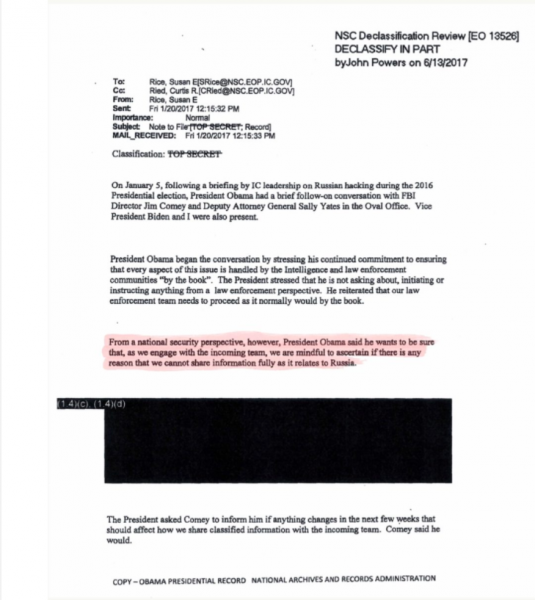 Now, a sane person would read that and think, "Holy shit! The outgoing president was wary of sharing information with the incoming president's staff even before the incoming administration's National Security Adviser and foreign policy adviser pleaded guilty to lying to the FBI about their nefarious contacts with foreign nationals and before the former campaign chairman and his deputy were charged with conspiring against the United States!"
I mean, that highlighted paragraph is pretty stark, right? It straight-up says the Obama people were concerned about sharing information about Russia with the Trump people because they didn't trust Team Trump to safeguard national security. Subsequent events, including Trump blurting out top secret information to the visiting Russian foreign minister and ambassador a few months after taking office, sorta validates the Obama team's suspicions. Not to mention the aforementioned guilty pleas and charges of conspiracy!
But that's not how the memo is being received on the right. Republicans have always had a weird antipathy to the no-nonsense Ms. Rice. (Can't imagine why! Not.) They spent millions of dollars and countless hours pretending that a set of bland talking points from Ms. Rice's shop after the Benghazi incident was evidence of a treasonous conspiracy.
Their takeaway from this Rice memo is that it is evidence that the Obama team was out to frame Trump for collusion with Russia and to cover their tracks by asserting on the record that the investigation had been handled "by the book." Here's a representative sample of how the memo is being treated from a Fox & Friends segment this morning — one of four so far today on this topic:
Senators flag 'unusual' Susan Rice email on Russia probe from Inauguration Day pic.twitter.com/E7x1Y48R10

— FOX & friends (@foxandfriends) February 13, 2018
Forget the Fox News audience for a moment. (Actually, forget them forever; they're unreachable, so fuck 'em.) The danger here — for Trump and his enablers — is that the feedback loop hasn't just ensnared rage-grandpas lolling on recliners nationwide. Chuck Grassley caused the memo to be released, complete with the damning contemporaneous account of the Obama team's suspicions about Trump's inner circle, because Grassley thinks it's such a red-hot gotcha.
Lindsey Graham appeared on a later Fox & Friends segment to reinforce that message. And if he's not live-tweeting Fox & Friends already, Trump will eventually get around to advancing the same narrative, probably in gloating tweets in which he refers to himself in the third person and in scare quotes.
Grassley, Nunes, Graham — and Trump — have become so caught up in preaching to the choir that they've forgotten it's not just the congregation who hears them. This was evident in their attempt to make Carter Page a national security overreach martyr, and it's even more evident with the Rice memo.
Not content to crow about it on Fox News, Grassley indignantly issued a letter to Ms. Rice demanding answers to a string of questions about the memo. Grassley may get more of an answer than he expects.