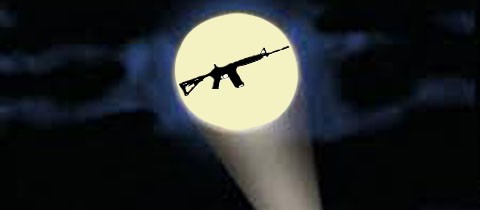 I sense a shift in the political wind on gun control. I know, crazy, right? Even before Newtown, but especially since that horrible event resulted in exactly ZERO congressional action on gun safety, I lost hope that Americans could ever make headway against our insane gun culture. I don't expect the 17 deaths in a Florida school this week to spur much action in the short term. But this feels different.
I could be wrong, so if you're gearing up to tell me that nothing will ever change and I'm a fool for thinking this latest senseless tragedy might move the needle, save your pixels; I'm already telling myself the same goddamned thing.
But here's why I think something MAY be shifting now, and in response to a mass shooting that wasn't a third as deadly as the worst shooting in the last six months. I think we may be at least approaching a Rubicon because more people are joining an awful club no one ever wants to join — the subset of folks whose lives have been touched by this madness.
I've shared with y'all before that I witnessed a workplace shooting ages ago. Before that, I was indifferent to guns. I grew up around them. My dad is a gun nut, and he taught us kids to shoot. Guns were part of the furniture in rural FL when I was growing up. Hell, my granny had a rifle to shoot poisonous snakes that strayed into her yard.
But the day I was compelled to flee a madman with a gun, I acquired an opinion. Mass shootings were still pretty rare back then. In the decades since, the flood gates opened. The circle of people whose lives have been directly affected by mass shootings keeps widening. But the number of people joining that terrible club through an indirect experience is growing even faster.
The thing is, you don't have to be shot or witness a shooting to join that club. The dues are experiencing fear and helplessness because of some random asshole with a gun. And fear and helplessness you feel when your child could be a victim is the worst of all.
The horrifying frequency of school shootings is part of it, but, as a gunsplainer will probably tell us all shortly, your child's chances of getting caught up in a school shooting are still pretty damn slim. But the ripple effect keeps getting wider regardless. School shooting drills are widespread enough, and school lockdown events are frequent enough, that it may finally tip the damned scales.
A few years back, I exchanged text messages with my kid when her school was on lockdown due to a nearby gunman, and there are no words to describe the dread. Commenter Cermet had that same experience this week. In both our cases, no child was hurt, thank God. But in my case — and I suspect I'm not alone in this — once the all-clear was sounded, that galloping sense of existential dread was replaced by incandescent rage.
I asked myself, why the fuck should my daughter and her classmates and teachers have to practice a plan to barricade themselves in a classroom against a shooter? What are we buying with this trauma? Space for some dickless, neckbearded fuck-nugget to dress up in camou and parade around in the woods playing Rambo? That thought had a corollary: Fuck your fucking hobby, assholes!
My daughter's high school has about 1,500 students. Presumably, many of her classmates also texted their parents during the lockdown. Multiply that across the nation. I bet a lockdown happens every damn day, somewhere in this country. Every damn day. That's hundreds, if not thousands, of kids and parents who became acquainted with that specific type of fear.
Now, not everyone will react the same way I did, obviously. Some stupid dickhead doctor quoted in a post here yesterday about the Parkland shooting reacted with "don't take muh gunz!" And his daughter is a student there! She could have been killed!
But fear is turning to anger. This morning, I got a message from our county sheriff on a neighborhood app. It alluded to the Parkland school shooting and was meant to reassure parents that our local cops are on the job to protect our kids. It had an "if you see something, say something" component. Within minutes, hundreds of people responded, and they had to shut the comments down. People are PISSED!
The bottom line is, most people, including most gun owners, are in favor of commonsense gun safety measures like universal background checks. I haven't seen polling on it, but my sense is that the majority of Americans — by a healthy margin — would favor a ban on military-style assault weapons or at least a ban on huge magazines.
The problem has been that, while most sane Americans agree that more gun control is needed, they aren't as fanatically devoted to that position as their opposite numbers in the ammosexual community. It wasn't personal to them. It's becoming so now. That could change things.