As promised..
I'm so very tired of winter cooking. Stews, soups (ok, I'm never really tired of soup), roasted meats and veggies. Time to freshen things up.
But with what? The produce section is often disappointing with flavorless items that haven't seen the light of day. But there are some bright spots and with those I can wave away the winter cooking blues.
First up: Peppers and onions.
This is the time of year when you can find a variety of sweet peppers in all kinds of colors at a pretty reasonable price. My recipes are usually fairly simple. Heat up olive oil, add thinly sliced onions and peppers, season with a dash of salt and pepper. Sauté until they soften and onion are golden. Remove from heat and now you can cook up any number of things: chicken marinated in lemon juice and pepper, thin beef strips marinated in teriyaki and ponzu sauce, pork medallions marinated in apple juice and a bit of apple cider vinegar. The ideas are endless. Serve over rice, mashed potatoes, butter noodles, quinoa…
Or how about Fajitas? That recipe is here.
Next up: Fresh salads.
I found a nice jicama one day and realized I hadn't made a batch of Jicama Slaw since last summer.  A big bowl of that in the refrigerator to munch on all week really lifted the flavor blahs. You can find the recipe here.
Two other summer favorites that are easy to make mid-winter: Potato Salads (recipes here) and Coleslaw (recipe here).
How about fruits?
Now is the time for Strawberries (recipes here and here)
Blood Oranges (recipes here)
And Grapes – one of my favorite grape recipes is Grapes and Sausages, recipe here.
That should be enough help you get through a few more weeks of winter while dreaming of the fresh vegetables soon to come from gardens and farm stands.
Bonus Recipe:
Pasta photo by JeffreyW
Pasta w/Spinach Cheese Marinara Sauce: 
2 tsp to 1 tbsp olive oil
½ onion, chopped
4 mushrooms, washed & sliced
½ green pepper, chopped
2-14 oz cans diced tomatoes
1 tbsp tomato paste*
3 cups fresh spinach, chopped
2 tsp basil, crushed
2 tsp oregano, crushed
1 tsp thyme, crushed
2 tsp crushed garlic
½ cup grated Romano cheese
½ cup grated Parmesan cheese
12 oz bow-tie pasta (farfalle)
2 saucepans
Bring water for pasta to a boil in large saucepan, add pasta and cook according to directions to al dente.
Meanwhile, heat oil in the other saucepan; sauté onions, mushrooms & peppers until onions are golden.  Add remaining ingredients (except pasta) bring to a low boil for 1 minute, stirring constantly.  Reduce heat to med-low, cover and let simmer until pasta is done cooking. As the pasta finishes up, add a ladle or two of pasta water to the sauce.
Drain pasta well and toss together with sauce.  Serve with additional Parmesan & Romano cheeses if desired.
*you can freeze the remainder in an ice cube tray and store in a freezer bag.
====================
And of course, bonus puppies. There is a complete update and lots more photos here.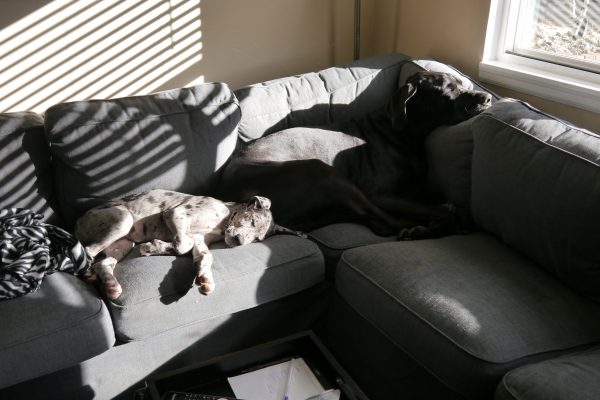 What's on your menu tonight?