We've all had fun over the past several years about the zany acronyms that the US military uses in place of real words as an almost foreign language. And yes, it is entirely possible to have an entire conversation, even a lengthy one, solely in military acronym. One of the more interesting portions of US military subculture is really, really bad powerpoint slides and slide decks. This ranges from just whacky topics for briefings, or rather legitimate topics for briefings that become whacky and surreal because of who built the slides, all the way to just slides that make so little sense I'm not sure anyone can explain them. People's exhibit A of this last type is this jewel from International Security Assistance Force – Afghanistan: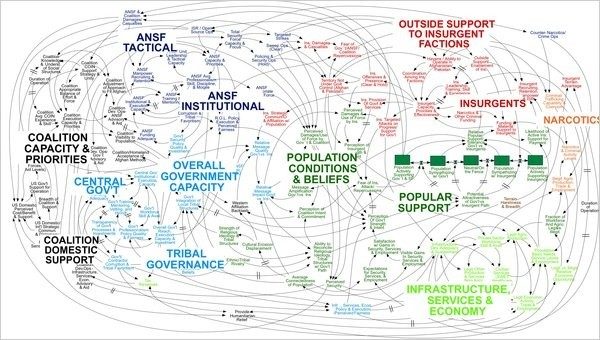 For the record: I did not make that slide. I have no idea who did, but since it was when GEN McChrystal was running ISAF, it most likely came from LTG Flynn's shop. And I actually understand all of the stuff on the slide and it still makes my head hurt and is an abomination.
Anyhow, the Internet Archive has gone through and created an online archive for all the worst examples of the genre.
The Internet Archive's Military Industrial Powerpoint Complex: eyeball-lancing collection of terrible US military slides https://t.co/kWWEekMiMa pic.twitter.com/7tRysCX1Mb

— Boing Boing (@BoingBoing) February 20, 2018
The Internet Archive celebrated its 20th anniversary with a variety of special events and collections, including the cleverly named Military Industrial Powerpoint Complex, an archive of US military bureaucratic slide-decks that are as cringey as they are hideous.

You can celebrate these marvels of the military bureaucratic communications system with a special "battledecks" Powerpoint karaoke event at the Internet Archive in San Francisco on March 6: contestants download a random military powerpoint and present it sight unseen, improvising the accompanying explanation.

If you can't make it to the event, you can peruse the archive yourself from the comfort of your bunker; or follow Motherboard's Matthew Gault on his guided tour of offensive, outdated, boring, and weird highlights of the collection.
Here's the link. Once you're done reviewing them all you can be awarded your tab: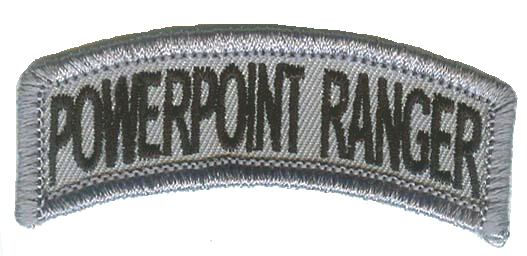 I haven't found any of mine yet, or any of my colleagues, but if I do, I'll do a follow on post so you all can point and laugh.
Open thread!