The Oath Keepers have decided that they are going to start providing security at America's schools, or as I suspect the schools that are not in inner city areas of America, until local, state, and Federal officials can secure them against potential mass shooters.
Oath Keepers plan to station volunteer armed guards outside schools (via @allegrakirkland) https://t.co/X1nECBmq37 pic.twitter.com/yJQgpithLz

— Talking Points Memo (@TPM) February 26, 2018
Imagine if every school campus in the United States had its own volunteer security officer: a former police officer or military veteran equipped with an assault rifle.

That's the dream of Oath Keepers founder Stewart Rhodes.
 In the wake of the February 14 massacre at a Parkland, Florida high school, Rhodes is calling on members of his 

far-right anti-government militia group

 to serve as unpaid and unaccountable armed school guards — whether teachers and students like the idea or not.

Rhodes wants the military and police veterans who make up Oath Keepers' membership to volunteer for unpaid, rotating shifts at schools of all levels, and colleges, throughout the country. He and two other representatives of the fringe militia community will hold a webinar Monday night where they plan to encourage Oath Keepers to station themselves at schools "to protect the children against mass murder, and to help train the teachers and staff."

"I think it's essential," Rhodes told TPM in a Monday phone call. "It's part of our responsibility to do what we can."

"And what we can do is be outside of schools so that we're closer if an attack happens, or when one happens," Rhodes continued. "We'll be there to be a fast response."
An Oath Keeper in Indiana apparently got the party started.
FORT WAYNE, Ind. (WPTA 21) –

An Oath Keeper armed with a handgun and AR-15 is standing watch outside of a local high school.

On Friday, Mark Cowan began his watch at North Side High School. He's armed with a handgun and is keeping an AR-15 rifle nearby, in the front seat of his car.

He said he plans on standing at the school every day.

Cowan is a member of a group called Oath Keepers of Indiana, a "non-partisan association of current and formerly serving military, police, and first responders, who pledge to fulfill the oath all military and police take to 'defend the Constitution against all enemies, foreign and domestic'," according to their website. 

Cowan said the Indiana Oath Keepers have about 100 members who are watching high schools across Eastern Indiana in the wake of a deadly shooting in Florida more than one week ago. He told ABC21 that although students and parents were not made aware of the Keepers standing guard, they have informed local police.

Cowan said he's ready to risk his life to protect the children.

"These are kids. Ain't none of those kids in there allowed to carry a gun to protect themselves," he said. "There's one school resource officer… take a look at the size of this school, look at the size of your school where you're at. One officer ain't enough.

"If somebody comes to this school or another school where we're at, that school shooter is going to know, we're not going to play games… You come to kill our kids, you're dead."
Local school officials aren't too thrilled.
The Public Information Officer for Fort Wayne Community Schools Krista J. Stockman said they take the security of their schools very seriously.

"We understand he has a right to be out there," Stockman said, "as he is not on our property, but we do not believe it adds to the safety of our students. At North Side, as at all of our schools, we have security procedures in place. In addition, at North Side, we have armed police officers in the building every day."
Is Mr. Cowan a good guy with a gun? You be the judge:
Fort Wayne's NBC has learned that Cowan has been convicted of misdemeanor battery resulting in bodily injury.

We uncovered that he was charged in an altercation with another person.

Fort Wayne's NBC reached out to Cowan for an on-camera interview. He declined but did talk to our team over the phone.

Cowan says he was protecting his family and says the man he hit had already hit one of his grandsons and was about to hit the other.

A misdemeanor battery conviction does not prevent him from carrying a firearm.
I've been studying, researching, analyzing, and writing about these folks since the early 1990s and this is not likely to end well. In pretty short order one of these fine outstanding citizens will take it upon himself to start actually policing who is coming and going to and from the school. By policing I mean questioning anyone they think looks sketchy who is approaching or leaving the school. Teachers, staff, students, parents, vendors and delivery drivers, and legitimate visitors. And by sketchy I mean anyone who is darker than a manila file folder. Something like this: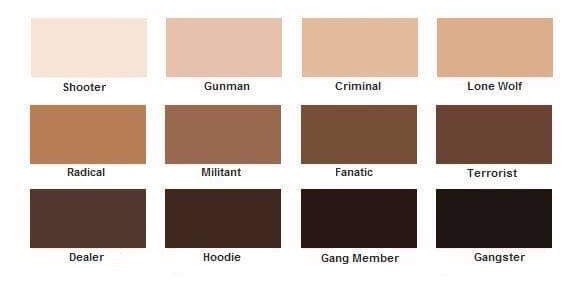 (Just so there's no confusion in case Speaker Boehner visits Indiana on vacation, he's somewhere between creamsicle and orange peel.)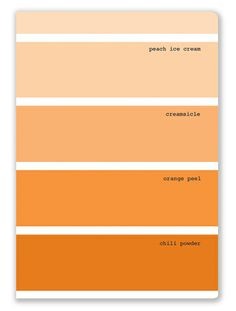 (Speaker Boehner Colar Swatch)
Things will get interesting when someone decides to do the sane thing and ignore the Oath Keeper or Oath Keepers. When that happens we'll see if they're hanging out adjacent to schools to provide an extra set of eyes and ears or whether they expect that everyone needs to respect their authoritah! If I was a betting man, I'd put money on the latter, not the former. Local officials need to nip this in the bud really quickly. Otherwise they're going to have a vigilante force that feels empowered by inaction on their hands. And that is not going to end well at all.
ETA at 11:55 PM EST:
The minute that one of these fine folks actually provides unofficial armed response he or she would be in violation of the Federal Gun Free School Zones Act. The minute they set foot on school property armed in response to what they think is an attack or any other problem, they've broken that law. There's no exception for members of the Oath Keepers.
Stay frosty!
Open thread!