On the Road is a weekday feature spotlighting reader photo submissions.
From the exotic to the familiar, whether you're traveling or in your own backyard, we would love to see the world through your eyes.
Good Morning All,
This weekday feature is for Juicers who are are on the road, traveling, or just want to share a little bit of their world via stories and pictures. So many of us rise each morning, eager for something beautiful, inspiring, amazing, subtle, of note, and our community delivers – a view into their world, whether they're far away or close to home – pictures with a story, with context, with meaning, sometimes just beauty. By concentrating travel updates and tips here, it's easier for all of us to keep up or find them later.
So please, speak up and share some of your adventures and travel news here, and submit your pictures using our speedy, secure form. You can submit up to 7 pictures at a time, with an overall description and one for each picture.
You can, of course, send an email with pictures if the form gives you trouble, or if you are trying to submit something special, like a zipped archive or a movie. If your pictures are already hosted online, then please email the links with your descriptions.
For each picture, it's best to provide your commenter screenname, description, where it was taken, and date. It's tough to keep everyone's email address and screenname straight, so don't assume that I remember it "from last time". More and more, the first photo before the fold will be from a commenter, so making it easy to locate the screenname when I've found a compelling photo is crucial.
Have a wonderful day, and enjoy the pictures!
Today, a bit of catch-up – I'm publishing some odds and ends and will be doing further clean up for the next week or two.
And what a great way to start out the week  – it looks like, after like 10+ tries over the past couple of months, Bill's awesome pictures went through from the form to FYWP, so they're on deck for tomorrow. In a couple of weeks, I hope to renew his Monday-Wednesday schedule, but there's a lot of content to work through still, mostly long-ago submitted via email but also some from the form.
i.e., to all those I've not yet published – take heart!
And with that, let's see what today offers:
First up on clean-up, an old picture from valued commenter Le Comte de Monte Cristo, fka Edmund Dantes.
So for any who were mildly curious, we did wind up going to Mexico after all the brouhaha with middle daughter. She did fine while we were away. What I have for you is some flotsam and jetsam from earlier this fall and late summer.

Hooky Day

Taken on 2017-09-06

7th and Main, Louisville

So we decided to have a hooky day on a random Wednesday, and to start with a boozy lunch at noon while looking at our city like tourists. This was the starting point, at Hotel 21C, a block west of my office. It is the mothership of a new chain – the first did so well that it is expanding. They've got a great bar, a contemporary art museum on the basement and lobby levels, and this kitschy reproduction out front.
I think I published the pictures that followed long ago, or they're lost. If that's the case, please re-submit.
Thank you so much Le Comte de Monte Cristo, fka Edmund Dantes, do send us more when you can.
Next, pictures from valued commenter SoupCatcher.
I don't get a chance to read Balloon Juice until after work; the last time I submitted pictures – 17 August 2017 – the thread was long dead by the time I saw everyone's comments. Those pictures, from redwood country, were taken about 200 miles (320 km) further north than these. In California, that's less than a quarter of the length of the state. A solid commute, in other words.

4 January 2018. Samsung phone camera. Around mid-day. Almaden Quicksilver County Park. Hicks Road entrance. Wood Road to the Hidalgo Cemetery.

San Jose was, at one time, the premier city in California, back when San Francisco was a military fort surrounded by malarial swampland and Los Angeles was a few hundred people strong.

The mercury mines at New Almaden were a late edition, but still pre-date the gold rush.
Wood Road was used to bring wood to the processing facilities at the mine. According to the interpretive signage, a teamster was paid $35 a month.

Heading back from the cemetery

Most of the trails in the park are well used. Because this cemetery is off on a spur, the old access road is lightly traveled.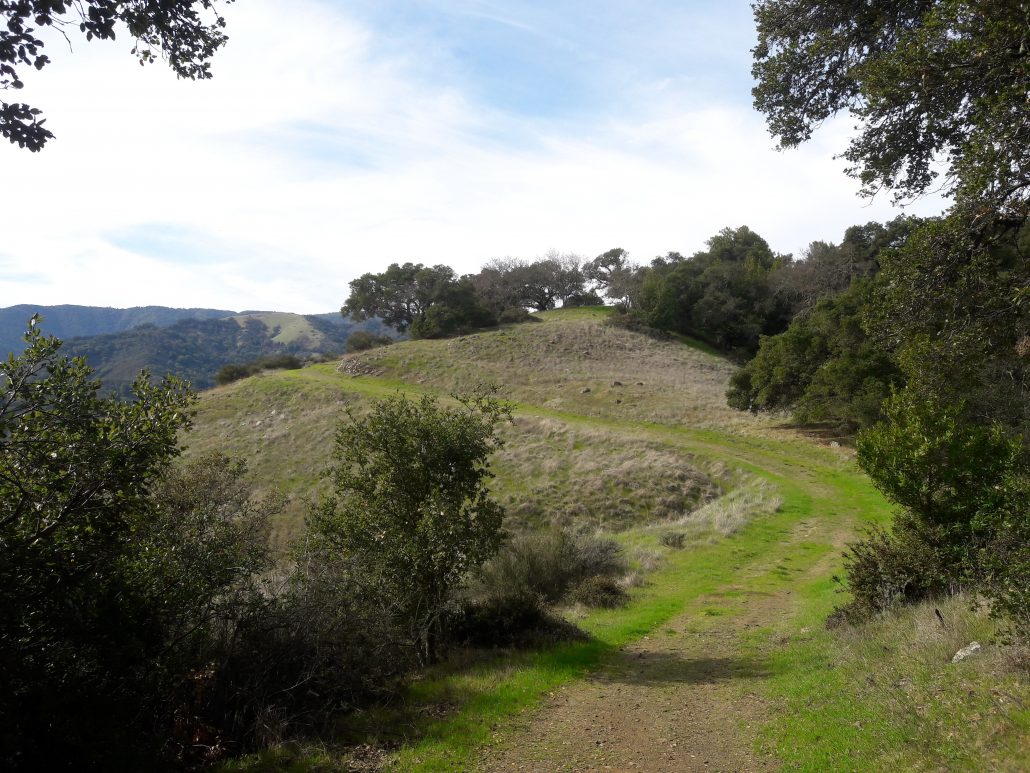 Mt. Umunhum and Oak

That square building in the background is a local landmark: the radar tower at Mt. Umunhum. It's visible from pretty much anywhere in the south bay.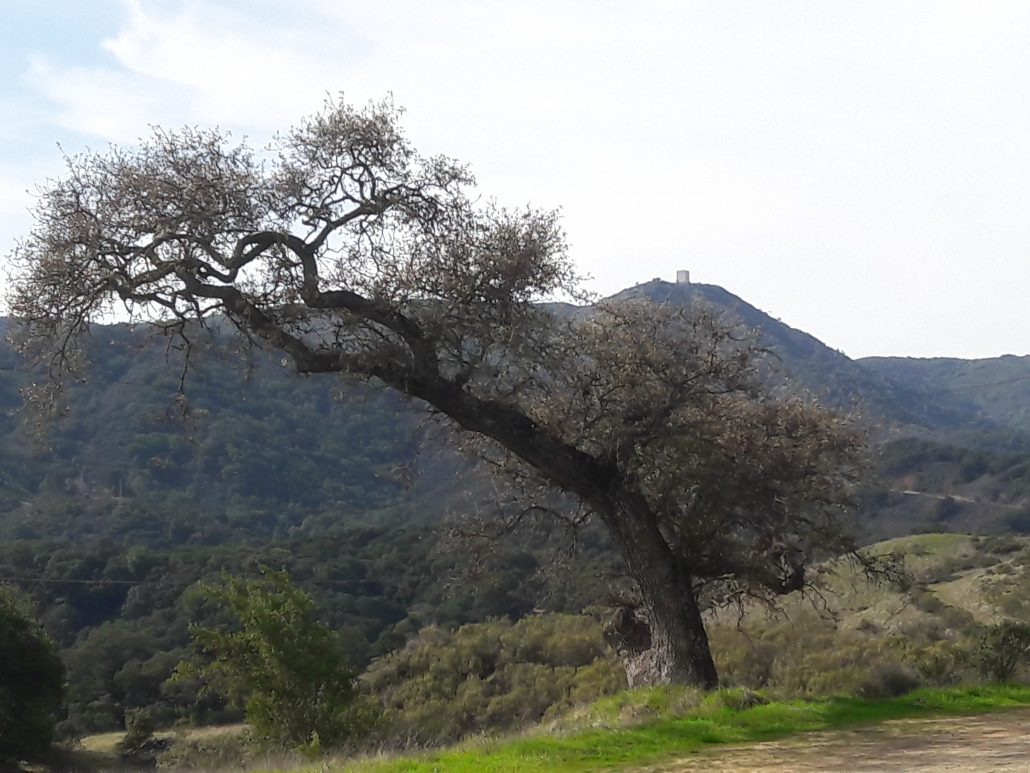 Madrone

I love the red bark on the whole group of plants that make up the manzanita/madrone family.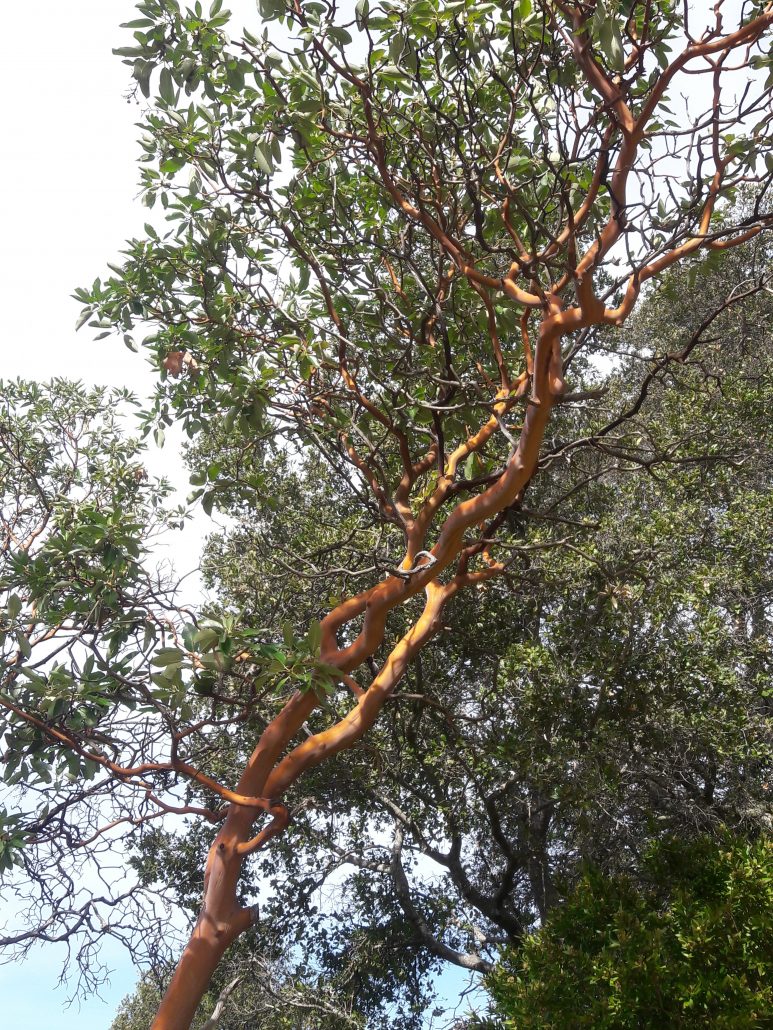 Cactus and Oak

It wouldn't be the west without some cactus.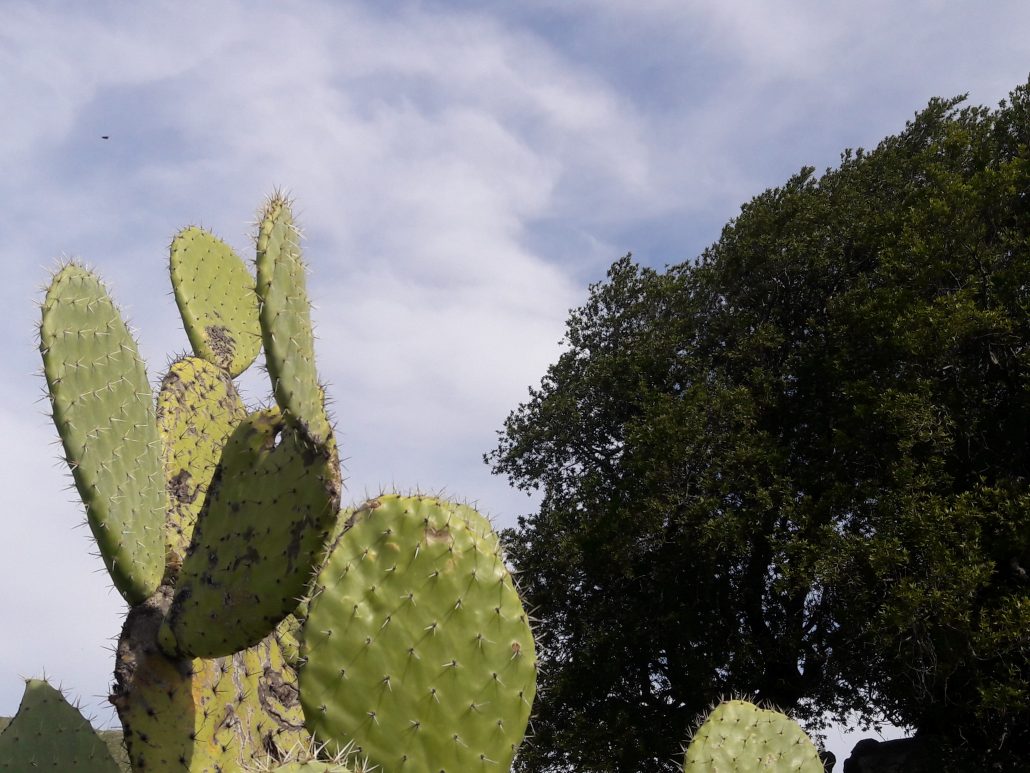 Pyracantha

The pyracantha bushes are filled with berries this time of year. Birds love to eat them. I also think of this as purple-spotted-windshield season.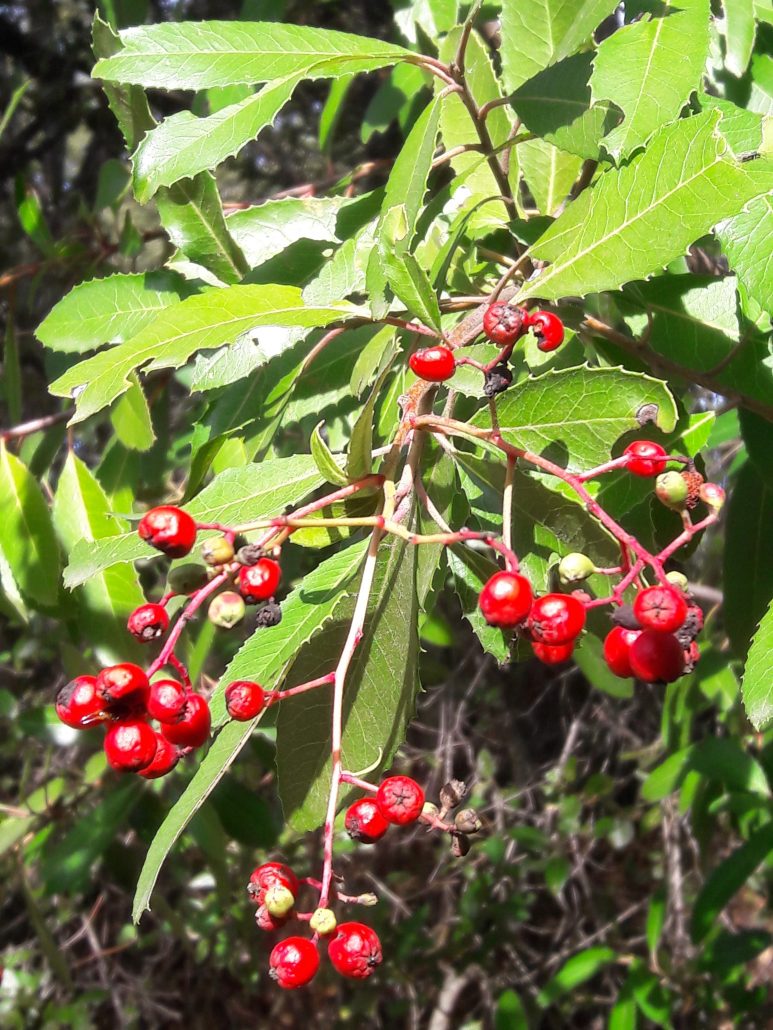 Agave and Pine

We call the plant in the foreground a century plant; it's some member of the agave family.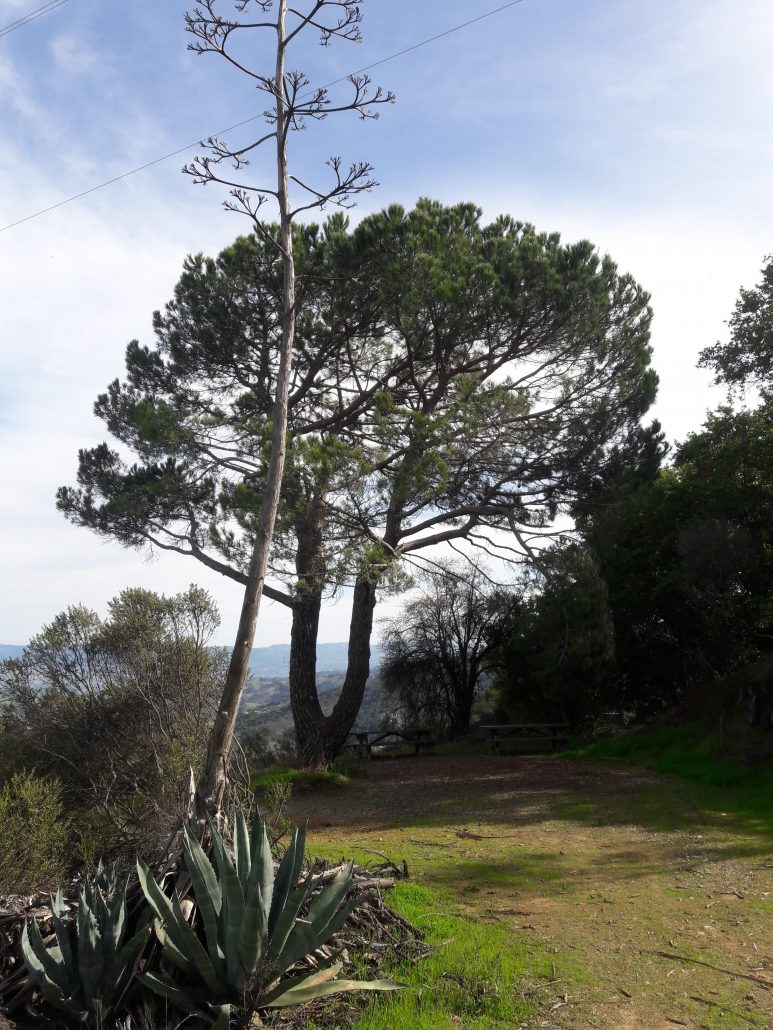 Ridge Oaks

I'm a sucker for a ridge-line of oaks.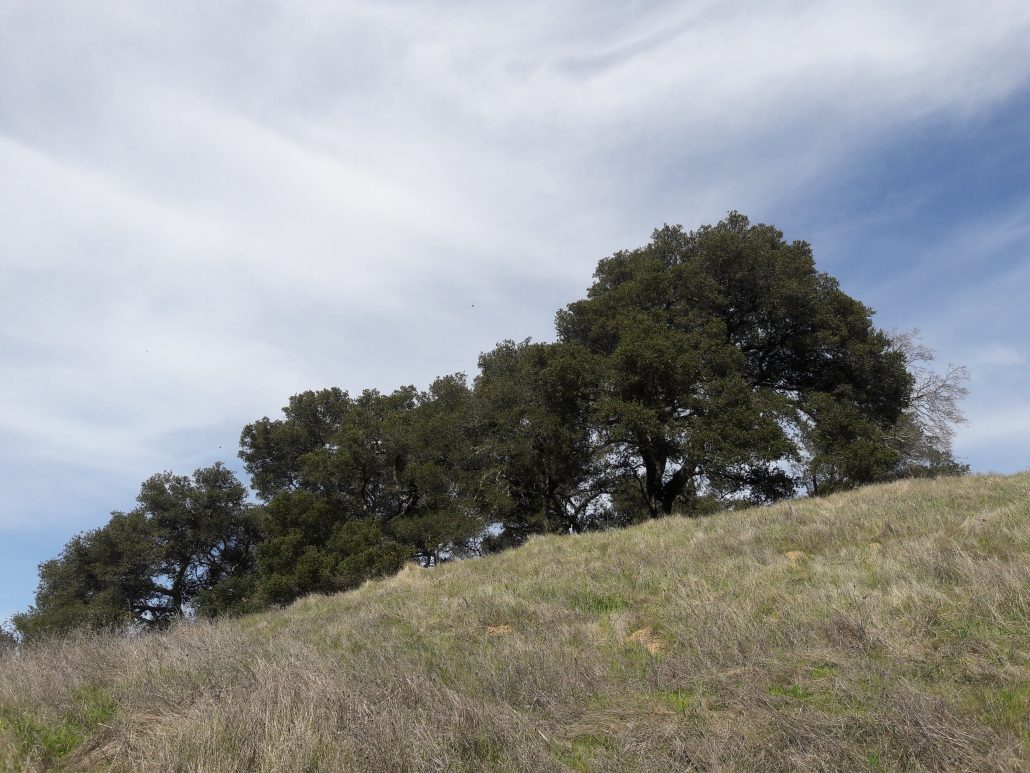 Thank you so much SoupCatcher, do send us more when you can.
Finally on this clean-up-setup-a-good-week Monday, a great picture from a while back from valued commenter cintibud.
This is me kayaking on the Upper Youghiogheny last Sept. This is a river I have paddled for many years. The special thing about this is however is that I gave a framed picture of this to my Cardiologist at my checkup Monday as I am now 2 years free of Atrial Fibrillation, which had prevented me from paddling difficult rivers like this. I included a thank you note for his work in getting me back on the river. He was quite touched.

Above Mel's Toilet Bowl, Upper Yough river, Maryland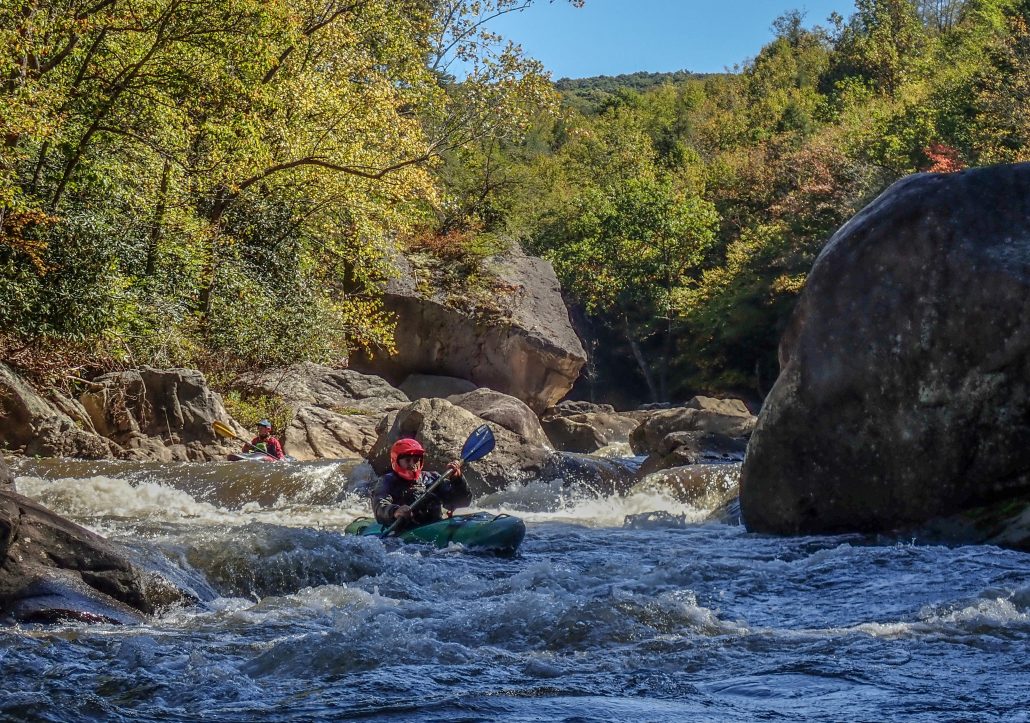 Congrats, and what an amazing picture, river and story!  Do share more as I'm sure many folks aren't blessed to be near or know kayakers, and it's a wonderful way to interact with nature and a heck of a lot of fun!
Let's have a great week, everyone!
Travel safely everybody, and do share some stories in the comments, even if you're joining the conversation late. Many folks confide that they go back and read old threads, one reason these are available on the Quick Links menu.
One again, to submit pictures: Use the Form or Send an Email