Have you ever phone-banked? I find phone-banking a bizarre experience. This is because I haven't answered a ringing phone since 1994 and people who do seem like aliens to me.
My roommates in 1994 were both grad-student TAs. Their phone numbers were in the department directory and they did not want their students to feel like they had a teacher at their beck and call every time they could not be bothered to figure out something for themselves. So all calls were screened. For my own part let's just say that this young musician was not exactly flush with cash. Nor was he keen to meet financial obligations that will render him unable to do the kinds of things that young musicians like to do. That makes it necessary to, if not go completely off the grid, then, let us say, cloak ourselves from the grid every once in a while. And people who wish to be transparent to the grid definitely screen their calls. (Before I had roommates, I just didn't have a phone. Problem solved!) Furthermore, one of those grad-student roommates made the point that when someone comes to the door, you don't throw it open and drag them in before you ascertain who it is on your porch. I found this very persuasive and I haven't picked up a phone and said "Hello?" since Kurt Cobain walked the Earth.
When I phone-bank I am not surprised if an older person answers the phone. My father, born in the '30s, has never understood why I don't answer the phone and never has stopped objecting to the practice. Old habits die hard. (My technologically savvy mother never talks on the phone. We just text as the mood strikes us.) I am continually surprised at 1) People my age or younger who do answer the phone and 2) People my age or younger who have a landline. What?!
Here are the ladies dialing for Shayna for County Board District 8! Many potential voters were called. Cisco the basenji stole a piece of pizza. So it was a successful evening all around.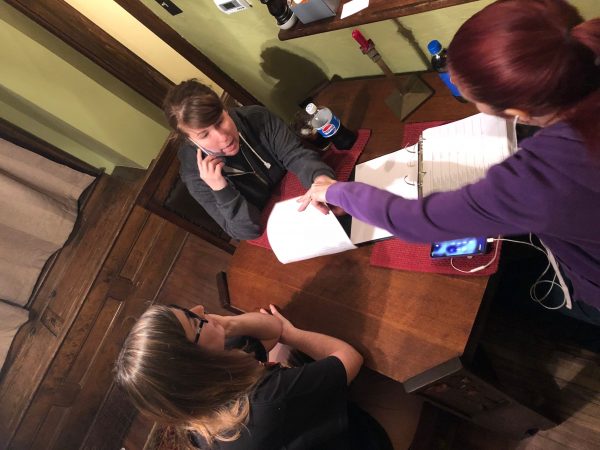 After the primaries, our federal Dem hopefuls will need office space and pizza to fuel their own phone-banking parties. And here's how you can help. It's the good old fund that's split between all eventual Democratic nominees in House districts currently held by Republicans.