I had to drive to the big city this morning because I needed gas for the car and I was out of fresh fruit and vegetables and plain unsweetened notfat yogurt and nonfat cottage cheese, the diet of champions for people with pancreatic issues, and about halfway there I rounded a corner and there was a person standing on the other side of the guardrail waving a sign crazily at oncoming traffic. As I got closer I noticed it was a woman, and she was carrying a trash bag, so I just figured she was hitchhiking and needed a ride, but was going in the opposite direction. However, as I got closer, she turned to face me and waved the sign manically at me. All I could make out was "PLEASE STOP" but it was too late for me to stop, so I kept going for a little ways and thought "Well shit, I have to turn around and deal with this, don't I?"
I mean, I didn't know if she was a crazy homeless person who was going to get hit by one of the big rigs and fracking trucks or JimBob in his pick-em-up truck, if it was someone having a mental breakdown, or maybe just some woman in an abusive relationship who was trying to make a getaway. Either way, I'm big enough to defend myself and am ok at these situations and if I read about someone being killed by a truck or hunted down by a psychotic husband I would never forgive myself, so I decided to turn around and deal with whatever this shitshow turned out to be. I got to a straightaway and made a three point turn and headed back because why not and if this is how I go out, it will be a cool story.
Got back to the lady and slowed down, rolled down my passenger window, and asked "Is everything ok?" and she blurted out "Thank God you're the only one who fucking cares. I've been picking up trash for six hours." She then showed me her sign and I just sat there and took it all in.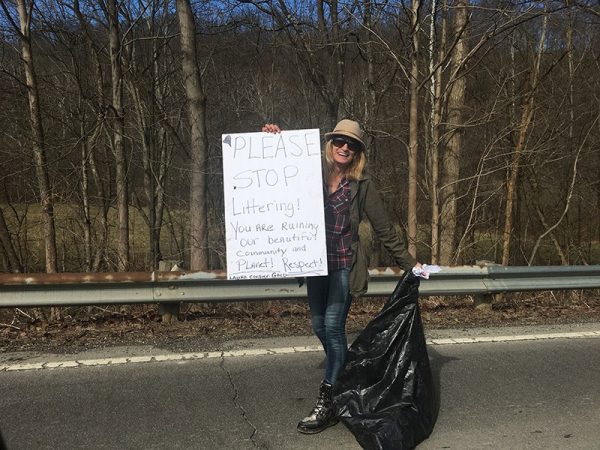 Her teeth were nice and she didn't have scabs on her face so I decided she wasn't on meth or in any real distress (well, physical distress). I asked again if she needed anything, and she said no and ranted about the environment and trash again (which I agree with her wholeheartedly). I then told her if everything was ok I was going to be on my way, and asked her to please stay out of the road because it is dangerous with all the trucks, and she smiled and I did another three point turn and headed back towards the big city. On my way back home, I did not see her, so either she is off doing something else manic or if a truck hit her it threw her far enough over the guard rail that I didn't see the body.