Had a bunch of errands to run, some stuff to do in the yard, and some more calendars were returned because I fatfingered the addresses, so I got myself all slicked up and took my annual spring selfie: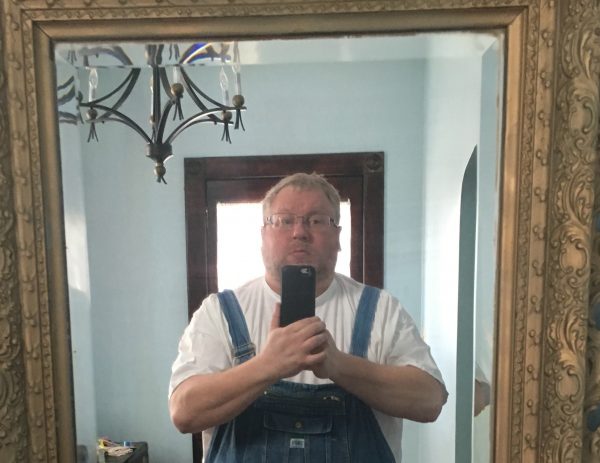 That's my great-great-grandmother's mirror. And before you all give me a lot of shit about the overalls (Ann Burr hated them and quipped I was Angry Bob Vila), they are comfortable, they are never too tight, they are just the right temperature in the fall and spring with a t-shirt or long sleeve shirt, and with a pair of thermals they are perfect in even the coldest weather. Plus, they have lots of pockets for my phone, my wallet, my pocket knife, a pen, keys, and dog treats, and you can adjust them to fit depending on your current level of fat. They are also indestructible- you can get them filthy, throw them in the wash, hjang em up to dry, and you'd never notice you were covered head to toe in dirt.
They are also the perfect camouflage for my area of the universe. I could commit a murder in broad daylight, and the witness descriptions would be "a fat white guy in overalls" and the cops would just give up because that's basically the state of West Virginia. All that, and I have been reliably informed that they serve as remarkably effective birth control, so I got that going for me as well.
Speaking of Black Panther, I bought the soundtrack and have been basically listening to it nonstop and it is awesome. Kendrick Lamar is a god damned national treasure. I bet I listen to Good Kid or Section 80 each twice a week while driving. Not as much a fan of to Pimp a Butterfly, and DAMN! is still growing on me, but I love the new Black Panther soundtrack.