On the Road is a weekday feature spotlighting reader photo submissions.
From the exotic to the familiar, whether you're traveling or in your own backyard, we would love to see the world through your eyes.
Good Morning All,
This weekday feature is for Juicers who are are on the road, traveling, or just want to share a little bit of their world via stories and pictures. So many of us rise each morning, eager for something beautiful, inspiring, amazing, subtle, of note, and our community delivers – a view into their world, whether they're far away or close to home – pictures with a story, with context, with meaning, sometimes just beauty. By concentrating travel updates and tips here, it's easier for all of us to keep up or find them later.
So please, speak up and share some of your adventures and travel news here, and submit your pictures using our speedy, secure form. You can submit up to 7 pictures at a time, with an overall description and one for each picture.
You can, of course, send an email with pictures if the form gives you trouble, or if you are trying to submit something special, like a zipped archive or a movie. If your pictures are already hosted online, then please email the links with your descriptions.
For each picture, it's best to provide your commenter screenname, description, where it was taken, and date. It's tough to keep everyone's email address and screenname straight, so don't assume that I remember it "from last time". More and more, the first photo before the fold will be from a commenter, so making it easy to locate the screenname when I've found a compelling photo is crucial.
Have a wonderful day, and enjoy the pictures!
Something great – amazing pictures from BillinGlendaleCA! We'll have many more!
Today, pictures from valued commenter ?BillinGlendaleCA , pictures submitted – gasp – on 2017-10-17. These have been stuck in the gears that long. Mostly because of the amazing pictures – the sizes of some pics made things crap out and I'd not had the time to devote to things. I was a full-time caregiver and now I'm full-time dealing with the estate, living in two houses, with two different sets of cats that will be combined…once we have a plan. I live in my home and also in the home I grew up in, so it's all kinda emotional. At least there's cats in both places!
Beyond cats, savings, and the house, my mom had published many textbooks and so there's lots to deal with: intellectual property, royalties, crazy new finance and tax realities, etc. Suddenly it's serious – I can no longer avoid details with huge implications beyond my direct actions or labor. To quote Leela, "Suddenly I have an opinion about capital gains taxes", but truthfully, I've always thought that capital should, be default, be taxed at a higher rate than labor, but I'd be stupid to not ensure that what I've inherited is protected and producing for me and retirement, loved ones, good causes, etc.
Enough about that, let's look at some truly awesome pictures!
The Japanese Garden at The Huntington The Huntington Library and Gardens are on the former estate of Henry Huntington in San Marino, California; just south of Pasadena. Henry Huntington ran the Pacific Electric Railroad which ran the Red Car transit system; he even had a spur into his estate for his private car. He built his mansion with a view of the San Gabriels at the top of a slope formed by the Raymond fault. After his death in 1927, the estate became the Huntington Library and Gardens with his mansion becoming the European Art Gallery(the most famous works housed there are Pinkie and Blue Boy). During Huntington's time at the estate; the Japanese, rose, and desert gardens were the only gardens that existed. The palm garden, jungle garden, Australian garden, and the Chinese garden were added later. The Chinese Garden is the most recent addition with the first phase opening in 2008 and the second in 2014(there are still 3 more pavilions yet to be completed). The Japanese Garden is one of the largest at the Huntington(the Desert Garden may be larger). It has a tea house that was imported from Japan(was torn down in Japan and shipped here and rebuilt), a bonsai area, waterfalls, and the bridge(which was painted orange but they discovered that it was originally unpainted so that's the way it is now). After I finished the post on the Chinese Garden, I ran across this interactive map of Huntington's Pacific Electric Red Car lines. The map shows how extensive the Red Car was and also some remnants that still exist(we saw some in the photos from Echo Mountain).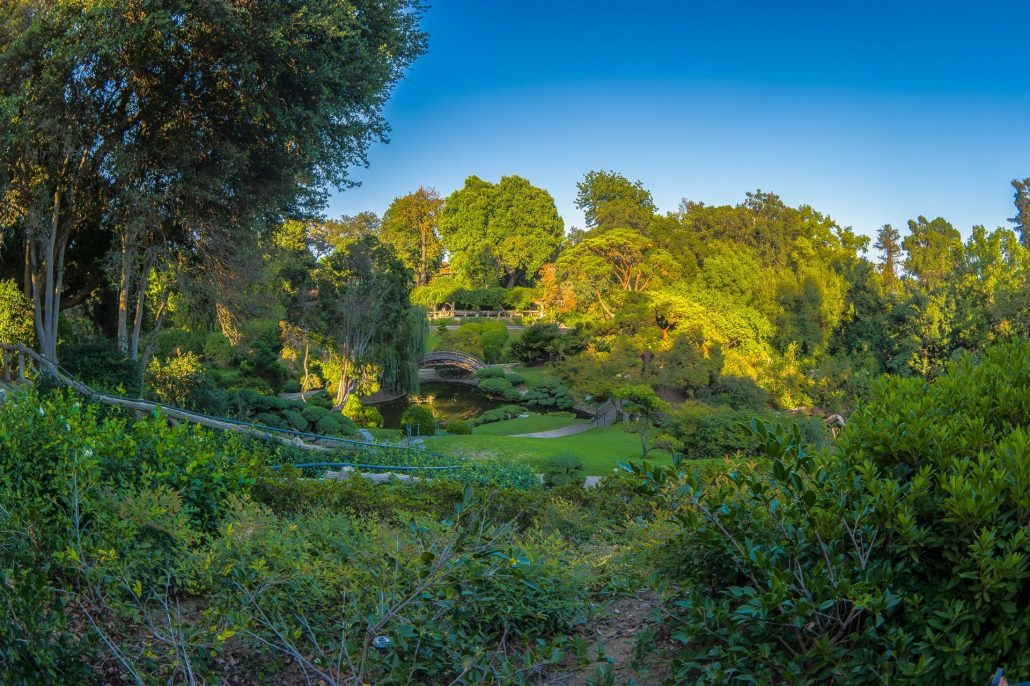 This shot was taken the same evening and was shot down the hill from the tea house. You can see the bridge(which you can't use). The Japanese Garden is situated on either side of a valley with the entrance off the Rose Garden on the east and the tea house on the west.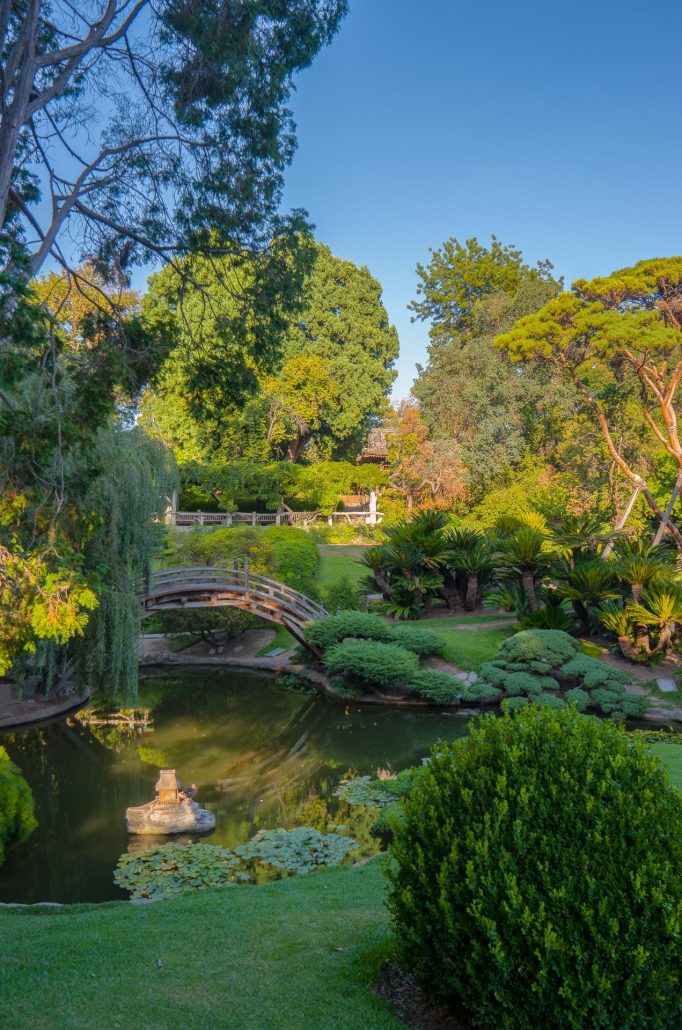 This picture was taken a bit further up the hill than the previous shot.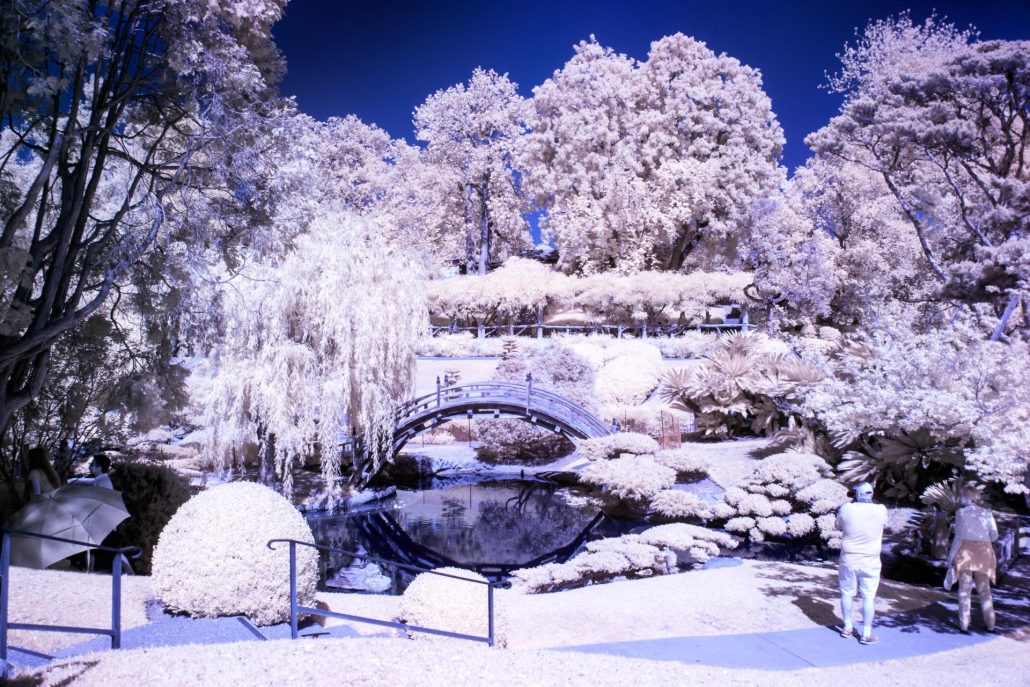 A duck sitting on a rock in the stream that runs from the lake in the Chinese Garden and though the Japanese Garden.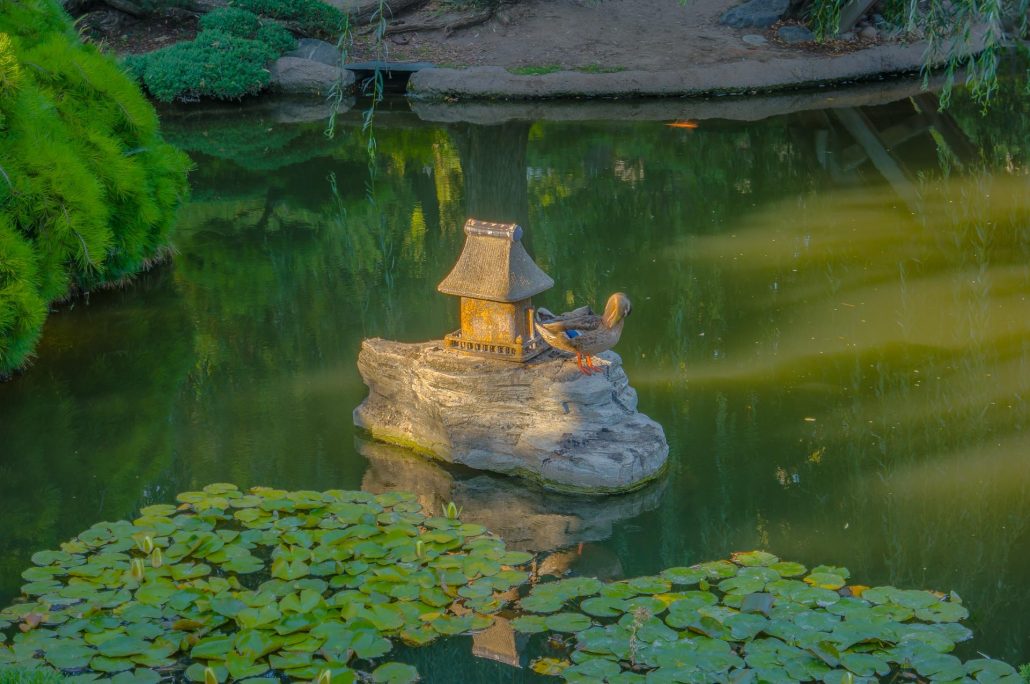 A close shot of the bridge looking towards the tea house.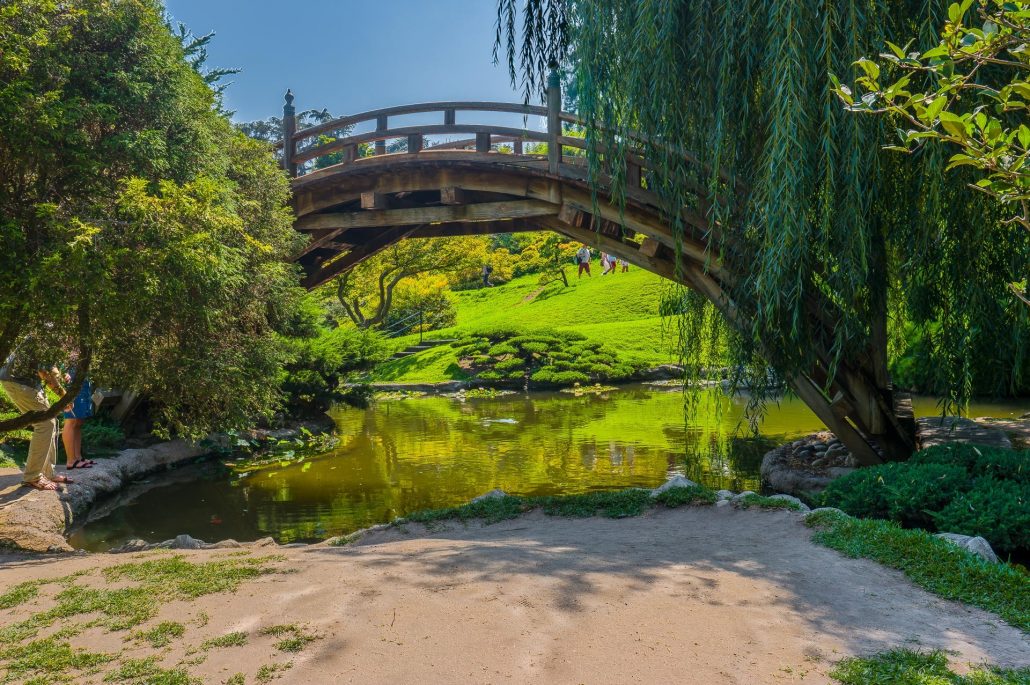 I shot this using the waterfall special setting on my camera that produces more of a milky look to waterfalls(it's also shot with the fisheye lens).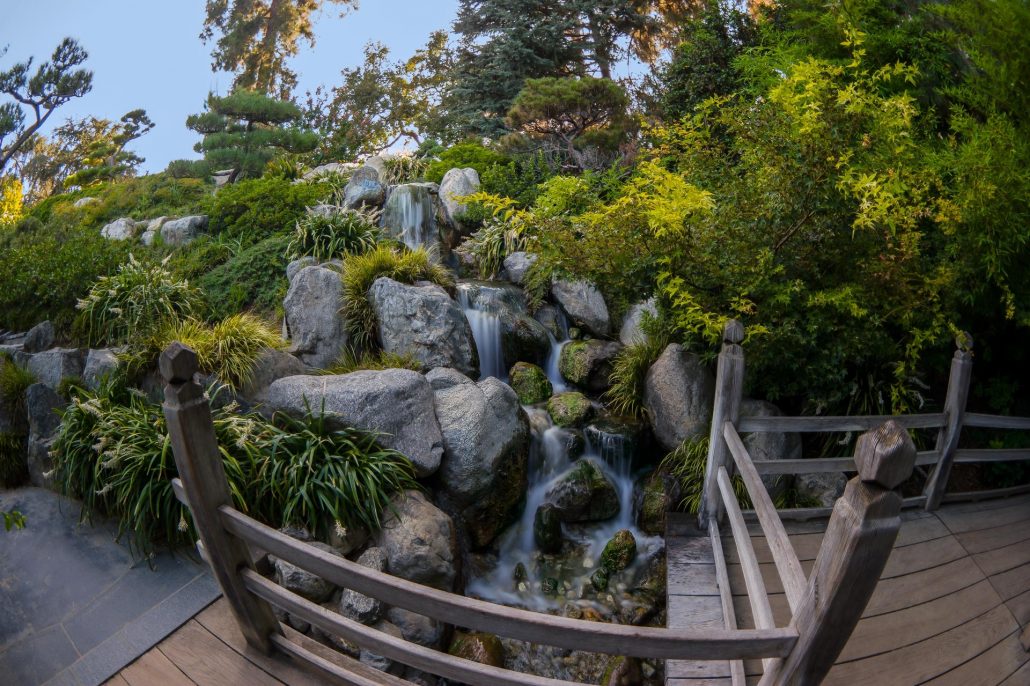 This shot is composed of about 130 separate shots(3 exposures for each of roughly 40 shots) and then stitched together in what's called a "Little Planet"(Photoshop calls it a polar projection) projection. While I'd played around with this type of photo(shooting test shots here at the cave), I'd never tried it "On the Road".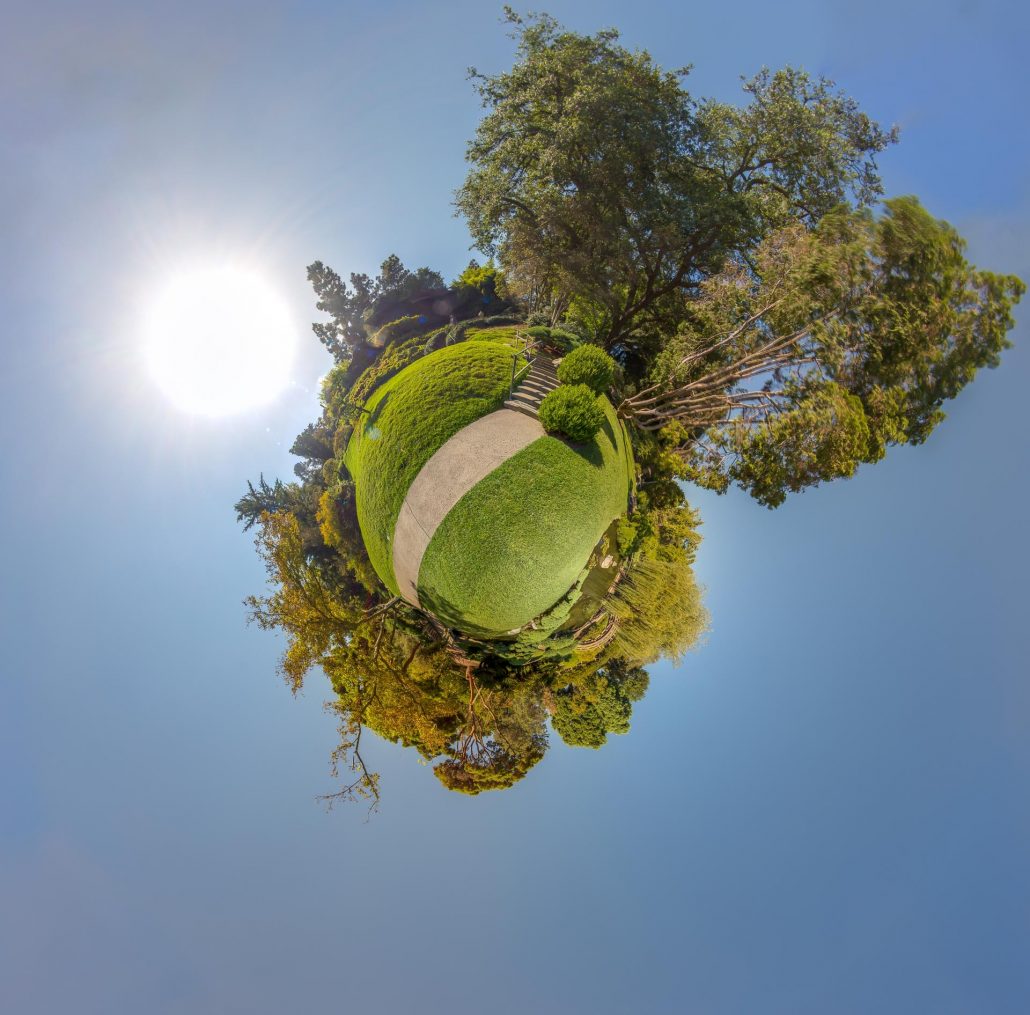 Thank you so much?BillinGlendaleCA, do send us more when you can.
Travel safely everybody, and do share some stories in the comments, even if you're joining the conversation late. Many folks confide that they go back and read old threads, one reason these are available on the Quick Links menu.
One again, to submit pictures: Use the Form or Send an Email