I just got home from the MRI, and I have to say, for all the horror stories people told me going in, it was one of the easier procedures I have ever been through. People said it would be super noisy, I'd get claustrophobic, etc., and I didn't find it that bad at all. The hardest part was driving to the hospital without having had coffee.
For those of you who have never had one, I will walk you through it since the details are still fresh so you will know roughly what to expect if you ever have one. This is, after all, a full service blog.
At any rate, I was supposed to be there at 8:30 am, but because my father is German and I was potty trained at gunpoint, I was there promptly at 7:55. Checked in, got a bracelet, signed the HIPAA compliance forms, filled out a form requesting some medical background, and sat down at 8:05 and settled in to wait. At 8:07, a very pleasant nurse came in, called my name (which seemed superfluous since I was the only one in the waiting room), and took me to a different room. She gave me a gown and trousers, and ushered me into a little dressing room. Put my stuff in a locker, got dressed, and went back out.
She went through my records again, and then inserted an iv, and drew a little blood so they could check that my kidneys were strong enough to handle whatever they were going to inject me with to get good pictures. I then waited ten minutes for that, and then they took me into the room with the machine. I lay down, and they hooked up the iv so they could inject things into me during the procedure, and then positioned me on the sliding board that would move me into the machine. It looks like a big doughnut, and you are the hole: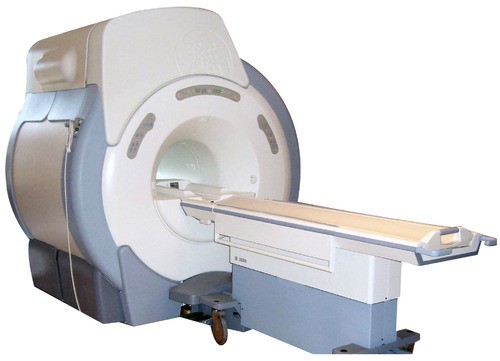 It's very space age and cool.
Back to the positioning. They put some cushions underneath my knees, a pillow underneath my head, and tried to make sure I was super comfortable before inserting me. The machine is tight, especially since I am a big boy and I have fat in places where most people don't have places, and my right shoulder and its limited mobility made things an issue since I could not rest it at my side. I suggested keeping my left arm by my side and putting my right arm on my forehead like I was giving a British salute. They were a bit leery I could stay like that for the whole 45 minutes, but I told them I would deal with it and to just proceed.
So once all that was settled, they put earphones on me so they could talk to me and to muffle the sound, and they gave me a turkey baster bulb that I could squeeze to contact them that I put in my right hand. And with that, in I went.
I can see how if someone is claustrophobic, it would be horrible. I was in tanks several years, and I have really good willpower and mind control for short bursts of time, so I was ok. I mean, no one likes being jammed into something like that, but it wasn't terrifying or horrifying. I mean, it's not like the thing is going to crush me. I'm not one of those miners who was in a hole for 30 days. I'm in a perfectly stable machine, INSIDE A HOSPITAL, so if anything were to happen (which it wouldn't), I am exactly where I need to be.
I just did some breathing exercises and got myself into a nice, slow, breathing pattern while they got themselves organized, and then we started. Every now and then they would tell me to breath deep, it would make some noises for ten seconds, and they would tell me to exhale. And so on for a while.
Then there was a period where I had to just lie completely still for 5-6 minutes while the thing kicked into gear. It was loud, but it was kind of cool at the same time. It made a lot of weird rhythmic sounds that I found super interesting and kind of calming, and then it would switch up a bit. I imagine the sounds are the cavitation (right word?) of the camera as it spins around you in circles- think of a washing machine with an unbalanced load, and the tonal changes are when they adjust it a bit. Here is what it sounds like from the outside:
Now remember, that's what it sounds like on the outside. On the inside, it was a lot different- think of the difference between how you sound on a recording, and how you sound when to yourself when you are just talking. Hell, just do this and you will understand:
So on the inside, it sounded a lot different. The best way I can describe it is it sort of felt like being at a Blue Man Group show and being INSIDE the PVC pipe as they banged on it. I'm an odd duck, so I found it to be a completely pleasant and interesting experience. Kind of like drums/space at a Dead Show without the benefit of street pharmacology.
Then, at the very end, they started inserting the chemical through my iv, and ran the machine for five more minutes. They said it would feel like something cold running up my arm, but I felt more like something dull or numb was moving up my left arm and then slowly dissipating. It was another weird sensation, but not unpleasant.
And that was it. They pulled me out, unhooked me, undid the iv, and I went and got dressed and left.
Overall, it was definitely not a bad experience- a little cramped and mildly uncomfortable at times, and a couple times I could feel my hands go numb for being stationary so long, and once or twice the nurse forgot to tell me to exhale so I was holding my breath for like 40 seconds and got a touch dizzy, but it was a relatively unremarkable experience.
So if you ever need to have one done, ignore the people who say it is awful. It's just not. It's just different. And trust me, I know awful. Awful is trying to pop your dislocated shoulder back into place using a doorknob when it's broken in 20 places and you've shattered your collarbone and scapula. Awful is trying to walk after falling off a roof. Awful is going through a windshield after hitting a tree and breaking ribs, your collarbone, and biting a molar in half down to the exposed nerve. This was a cakewalk.
I hope that helps someone who needs this and is nervous. There is no reason to be. Plus, keep in mind that these guys do this EVERY single day, and they know what they are doing.