Much like Twitler, I sometimes see things on the intertrons that infuriate me: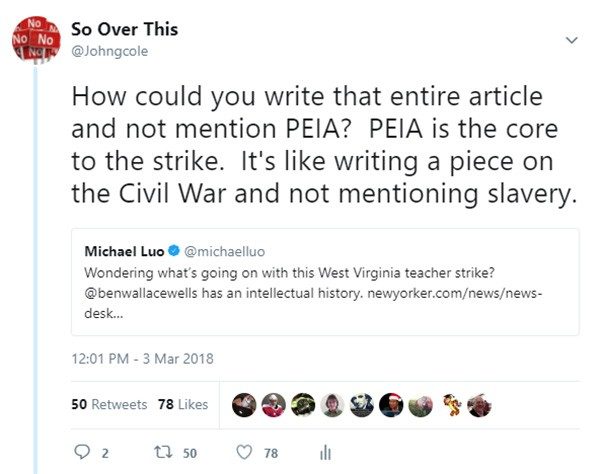 I then went on a lengthy rant, but I will clean it up for you. First, the New Yorker article, which really wasn't horrible compared to so many other pieces you see in the national media, so I suppose I am grading on a curve (Side note- I am consciously avoiding any piece that tries to discuss the Conor Lamb special election, because like I said before, I'm five miles from the district, and I can't take another "on the ground" report from someone flown in from NY or DC who gets EVERYTHING wrong again). I mean, it's ok, but it quickly goes off the rails:
On February 22nd, schoolteachers in each of West Virginia's fifty-five counties did not show up for work. With no one to teach class, and no substitutes to call on, every school in the state closed. The lead-up to the strike happened so quickly that, as it began, its aims were a little elusive. "I can't tell you the number of people who have said, 'I can't tell you how we got here—I blinked, and here we are,' " Stephen Wotring, the superintendent of schools in Preston County, said on Tuesday afternoon.

The teachers spoke about two kinds of issues, overlapping but distinct. Their primary grievance was that they made, by national standards, very little money, and that the governor had partly reneged on a promise to increase their pay. The other issue was more complex. West Virginia has so many vacant teaching positions that, in many schools, grades had been combined for efficiency, and teachers were teaching subjects for which they were not certified or trained. A bill had been proposed in the state legislature to lower teacher-certification standards in order to more easily fill the vacant jobs, but, to the current teachers, this bill was evidence that politicians in the state were not genuinely interested in improving the schools. On this matter, the rhetoric was especially sharp. Hand in hand with the grievance over compensation was a sense that the Appalachian middle class was in crisis.
Oh bloody hell. If you polled every single one of the 20,000 teachers and 13,000 service personnel striking why they are on the picket line, NOT FUCKING ONE OF THEM would tell you they are concerned about the crisis of the Appalachian middle class. They'd tell you they are tired of getting paid shit and more importantly, are tired of being paid shit while part of their compensation, their health insurance, is being underfunded and they are getting hosed. Yes, the salaries are important. But even more important is PEIA. We don't need to write the screenplay for Matewan 2 with all this romanticized bullshit and abstract concepts about the decline of the middle class, this is about workers signing a contract and then getting screwed by their employer.
Here is a primer if you care, and this is from 2016, and the issues have only gotten worse:
The West Virginia Public Employees Insurance Agency (PEIA) Finance Board approved a cut of more than $50 million to benefits for state and public school employees and retirees December 8. Effective July 1, 2017, the reduction slashes health insurance for some 200,000 public workers, their families, and retirees.

It is the latest in a series of devastating attacks on benefits for one of the lowest-paid public sector workforces in the country. A huge segment of the working class of the state will be directly affected by the cut. Teachers, highway workers, emergency responders, university staff, and many others receive health coverage via the PEIA.

Having exhausted its reserve funds under the impact of years of underfunding by the state legislature, coupled with rising health care costs, PEIA was forced to begin cutting benefits due to a state-mandated 80/20 employer-employee funding mechanism of premiums. In 2014, the agency cynically held a series of contentious meetings that allowed public employees to choose how they wanted more than $40 million in health care benefit cuts imposed during the 2015-16 plan year.

***

Over 20 percent of the budget has been slashed in the past few years, with more cuts to come under the incoming administration of the Democratic governor-elect, billionaire coal baron Jim Justice, and a solidly Republican legislature.

The state has underfunded the PEIA for years, while health care costs have continued to soar by 6 to 7 percent annually. PEIA Executive Director Ted Cheatham said the agency would require $50-60 million each year simply to keep up—thus, each year, the insurance program would need cuts of that amount to stay afloat.
The core problem is that teachers signed contracts that promised certain benefits (PEIA) in LIEU of pay- meaning a good faith negotiation resulted in them accepting to work for less pay, but to receive the health benefits. The part above I bolded is critical- the state has then criminally underfunded PEIA for years, causing the fund to increase employee contributions, raise premiums, raise co-pays, and cut benefits. All of this while not providing teachers raises. So their paychecks are not keeping up with inflation and are the lowest in the nation, all while more money is coming out of their paychecks to pay for the benefits they took in LIEU of pay. So even if they get the 5% salary increase Justice promised, they will probably see no net gain in income because their "benefit" is costing them more money, and there is no guarantee they will even see the 5% because Senate Republicans aren't budging.
It is also EXTREMELY misleading and borderline criminal negligence to keep citing the average pay of 45k for teachers. That includes administrators and what not. I'd think journalists would have heard the terms mean, median, and mode before. There are teachers who have a decade of experience and master's degrees who make 40k, and the NY Times had a grteat piece yesterday that interviewed the kind of crisis these folks are in:
We spoke on Wednesday night with Katie Endicott, 31, a high school English teacher from Gilbert, W.Va., about why she and many other teachers are not yet prepared to return to school. The interview has been edited and condensed.

They told us that essentially if you weren't a single person, if you had a family plan, your health insurance was going to rise substantially. As a West Virginia teacher — and I've been teaching 10 years — I only clear right under $1,300 every two weeks, and they're wanting to take $300 more away for me. But they tell me it's O.K., because we're going to give you a 1 percent pay raise. That equals out to 88 cents every two days.
Got it? The teachers are keeping up their end of the contract, showing up to work, doing their jobs, all for much lower pay than anywhere else in the country, but it is the state who is not keeping up their end of the bargain. There's always money for tax cuts for the wealthy and energy industries, but PEIA just falls through the cracks. Additionally, Katie laid out why the teachers were briefly excited about the 5% pay increase that Justice floated last Wednesday, but then realized they were going to appoint a toothless commission for PEIA which would come back and say they have no solution, and then just take more out of the teachers salaries to "pay" for their benefit.
Again, this is not the fault of Obamacare, or the teachers, or anything other than the state failing to have the right priorities and failing to live up to their contractual obligations. Which brings us to the service employees, of which there are about 13,000 of who are also on the picket line but aren't mentioned as frequently.
We're talking about the janitors, the cafeteria workers, the maintenance folks, the secretaries, etc, These folks make FAR less than the teachers. Think 20-23k a year, PLUS PEIA. Again, the PEIA is crucial. For some of these people, they work more for the benefits than the pay- maybe they work because their husband works in a non-union mine and makes a decent salary but has no benefits. Maybe they drive the bus, taking the 15k they pay and run the family farm which ekes out a little bit more cash, but the healthcare benefits are key. Maybe their spouse is a worker pulling down 20k a year at Walmart but with shit benefits, and they make 24 a year as a custodian, and together they can eke out a living, but the PEIA is the key to keeping this family above water.
Again, I can't state this enough- discussing this walkout without mentioning PEIA is like discussing World War II and forgetting about Hitler and the Germans. It's the key to everything.
Back to the original article- which stresses the certification requirement change as a key. The correct way to look at it is as the straw that broke the camel's back. It's just one more in a list of abuses on top of the main issues, and it was the flashpoint. It's when they finally had enough, but PEIA is the big issue. The low salaries and repeated abuse from the legislature (villainizing teachers, changing cert. requirements, attacks on common core, etc.) are just a bonus.
And when you ask me what kind of abuse, you don't have to have great google fu to look up the various insults and indignities WV teachers have to deal with- they're myriad. From crapping on them about test scores- how do you compare a teacher's class scores to other places in the country when in many classes, the first time the kid has ever held a pencil is in that teacher's class, so no, therir reading skills aren't up to the same fucking standard as kids in the tony suburbs of metropolitan America. Or the Republicans seizing on common core and setting their idiot followers on teachers for that.
Or more subtle stuff, like repeating over and over again that teachers in WV make 45k a year. No, they don't. That's the average, and it's inflated by administrator/superintendent/principal salaries. There's a reason they keep doing that, btw. They're weaponizing it for use by other West Virginians who don't make 45k a year to call the teachers greedy. You see it in the comments sections of every WV newspaper- "I don't make 45k a year, why are they being so greedy? I don't have health insurance, why are they mad they have to pay for it?"- while not realizing they went to school for six years, have student loan debt, signed a contract for that health insurance, etc. It's the same old ploy- get the proles fighting over scraps while you feast on steak.
My favorite recent insult was the Go365 that actually was mentioned in the New Yorker article, by way of the NY Times piece:
They implemented Go365, which is an app that I'm supposed to download on my phone, to track my steps, to earn points through this app. If I don't earn enough points, and if I choose not to use the app, then I'm penalized $500 at the end of the year. People felt that was very invasive, to have to download that app and to be forced into turning over sensitive information.
Whoever came up with the idea for Go365 is a special kind of asshole, but here is what it was. And I don't want to step on Dave Anderson's turf, but I will give you a brief explainer. For decades now, as health insurance costs increase, corporations and organizations have been implementing wellness initiatives to try to encourage workers to engage in healthier lifestyles, which will lower health costs for the company, and in return there is usually a small reward- a small reduction in worker contribution, etc.
A quick and dirty example would be anti-tobacco programs. Sign a document stating you don't smoke, or join a tobacco cessation program, and we'll take X dollars off your contribution. Things like that. There are other more benign things that you all have heard of and probably participated in- starting office walking groups, etc.
Go365 was like that, in the sense that it tried encourage employees to engage in healthier behaviors, but whilw normal wellness initiatives are all carrot, this was a gigantic stick up your ass and if you didn't do it, they were going to charge you 500 bucks more a year. And it was invasive- biometric screenings, tracking your fitbit, etc. Apparently they tried to soften it a touch by letting you earn points for crap like free movie tickets, etc. Regardless, how little respect do you have to have for your employees that you would fail to keep your word, underfund their insurance for a decade, and then to make up for it implement this?
At any rate, this is getting long, but the important thing to keep in mind is that this is about salary and health benefits, but if you talk to most teachers, they will tell you PEIA a major concern. Yes, dignity and respect does play a role, but this is about money.