Looks like Trump has set the flying monkeys on Sessions with a vengeance: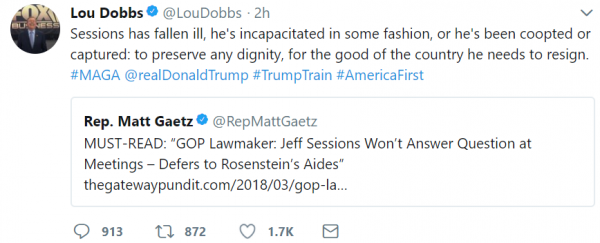 Aside from Trump himself, Sessions is probably the most odious figure in an administration chock-full of comically obvious villains. So in one sense, it's satisfying to see the racist shit-bag get dragged by Trump and his minions. That's what you get for hitching your White Citizens Council wagon to an unstable malignant narcissist, Jay-uff!
But on the other hand, we all know why Sessions is the object of Trump's ire — he recused himself from the Trump-Russia investigation since he is entangled in it himself, clearing a ground-level ethical hurdle that clowns like Nunes and Gaetz eagerly tunneled under to demonstrate the level of servility Trump demands.
For that reason, the entertainment value of Sessions' serial humiliations should be tempered with concern about the endgame here. But fuck it — I'm gonna enjoy the show anyway.