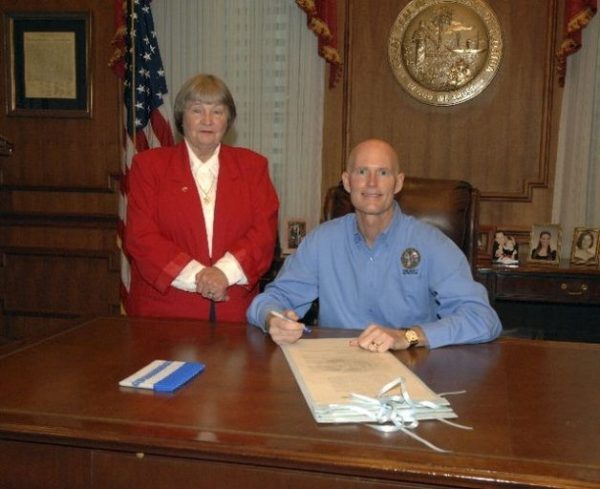 A gun reform bill is on its way to Florida Governor Rick Scott's desk. It's not nearly enough. It contains useless and/or harmful provisions, such as millions for a program to train school personnel to carry handguns on campus. But it also contains provisions to ban bump stocks, impose a three-day waiting period on most long gun purchases and raise the minimum age for purchasing long guns from 18 to 21.
The commonsense provisions were vigorously opposed by NRA über-lobbyist Marion Hammer, who had previously been in charge of setting weapons policy for the state and whose ghastly concepts, such as "Stand Your Ground," have wreaked death and havoc in Florida communities and metastasized to other states, to the delight and profit of gun manufacturers. Earlier this week, Hammer pressured GOP lawmakers (WaPo):
In the days leading up to the vote, the NRA's Florida lobbyist, Marion Hammer, issued an "emergency alert" to members asking them to contact Republicans and demand they vote no. "Neither the 3-day waiting period on all rifles and shotguns, raising the age from 18 to 21 to buy any firearm, or the bump stock ban will have any effect on crime," she wrote.
But for the first time since long before the teenagers at Marjory Stoneman Douglas High School were born, enough Republican lawmakers refused to do Hammer's bidding, and it looks like Scott might actually sign a bill that she opposes. If Hammer's absolute lock on gun policy in Florida is broken, that's a huge fucking deal.
If the bill becomes law, we'll owe this partial victory to those magnificent kids who called bullshit on the political cowardice of the Republicans and the learned helplessness of their opponents. And we'll also owe the students an obligation to keep fighting for sane and sensible gun laws.
Open thread!