This was otterly horrible!
Day in the life of a renegade otter:
• Attack kayakers
• Pursue kayakers and attacks again
• Get into fights w/ alligators
• Is BOSS of the riverhttps://t.co/jhY9hHrqn7

— Scott Pollenz (@spollenz) March 7, 2018
From The Tampa Bay Times:
For Marsha Wikle, it should have been a typical Sunday afternoon, paddling downstream along the Braden River in Manatee County.

Wikle said she was taking in the sights, leading a kayaking excursion in a "very quiet section" of the river, when they encountered something familiar to many visiting Florida's freshwater areas: a river otter.

But this was no ordinary otter.

The rogue — and possibly rabid — animal attacked a 77-year-old Sarasota woman. It also menaced the kayakers as they attempted to make their way on shore. And that wasn't the only otter attack reported this weekend on the river, which is east of Interstate 75.

The Florida Fish and Wildlife Conservation Commission is investigating a second attack in which two individuals were bitten by an otter the day before, on Saturday, two miles from Wikle's encounter.

The otter also was reported to be chasing boats and acting aggressive, according to FWC.

Witnesses also told FWC that an otter also came into contact with an alligator after the attacks on Sunday and suffered injuries.

FWC spokeswoman Melody Kilborn said a search for the otter is ongoing. Agency employees also have placed flyers at two boat ramps along the river to warn visitors of the aggressive otter.

River otter attacks are rare, Kilborn said, and no such attacks were reported last year.

Samantha Wisely, an associate professor at the University of Florida's Institute of Food and Agricultural Sciences, said the animal's behavior makes rabies the most likely cause of its aggression.

"Its behavior strongly suggests it was rabid," Wisely said. "Healthy otters would never attack people."

Mike Terrell, director of husbandry for the Florida Aquarium, warned boaters to practice caution when seeing animals in the wild.
Given that it is still technically winter, it could be a Kushtaka, the Alaskan Otterman, down in Florida for the winter as a snowbird:
The Tlingit and Tsimshian peoples, indigenous inhabitants of the Pacific Northwest Coast of the United States and Southeastern Alaska, have a robust folklore surrounding a mythical and maniacal trickster race called the Kushtaka, which roughly translates as "land otter people", a shape-shifting species of otter that is rumored to spend a lot of its time trying to lure unsuspecting humans away from their homes in order to turn them into more Kushtaka (which in Tlingit folklore basically amounts to preventing us from achieving reincarnation and consequent everlasting life).  Sometimes they don't bother, and simply tear a victim to shreds. Not cool.  Bad otter.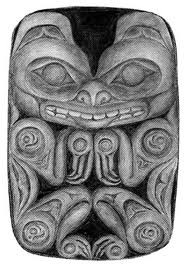 Stay frosty! And DON'T feed the otters!
Open thread.