My wife and listen mostly to children's music now. It's a a little more interesting than I thought. We can deal with Raffi in limited doses and kind of like the children's music the guy from POTUSA does. We also discovered a great children's album done by Doc Watson (Songs For Little Pickers) though we think Tennessee Stud may not be appropriate for very little children (great song, though). We also think the Rockabye Baby lullabies have surprisingly tasteful arrangements.
What children's music would you recommend?
I remember some of the songs from when I was a kid so well! John Henry and Erie Canal especially. It's kind of neat to me that these songs go back so far.
And here's a picture of the baby!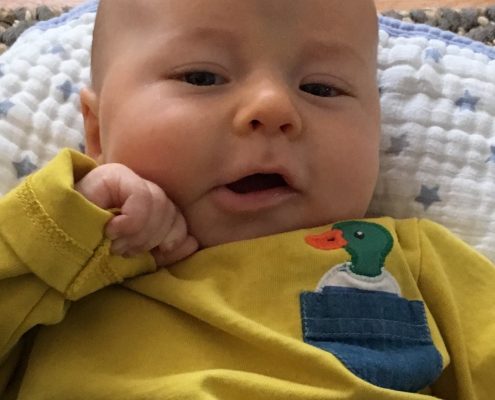 Let's raise a little more money for the Balloon Juice fund that is split equally among all Democratic nominees in all House districts currently held by Republicans.