Rock music was perfected by 1972 and everything you needed to make a great album was in place by then. Every element added since then has been a pointless novelty. Let me explain.
One sultry Midwestern night in my 28th year one of my bandmates gave me a mohawk. We then practiced in the filthy basement of a comic bookstore, repaired to our favorite dive bar and I stumbled home around 3am as I did every night of my life back then. Halcyon days!
When I awoke the next morning what I saw in the mirror was not a young, punk rocking teller of hard truths. Not Joe Strummer's little brother. What I saw was the "Oy!" guy from the Energizer battery commercial. I knew that a chapter in my life was coming to a close.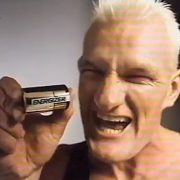 Punk rock had been a good fit for us philosophically, but we were never interested in following that aesthetic all the way into the recording studio. We pursued instead what I have come to understand as Classic Rock Values.
Like Potter Stewart and his pornography I'm sure CRVs are something you know when you hear them. But let me get specific about what I mean so I can show you who is in the club and who is a liminal case.
Natural drum sounds. The drums should sound like you are right there in the room with them. Not too much reverb. The snare should go "crack" or "snap" or even "thump" but never "tick" or "bloosh" as snares did in recordings of the '80s.
Warm, extended-frequency bass. I remember one of my music professors telling me how excited everyone was when someone in the department bought a stereo in the late '60s or early '70s that was able to resolve the very low C played on the pipe organ at the beginning of Strauss's Also Sprach Zarathustra. Before then, the note was invisible to consumer playback technology. In pop music the '60s bass guitar came across as an overpowered midrange. After around 1968 bass notes could be felt in addition to being heard. The Beatles White Album is a noticeably warmer sounding album than the previous year's Sgt Pepper. That's what I'm talking about. Bong rattling bass.
Mostly guitars. It's a guitar dominated genre.They can be clean but are usually at least a little overdriven (that means turned up loud enough that the speakers distort and buzz some). Often very overdriven. You can have all kinds of effects here and there (leslie, fuzz, flange, phase, wah) but not too much. The basic guitar sound is a naturalistic one. The one you'd hear of you were in the room with the amplifier.
Some keyboards. Some limited synthesizers. I guess Elton John (when he played rock and not pop) and Emerson, Lake & Palmer are exceptions to this. Pianos and organs are fine. Clavinets for sure! Moog and Melotron synthesizers are just fine. No digital synthesizers! No sequencing! (okay, some sequencing)
Vocals. You can sound however you like in rock music. Technically accomplished singing is not preferred to distinctive voices. Freddie Mercury can sing the shit out of anything. Tom Petty rarely strays from his adenoidal half octave. Both are perfect for the job.
Other instruments. As color? Sure! The orchestra is welcome too. But the basic lineup, drums/bass/guitar/vox, is home base.
Some real-world examples:
The first CRV album: 1968's The Beatles (The White Album)
The Classic Rockiest: Can't Buy a Thrill.
My own personal lodestars: Muswell Hillbillies, Meddle.
Surprising but true: Never Mind the Bollocks, Here's the Sex Pistols. John Lydon reportedly hated the way it sounded esp the 100s of guitar overdubs. Sounds great to me!
No CRV: The Clash's first album. Too gritty and lo-fi. But every subsequent album, yes.
Borderline cases: Creedence Clearwater Revival, The Cars, My Aim is True. Maybe Let It Bleed?
The borderline cases are of course the most interesting. Please note that CRV do not guarantee quality. Journey and Foreigner abound with CRV and that music is shite. But what CRV do guarantee is a certain level of listenablilty. Bands like, say, ZZ Top or Humble Pie who are not blessed with an abundance of songwriting skill are nevertheless very listenable because they partake of CRV.
What became of CRV? Well they were forced off the field for a while during the 80's due to the influence of punk rock, 60's rock revivalism and, I have heard, cocaine. But they have come roaring back. Grunge was very much a CRV revival movement. Radiohead's The Bends and Ok Computer abound with them and that is why they were played to death at least in these precincts. Radiohead's subsequent albums did not and that is why I stopped listening.
Before you run into the street and grab the shoulders of the first passerby and tell them the Good News of CRV, please take a moment to consider this. It is the fund that's split between all eventual Democratic nominees in House districts currently held by Republicans.