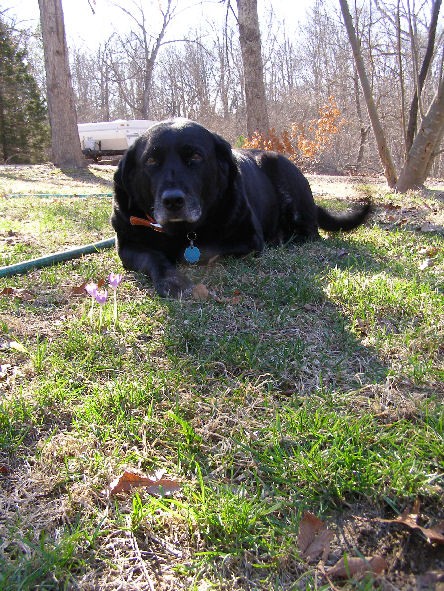 From the indefatigable Ozark Hillbilly:
I snapped this one of the Woofmeister last week. Somehow or other he never lays down on them. Maybe he enjoys seeing them at this time of year as much as I do.
Another promise of impending spring, here in the Northern Hemisphere, from the Washington Post
Winter may still have a few tricks up its sleeve, but we'll be one step closer to spring when daylight saving time begins this weekend. At 2 a.m. Sunday (March 11), we "spring forward" one hour and leave standard time behind for the next eight months.

We lose an hour of sleep, but it's a small price to pay for that extra hour of evening sunlight. Once daylight saving time begins, most of the country will enjoy daylight lasting until after 7 p.m…

While the economic and public health affects would take a while to parse, the most immediate impact of scrapping DST would be a dramatic change to the sunrise and sunset schedule many of us take for granted.

Instead of summer sunsets after 8 p.m., it would suddenly get dark closer to 7 p.m. And those early June sunrises — when you begin to stir at 5 a.m. because it's already getting light and you hear birds chirping at the crack of dawn — would be even earlier still…

…[G]etting rid of DST [in Washington DC] means sunrise would occur before 6 a.m. from late March until nearly October. Meanwhile, the first 7 p.m. sunset wouldn't happen until May 1 (as opposed to early March, when we "spring forward"). By late September, it would already be getting dark before 6 p.m.

I imagine quite a few people would be unhappy with this kind of daylight schedule, which would leave us with much darker evenings for most of the year…

Under a year-round DST schedule, sunrise and sunset times would remain similar to what we're used to, because we already observe DST for eight months of the year. However, from November to March, our mornings would be significantly darker. Sunrise in D.C. would be late as 8:27 a.m. in early January.

On the flip side, our earliest sunset of the year would be at 5:46 instead of 4:46 p.m. And even in January — America's least favorite month of the year — the sun would still be up after 6 p.m. on all but the first few days of the month. Not bad, right?…
Myself, I look forward to being able to keep working out in my garden until 8pm during the height of tomato season. I think Florida has the right idea in keeping Daylight Savings Time all year round.