The Dark Side of Classic Rock Values.
Rock and Roll will never die. It shambles on and on over the terrestrial airwaves and streams into our homes, cars, and deserted shopping malls. Sometime in the late 60's recording technology reached a level of sophistication to produce the harmoniously integrated frequencies that would justify rock music's jump from the tin can AM sound of the single mono speaker in the dashboard of my uncle's truck, to the FM experience of sitting rapt with a pair of headphones (or my head lain between two speakers) hypnotized by life-like and beyond life-like stereo imaging. Freeform and Progressive radio stations were coopted by commercial interests once enough FM radios were sold and the acceptable compromise of AOR Radio is born.
But rock music still promised unbounded horizons. Unbridleable energy. Operas, tone-poems, sophisticated appropriation of folk themes. Greater experimentation, crazier and crazier ideas!
Music is a bottomless well of possibilities. Rock music was big, seething, electric sex-tent of generational energy. Even more importantly,  a swooning, depthless sea of profit.
And then, following this breathtaking expansion, Rock withered and blackened into a hard little creosote lump of conservatism. As Rock journeys through the 70s it increasingly must conform to specific instrumentation, tempo, time signature.
The pop and rock explosion of the 50s and 60s exposed black music to a wider audience, but AOR Radio only likes the honky version of stuff. (Bob Marley was shrewd enough to recognize this, cut out the middle man, dialed back the bass and drums, and made his own sanitized, radio friendly version of Reggae. Smart dude!)
Rock portrays a shirtless, hyper-masculinized landscape of he-men or willowy androgynous white guys. Women are almost never heard from and when they are it is because they imbibe the tired tropes of Rock music. You won't see a more integrated approach until punk rock.
What was Rock's reply to punk? Retrenchment. A drooling afternoon nap of complacency that would give birth the likes of Van Halen, Loverboy and the  abominable Night Ranger.  Shit, even Cheap Trick (they're kinda punky) are pretty goddamn tame. Who here is proposing a radical critique of art and living and society? "Disco Sucks," comes the reply.
In 1980, in Cleveland Ohio the radio station M105 proclaimed itself Cleveland's Classic Rock. Classic Rock would narrow the scope of the AOR format even further. Faced with the energy and freshness of New Wave pop, and possible extinction, Classic Rock Radio tried restore Rock music to supremacy and greatness.
You know who else came along in 1980 promising to restore greatness?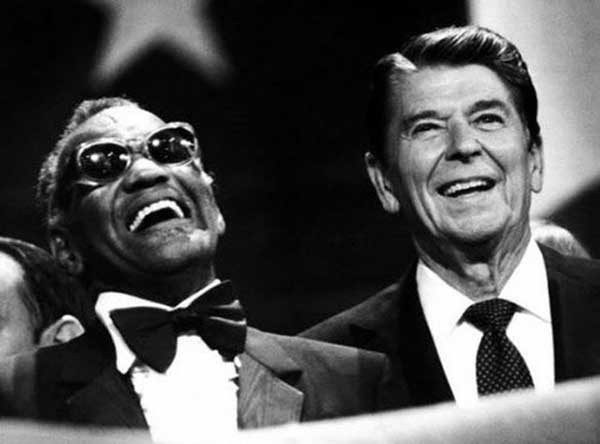 I'm sorry I put Reagan on your screen. It had to be done. The only way to punish me is to donate to the fund that's split between all eventual
Democratic nominees in House districts currently held by Republicans.