Larry Kudlow is the pure distilled essence of a Trump appointment, the type specimen of the breed, and the perfect expression of the state of Republican "thinking" on not just economics, but any matter in which actual knowledge and a respect for empiricism might help.
Via Wikipedia, we find he is barely educated, at best, in the fields in which he now works:
Kudlow graduated from University of Rochester in Rochester, New York with a degree in history in 1969. Known as "Kuddles" to friends, he was a star on the tennis team and a member of the left-wing Students for a Democratic Society at Rochester.

In 1971, Kudlow attended Princeton University's Woodrow Wilson School of Public and International Affairs, where he studied politics and economics. He left before completing his master's degree.
I'll admit that Kuddles is kinda cute, but an unfinished masters degree in a policy school is not one you'd usually associate with economics acumen.
He went on to a stellar business career, managing to get fired repeatedly for substance abuse on the job, including a claimed $10,000/month cocaine habit that got him canned from Bear Stearns in 1994. (It's interesting to note that a frantic effort is underway today to diminish such inconvenient truths on Kudlow's Wikipedia page.)
Fortunately for Kuddles, he cleans up well, dresses nicely, and can tok gud. So he was able to revive his career as a TV gasbag, with a series of appearances and then shows on CNBC, the network that figured out the markets could be covered like sports teams.
Unfortunately — for the rest of us, if not for the ever-failing-up Kudlow — he's been wrong about almost every key economic call since Methuselah was in diapers.  He is a Laffer disciple, a supply-sider whose faith that there is no tax that is too low, no plutocrat whose needs must not be served, is impervious to any test of reality.
In 1993, when Bill Clinton proposed an increase in the top tax rate from 31 percent to 39.6 percent, Kudlow wrote, "There is no question that President Clinton's across-the-board tax increases … will throw a wet blanket over the recovery and depress the economy's long-run potential to grow." This was wrong. Instead, a boom ensued. Rather than question his analysis, Kudlow switched to crediting the results to the great tax-cutter, Ronald Reagan. "The politician most responsible for laying the groundwork for this prosperous era is not Bill Clinton, but Ronald Reagan," he argued in February, 2000.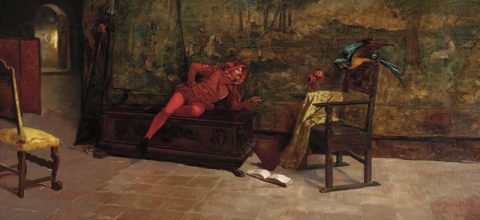 Kudlow firmly denied that the United States would enter a recession in 2007, or that it was in the midst of a recession in early to mid-2008. In December 2007, he wrote: "The recession debate is over. It's not gonna happen. Time to move on. At a bare minimum, we are looking at Goldilocks 2.0. (And that's a minimum). The Bush boom is alive and well. It's finishing up its sixth splendid year with many more years to come". In May 2008 he wrote: "President George W. Bush may turn out to be the top economic forecaster in the country" in his "'R' is for 'Right'".
And this:
When Obama took office, Kudlow was detecting an "inflationary bubble." That was wrong. He warned in 2009 that the administration "is waging war on investors. He's waging war against businesses. He's waging war against bondholders. These are very bad things." That was also wrong, and when the recovery proceeded, by 2011, he credited the Bush tax cuts for the recovery. (Kudlow, April 2011: "March unemployment rate drop proof lower taxes work.") By 2012, Kudlow found new grounds to test out his theories: Kansas, where he advisedRepublican governor Sam Brownback to implement a sweeping tax-cut plan that would produce faster growth. This was wrong. Alas, Brownback's program has proven a comprehensive failure, falling short of all its promises and leaving the state in fiscal turmoil.
The reviews are coming in. Via the BBC:
David Stockman, Mr Kudlow's former boss during the Reagan administration, told the Washington Post in 2016 that Mr Kudlow's prediction that tax cuts would lead to growth was "dead wrong". Instead, he said the cuts led to budget deficits.

More recently, he has warned that Mr Kudlow would not be able to rein in the president.

"As much as I love him … Larry's voice is exactly the wrong voice that Donald Trump ought to be hearing as we go forward," he told CNBC.

Liberal economist and New York Times columnist Paul Krugman has been sharply critical, noting that Mr Kudlow missed signs of the housing bubble and recession.

"At least he's reliable — that is, he's reliably wrong about everything," Mr Krugman tweeted.

Indeed in December 2007 – just as the recession was beginning – Mr Kudlow wrote in the National Review: "There's no recession coming. The pessimistas were wrong. It's not going to happen."
It is interesting that Kudlow himself doesn't seem to disagree with his predecessor on the issue that got Cohn out. From a quick take bylined by him, Laffer and Stephen Moore (another stellar, always-wrong econ public intellectual) here he is on Trump's tariff announcement:
Tariffs are really tax hikes. Since so many of the things American consumers buy today are made of steel or aluminum, a 25 percent tariff on these commodities may get passed on to consumers at the cash register. This is a regressive tax on low-income families.
I wonder how that squares with the new job. ETA: I know how it squares. It's already been forgotten. We've always been at war with Eastasia.
But that's just SOP in the circles in which Kudlow travels:  intellectual rigor doesn't actually matter.  He's under no obligation to be consistent in any of his pronouncements, and he certainly doesn't have to be right about anything as long as he provides cover for the true Republican (n.b.: not just Trumpian) policy goal: the transfer of more and more of our society's wealth to those who are already wealthy — and hence, in the GOP/Rand/Sociopath view of the world, those who are virtuous enough to deserve such riches.
For all of you who've wondered why the US can't be more like Kansas — we may now we get to find out.