Attorney General Sessions' statement: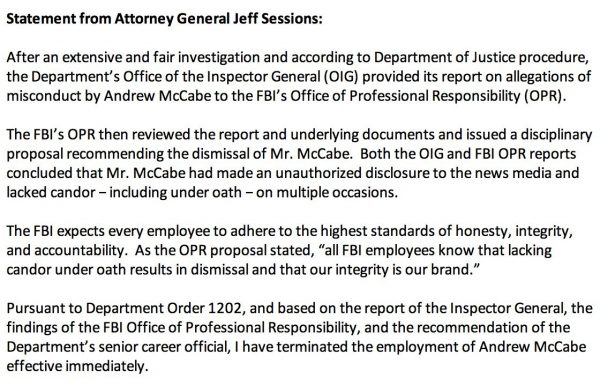 BREAKING: Sessions has fired Deputy Director Andrew McCabe days before he was set to retire and collect his pension. pic.twitter.com/UU6TpXoGGk

— Alex Thompson (@AlxThomp) March 17, 2018
There is no report yet as to whether they have also moved to terminate his pension earned in a 21 year career as an FBI special agent.
48 hours before he was set to retire? Really?

If he was still working at the FBI, I totally understand this move. The lack of candor allegations are taken seriously. But he was retiring. What good does firing do at this point?

If they go after his pension, this will get messy. https://t.co/vd8SYIuGGV

— Bradley P. Moss (@BradMossEsq) March 17, 2018
From The Washington Post:
Attorney General Jeff Sessions late Friday night fired former FBI Deputy Director Andrew McCabe, a little more than 24 hours before McCabe was set to retire.

Sessions announced the decision in a statement just before 10 p.m., noting that both the Justice Department Inspector General and the FBI office that handles discipline had found "that Mr. McCabe had made an unauthorized disclosure to the news media and lacked candor — including under oath — on multiple occasions."

He said based on those findings and the recommendation of the department's senior career official, "I have terminated the employment of Andrew McCabe effective immediately."

The move will likely cost McCabe a significant portion of his retirement benefits, though it is possible he could bring a legal challenge. McCabe has been fighting vigorously to keep his job, and on Thursday, he spent nearly four hours inside the Justice Department pleading his case.
NEW: McCabe fired: "The idea that I was dishonest is just wrong. This is part of an effort to discredit me as a witness" in Mueller investigation https://t.co/VfetXJLgTD

— Amy Fiscus (@amyfiscus) March 17, 2018
Here's McCabe's statement: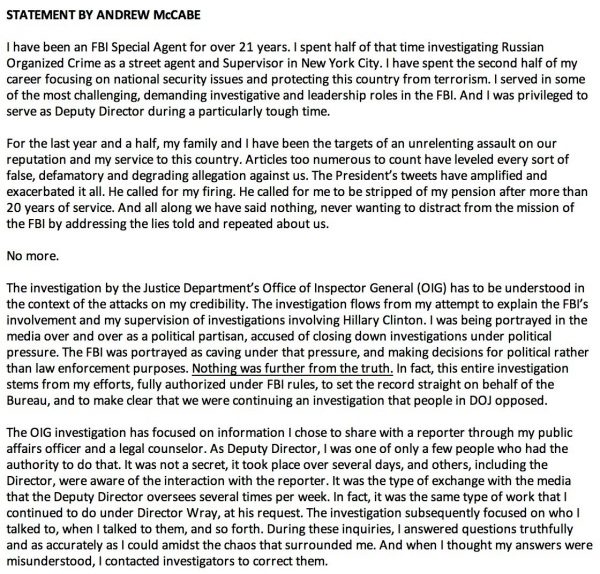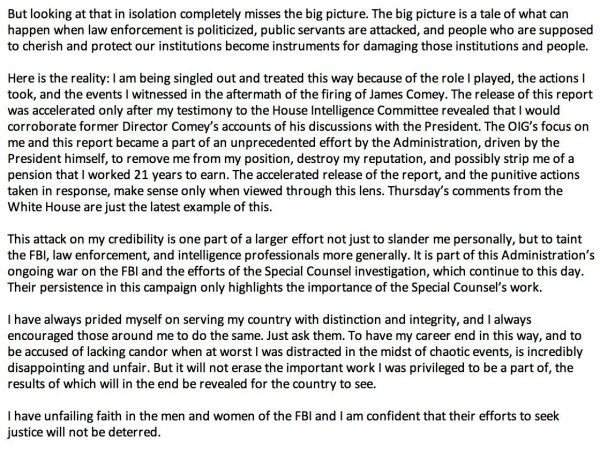 From The New York Times:
WASHINGTON — Andrew G. McCabe, the former F.B.I. deputy director and a frequent target of President Trump's scorn, was fired Friday after the Justice Department rejected an appeal that would have let him retire this weekend.

Mr. McCabe promptly declared that his firing, and Mr. Trump's persistent needling, were intended to undermine the special counsel's investigation in which he is a potential witness.

Mr. McCabe is accused in a yet-to-be-released internal report of failing to be forthcoming about a conversation he authorized between F.B.I. officials and a journalist.

In an interview, Mr. McCabe was blunt. "The idea that I was dishonest is just wrong," he said, adding, "This is part of an effort to discredit me as a witness."

Mr. McCabe was among the first at the F.B.I. to scrutinize possible Trump campaign ties to Russia. And he is a potential witness to the question of whether Mr. Trump tried to obstruct justice. Mr. Trump has taunted Mr. McCabe both publicly and privately, and Republican allies have cast him as the center of a "deep state" effort to undermine the Trump presidency.

As a witness, Mr. McCabe would be in a position to corroborate the testimony of the former F.B.I. director, James B. Comey, who kept contemporaneous notes on his conversations with Mr. Trump. Mr. Comey said Mr. Trump prodded him to publicly exonerate the president on the question of Russian collusion and encouraged him to shut down an investigation into his national security adviser.

Mr. McCabe, a 21-year F.B.I. veteran, was eligible for a government pension if he retired on Sunday. The firing jeopardizes that benefit, though it was not immediately clear how much he might lose.

"It's incredibly unfair to my reputation after a 21-year career," Mr. McCabe said. He said the president's public attacks were aimed at several targets. "The real damage is being done to the F.B.I., law enforcement and the special counsel," he said.
McCabe does raise a valid point here. Sessions is recused from the Russia probe but he just took a step that implicates McCabe's credibility as a witness in that probe. That was a questionable move for Sessions to make. https://t.co/jN08NxR8hA

— Bradley P. Moss (@BradMossEsq) March 17, 2018
My thoughts on Andy McCabe:https://t.co/iJsLWSjl3p

— Benjamin Wittes (@benjaminwittes) March 16, 2018
To add insult to injury, someone seems to have leaked this to Fox News.
Serious mistake at Fox News. A draft story has accidentally been published and is live online saying Andrew McCabe has been fired. https://t.co/8QXZYTbzli pic.twitter.com/qmcLAc62Ng

— Oliver Darcy (@oliverdarcy) March 16, 2018
So does Fox have an inside line on Sessions's decision or was this just a placeholder? https://t.co/PfRA6Ad6lw

— Susan Hennessey (@Susan_Hennessey) March 16, 2018
This was an ugly, unnecessary action. McCabe will sue to get his full pension, which will open Attorney General Sessions and the President up to discovery.
McCabe appears ready to name names and provide receipts:
McCabe also says: "I absolutely never misled the inspector general in any way," calling his highly-public downfall the result of "a series of attacks designed to undermine my credibility and my reputation" including by President Trump.

— Manu Raju (@mkraju) March 17, 2018
This is going to get real ugly, real quickly.
We are off the looking glass and through the map.
Stay frosty!
Open thread.