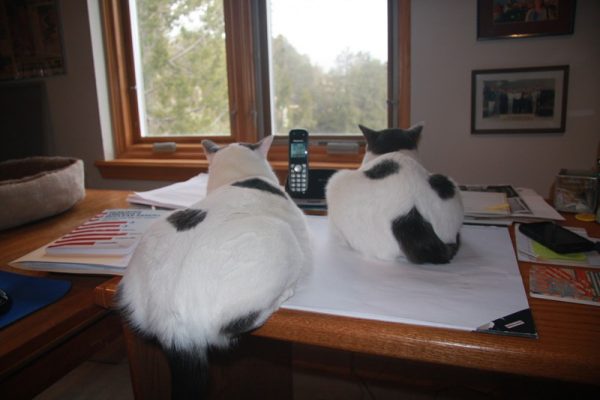 Zooey and Ric are watching the crows in the yard. They are fascinated by them, but frightened, as well they should be. Fortunately, they don't have to deal directly with them.
I went to a reading of "Copenhagen" last night. It's about a meeting between Werner Heisenberg and Niels Bohr in 1941. Heisenberg was Bohr's student, but by then he was the head of the Nazi nuclear program. Denmark was occupied by the Nazis. Nobody knows what happened in that meeting, but there has been lively speculation. I'll have more to say about that later.
I've got tabs up about Russia's weakness, how spies turn people, and what might be discussed at a US – North Korean summit.
Also David Roberts on why the New York Times doesn't hire real conservatives, and the 2002 NIE on Iraq's weapons of mass destruction.
I think I'll kick back for the evening. You?