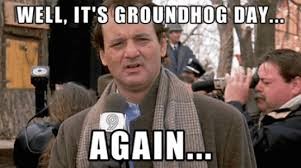 Time to set the goddamned "Days Without a School Shooting" counter back to zero. This day's shooting was at a high school in Maryland. Details are sketchy, but here's a summary from Channel 4 Washington:
Multiple Injuries Reported in Shooting at St. Mary's Co. High School

Multiple people were injured in a shooting at a high school in southeast Maryland Tuesday morning, the St. Mary's County sheriff's office confirmed.

The shooting happened Tuesday morning at Great Mills High School in Great Mills, Maryland…

Some of the injuries were critical, sheriff's officials said. It's not clear how many people were injured at the school about 60 miles southeast of Washington, D.C. Deputies were called to the school just before 8 a.m.
The Marjory Stoneman Douglas High School student activists expressed solidarity:
Less than a WEEK ago Great Mills High School students walked out with us to protest gun violence…now they're experiencing it for themselves. The state of our country is disgusting – I'm so sorry, Great Mills.

— Jaclyn Corin (@JaclynCorin) March 20, 2018
We are Here for you, students of Great Mills ? together we can stop this from ever happening again https://t.co/bkzL1FcVgu

— Emma González (@Emma4Change) March 20, 2018
The March for Our Lives rally in DC and 800-plus affiliated events worldwide are taking place this Saturday. If you want to help but can't make it to the DC march, you can find a local march here.
Open thread.