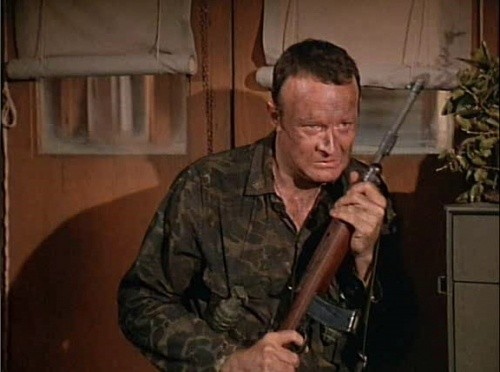 John Bolton is basically Frank Burns from M*A*S*H* with more offensive facial hair. Bolton's appointment to be the next Assistant to the President – National Security Advisor (APNSA or National Security Advisor for short) is the most recent dog to catch the car within this administration. He has now finally wormed himself into a key position very close to a US president, but like the dog with his teeth locked firmly onto the car's bumper he has only two choices: he either has to let go or he has to sink his teeth in, hold on for dear life, and pray he doesn't get dragged to death and/or run over. He's an unguided, self directing weapon of mass destruction. He will cause so much chaos and confusion that he will actually wind up defeating himself. He will ultimately self destruct.
What pissed the President off about LTG McMaster is that he actually did the job the right way and took his duties and responsibilities seriously. Bolton couldn't care less about the Interagency and Interagency process. If Secretary Mattis and Gen (ret) Kelly couldn't get along with LTG McMaster, which, I think, was partially because they're 4 stars and he's only a 3 star, yet he was the national-security and foreign policy gatekeeper, they're definitely not going to get along with Bolton. He will so degrade and destroy the process that the President won't be able to achieve anything in terms of national security and foreign policy. Remember, the US economy is about to be overrun by the Chinese in the coming trade war. Do you really think Bolton has any idea how to manage the Interagency process to minimize the damage to the US economy? Not a chance.
Bolton is also a terrible supervisor and manager. The personnel on the National Security staff that are not detailed from the various agencies and departments within the government, as in the people that McMaster hired directly and work for the Executive Office of the President, will begin to leave quickly. Those actual detailed from the various agencies to the National Security Staff will ask for their assignments to be ended early and because of his reputation there won't be volunteers to replace them. So the National Security Staff will atrophy, which will negatively impact the ability of the President's national security and foreign policy initiatives. And despite a long history of being wrong on almost every national security and foreign policy issue, Bolton thinks everyone else is stupid and wrong. So he will ignore, if not actively piss off, Secretary Mattis, Gen Dunford, the Chairman of the Joint Chiefs of Staff, as well as the Joint Chiefs themselves, the Secretary of State, Secretary of Energy, Director of National Intelligence, all of their deputies, etc. It is very difficult to conduct national security and foreign policy after you've alienated everyone involved in the national security and foreign policy process. Is is equally difficult to conduct national security and foreign policy without a functioning process, which is why the process we have now was created.
If you're wondering how Bolton will handle other NSC staff, this doesn't bode well for competent people currently working there. pic.twitter.com/igOf5nvINM

— Nada Bakos (@nadabakos) March 23, 2018
I'm not trying to minimize what is definitely a sub-optimal choice. Bolton's appointment as AP-NSA will definitely make things more chaotic in the White House, while reinforcing the President's worse instincts about negotiations as zero-sum exercises and cycling willy nilly from being bellicose and threatening to accommodating. But mark my words, it's not sub-optimal just because Bolton is an always wrong, belligerent, double A type authoritarian (kiss up, kick down). Rather it is sub-optimal because Bolton is going to self destruct, because that's who and what Bolton is. He can't help himself.
Stay frosty!
Open thread.