On the Road is a weekday feature spotlighting reader photo submissions.
From the exotic to the familiar, whether you're traveling or in your own backyard, we would love to see the world through your eyes.
Good Morning All,
This weekday feature is for Juicers who are are on the road, traveling, or just want to share a little bit of their world via stories and pictures. So many of us rise each morning, eager for something beautiful, inspiring, amazing, subtle, of note, and our community delivers – a view into their world, whether they're far away or close to home – pictures with a story, with context, with meaning, sometimes just beauty. By concentrating travel updates and tips here, it's easier for all of us to keep up or find them later.
So please, speak up and share some of your adventures and travel news here, and submit your pictures using our speedy, secure form. You can submit up to 7 pictures at a time, with an overall description and one for each picture.
You can, of course, send an email with pictures if the form gives you trouble, or if you are trying to submit something special, like a zipped archive or a movie. If your pictures are already hosted online, then please email the links with your descriptions.
For each picture, it's best to provide your commenter screenname, description, where it was taken, and date. It's tough to keep everyone's email address and screenname straight, so don't assume that I remember it "from last time". More and more, the first photo before the fold will be from a commenter, so making it easy to locate the screenname when I've found a compelling photo is crucial.
Have a wonderful weekend, and enjoy the pictures!
Today, pictures from valued commenter mainmata.
"Jayapura Bay". That's not actually the name of the bay (it's named after an obscure revolutionary hero not even from Papua). It's a beautiful bay but the city is actually completely obscured since it is directly underneath this giant cliff hundreds of feet above the city. The road from which the photo was taken is actually called "Skyline". (I guess someone has been to Shenandoah National Park.). Photo taken by poster on International Women's Day 8 March with his team, entirely composed of women (except me).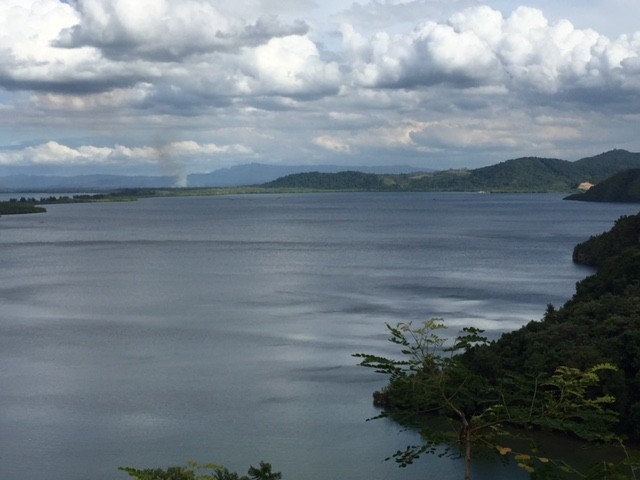 "Cyclops Mountain from the Cagar Alam" This is about 1000 feet above sea level. In the Cyclops Mountain Nature Reserve (Cagar Alam) and looking straight at the Cyclops itself (exception: actually pronounced Cyclops because foreign word). The Nature Reserve is entirely protected by the local ethnic clans who exercise traditional land use rights and who protect the land from being illegally logged by using the forest land very gently with
high value tree crops. (Next photos.) Photographed by poster 3/9/18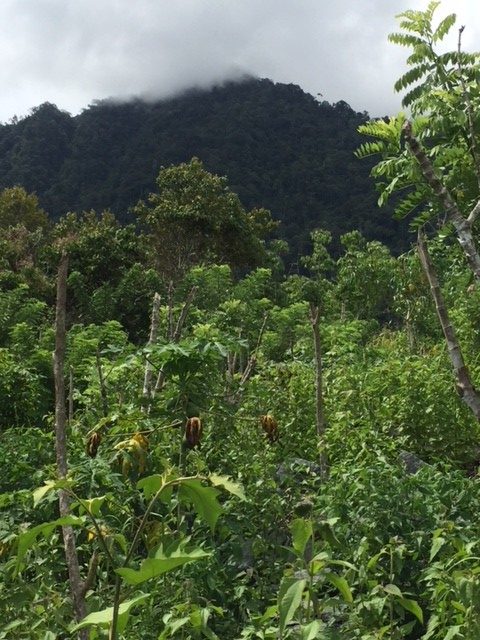 "Robert". This buff looking guy is actually a soft-spoken, well educated park ranger who also raises choklat (cacao, which becomes chocolate) as part of his duties to prevent illegal damage to the nature reserve. The nature reserve protects the forest that provides all of the water for the city downstream and other uses. Most of the people of this province are Christians and thus have western names (some of those names are Dutch, like Juvenales, that are unfamiliar to Americans. Photographed by poster 3/9/18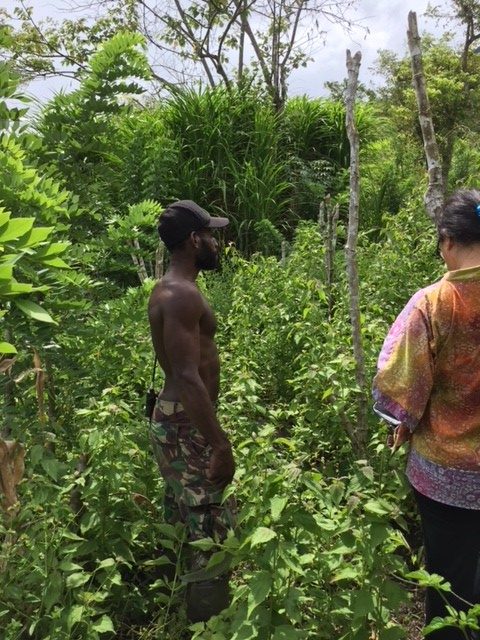 "Chocolate 1". Cacao is a pod that grows directly out of the trunk of the cacao tree. This pod is not ready to be plucked. The pod is filled with luscious seeds that still need to be fermented and processed before it ever gets to be any part of the chocolate we consume. Cacao likes indirect light being a jungle plant rather than harsh sunlight (remember that climate deniers). Photographed by poster 3/9/18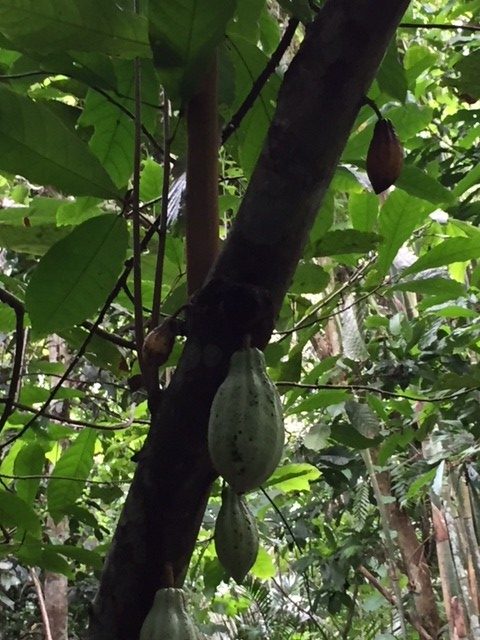 "Chocolate 2" is another view of the plant. Photographed by poster 3/9/18.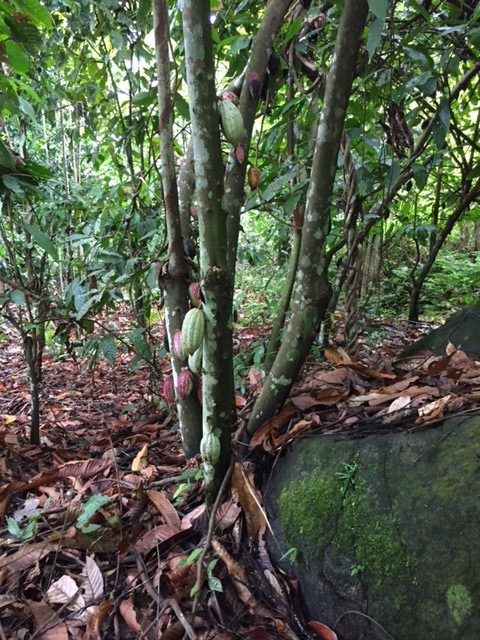 "Larry the Vanilla Man". That's actually what he is called. Educated Papuans know variable amounts of English but all of our conversations were in Bahasa Indonesia, the national language. The photo shows him sitting (he is suffering from malaria but gave an articulate presentation of vanilla cultivation). The other people are the members of my team looking slightly wilted in the very high humidity (but moderate temps – 70's). His small plot will actually yield quite a high retail value. Photographed by poster 3/9/18.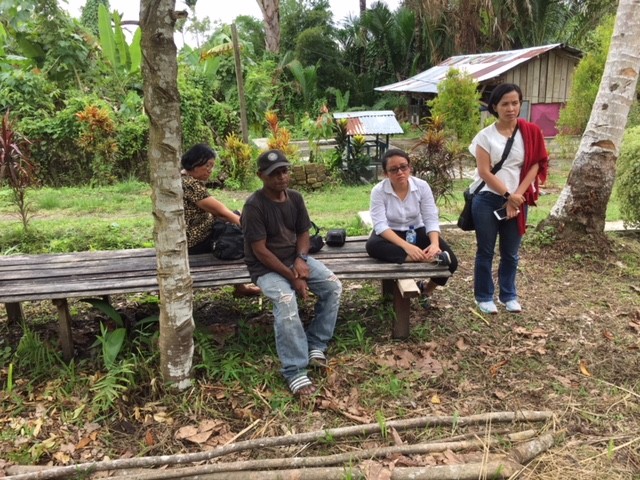 "Vanilla 1" This is a vanilla plant winding up along its "nurse tree". The
nurse tree has to be a fast growing species with no toxic aspects to either
its roots, stems or leaves. It is just a supportive medium for the vanilla
vine. There are no actual vanilla beans on these plants because it is the
wrong season. The plants need to be "married" (their term, which is more
than just pollinated but I'm no expert on vanilla (except I like to eat it).
Photographed by poster 3/9/18.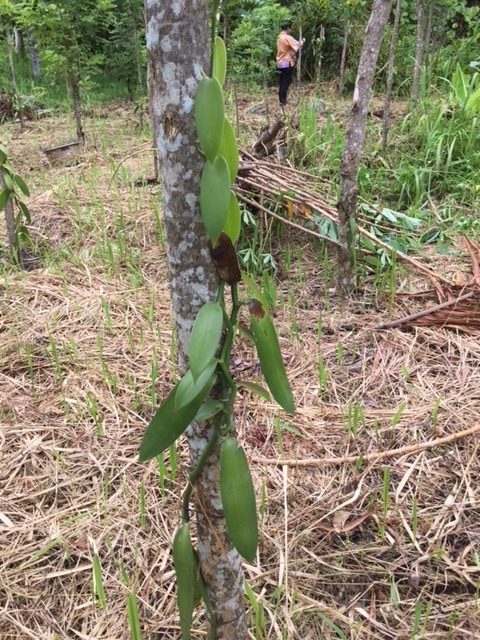 "Vanilla 2" Another view of the vanilla vine. The proceeds from the sale of these valuable vanilla pods will be shared with Larry but also his "marga" (his immediate clan) and a small amount to the management of the reserve. What's going on here is letting people make use of a protected area so long as it doesn't disrupt its primary functions a) provision of water from the watershed and b) protection of biodiversity, e.g. The amazing bird of
paradise (cenderawasih, locally)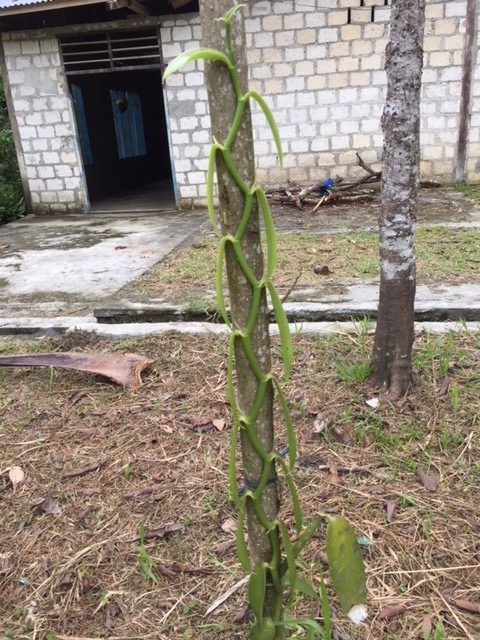 Thank you so much mainmata, do send us more when you can.
Travel safely everybody, and do share some stories in the comments, even if you're joining the conversation late. Many folks confide that they go back and read old threads, one reason these are available on the Quick Links menu.
One again, to submit pictures: Use the Form or Send an Email