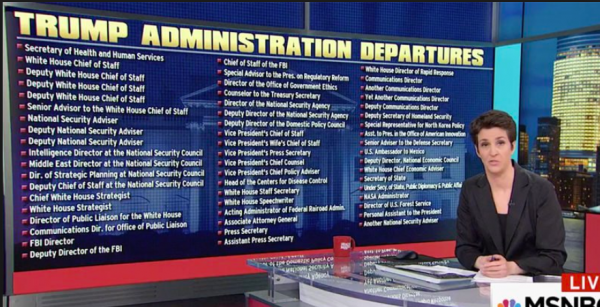 Earlier this year, we cut the cable cord. My husband is thrifty (cheap!), and as we considered streaming TV options, he pushed for an inexpensive Sling TV package that includes CNN but not MSNBC. I agreed, figuring I could get my Rachel Maddow and Joy Reid fix online and watch CNN on TV for breaking news, even though CNN kinda sucks since it lards its panels with raving wingnut assholes in a futile attempt to avoid "fake news" and "liberal media" criticisms.
We don't watch that much live TV anyway, so this arrangement worked — until yesterday. It was a big news day, and we were watching CNN's coverage of the Bolton prepocalypse. Then, right in the middle of that, CNN aired an hour of Anderson Cooper interviewing a woman who is so goddamned dumb that she admits she slept with Donald Fucking Trump for FREE! An hour of this moron! On the day the demagogue in the White House appointed a noted Reichstag arsonist as nat-sec adviser!
After enduring half an hour of that agony — which was akin to listening to a punctured blow-up girlfriend lose air in response to vapid questions — I grabbed my phone and upgraded our Sling package to include MSNBC. It's several extra bucks a month, but, as I told the mister, if we're going to blunder into additional wars of choice (maybe with nukes this time!) and/or (please FSM) have an opportunity to view impeachment proceedings, I'll be damned if I'm going to look at Jason Miller's hideous ass-face during those momentous events.
At precisely 8:59 p.m. Eastern time, our package upgrade completed, and I switched to MSNBC just in time to see Maddow start her broadcast in front of a massive wall with all the names of departed Trump administration villains. Good Christ, how I'd missed her! I know we bitch about MSNBC around here a lot, but friends, it took going cold turkey for a few months to make me realize the value of that network. In our household, at least, the apocapeachment will be televised!
Open thread!